Next to Hakodate is located Onuma Quasi National Park – enjoy all sorts of activities in the snow
Winter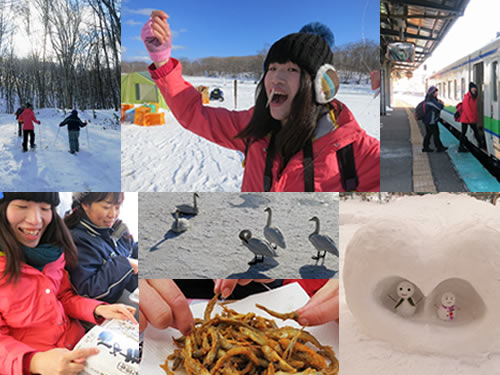 I am Jena Liu, a Taiwanese, I got married in Hakodate. I have experienced winter in Hakodate 8 times. Here is my partner, Yi-Han Lin, who joins my Hakodate journey this time. Yi-Han works at a tourist hotel.
Onuma Quasi National Park is the only national park in southern Hokkaido. It is known for its rich natural landscape and ecology. People can experience different activities in spring, summer, autumn and winter. Onuma turns into a white snow-covered wonderland in winter which is the most glamorous feature.
We can't wait to share our great experience in Onuma Quasi National Park with you – catch fish on a frozen lake, go hiking in snow covered mountains.
Proceed to Onuma Quasi National Park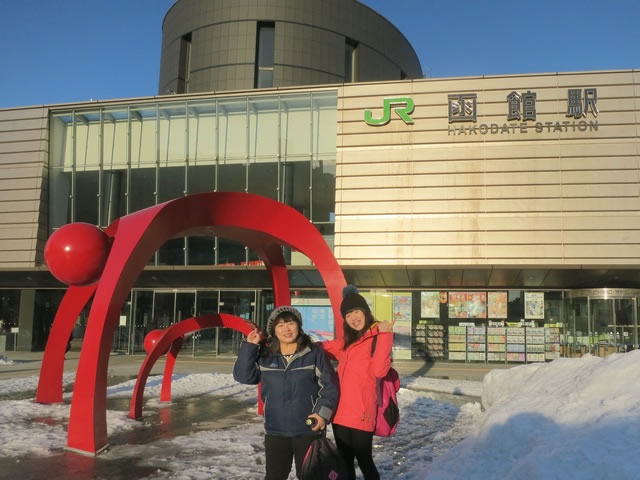 We gathered in front of JR Hakodate Station on a sunny morning in January. Please take note that even though the sun is high in the sky, the temperature is minus. So, remember to bring with you a wind-proof, warm coat, a warm hat and gloves, ear covers, anti-skid boots, -everything you need to keep yourself warm. Are you ready? Follow us!
How to go to Onuma Quasi National Park : Take a JR high speed rail from JR Hakodate Station. Travel time is about 30 minutes. Take stop-at-every-station train if you like to see the beautiful country landscape. Travel time is about 50 minutes.
We took the stop-at-every-station train to Onuma Station.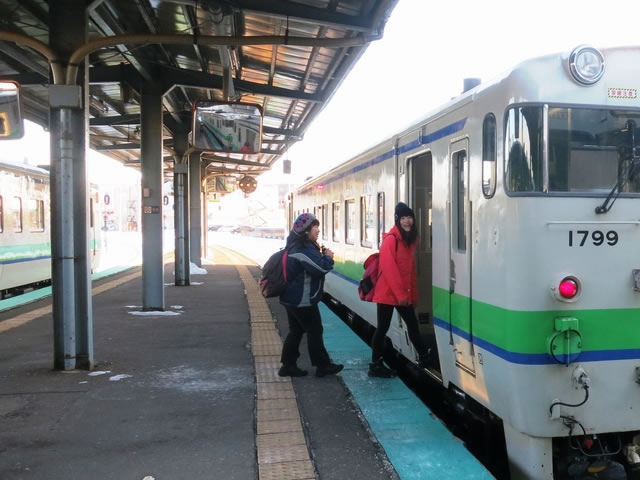 This is a lovely and one carriage train. The face-to-face seats are comfortable and clean.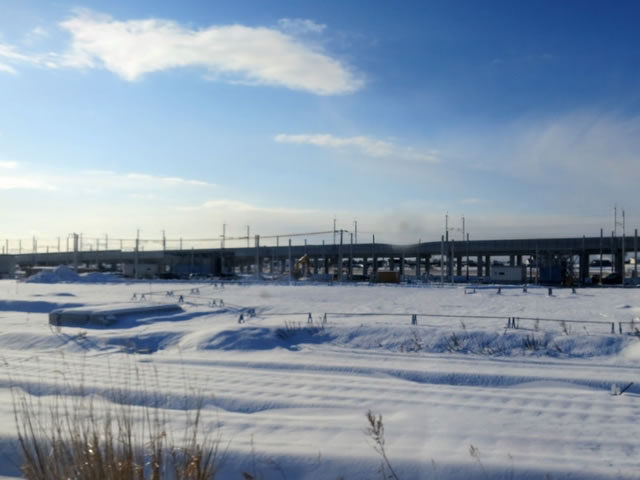 You can view the endless snow-covered landscape, and see the New Shinkansen Line. It was completed in the spring of 2016. Now it takes only 4 hours to travel from Tokyo to Hokkaido.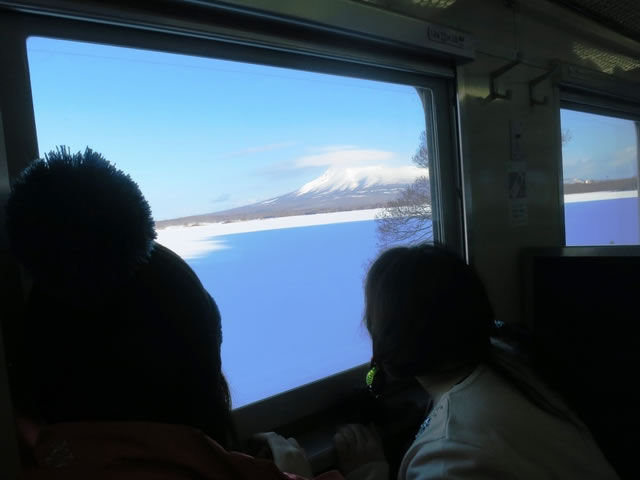 Before you know it, we have arrived at Onuma Station. We suggest you sit in a left side seat as you can see the beautiful landscape without anything blocking your view.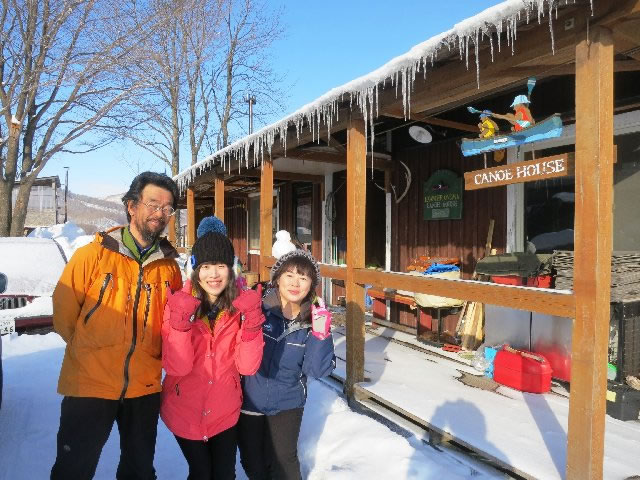 Upon arriving at Onuma Station, the owner of "Exander Onuma – Canoe House" came to greet us. Once you enter his lovely store, you will see all types of professional ski equipment such as ski boots, ski appliances and ski accessories. ALL are for rent free of charge.
Our tour guide ? an outdoor activity expertise: Bearded uncle. With his guidance, you can enjoy all kinds of activities in Onuma in every season such as canoeing in summer, hiking in the snow mountains in winter, skiing and all kinds of fun and joyful activities.
We chose hiking in the snow mountains, which cost 4,000 yen per person for a 2-hour trip. Besides the anti-slip boots, we also tryed the professional ski boots which are especially designed for snow mountain climbing. Bearded uncle drove us to the hiking trail gate.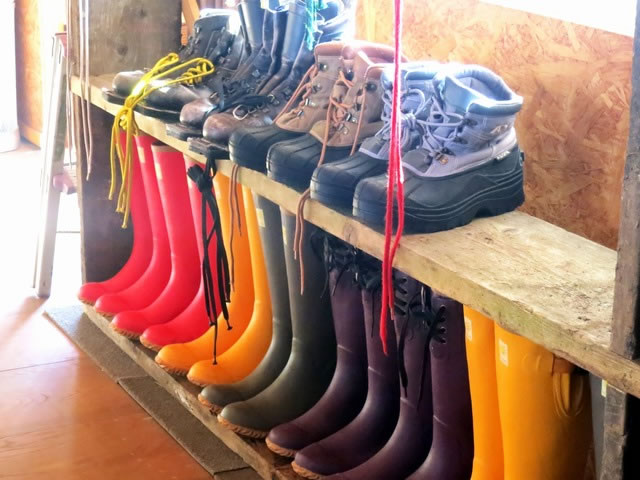 A full range of specifications and sizes of professional ski equipment, anti-slip boots and ski accessories are all for rent free of charge.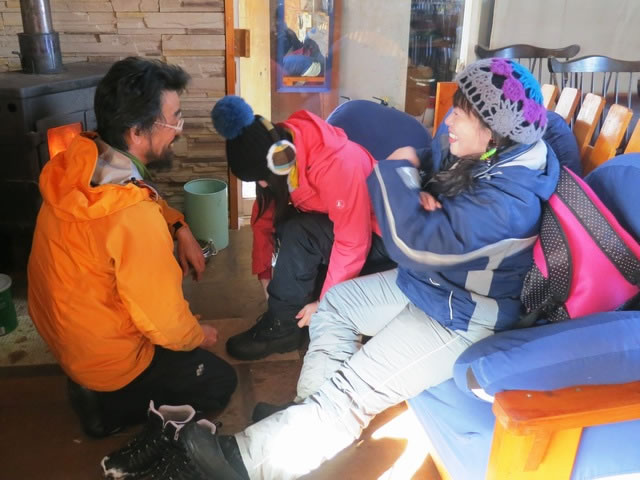 Sitting in front of the stove, we are preparing ourselves to go out. "Exander Onuma – Canoe House" also provides luggage deposit service.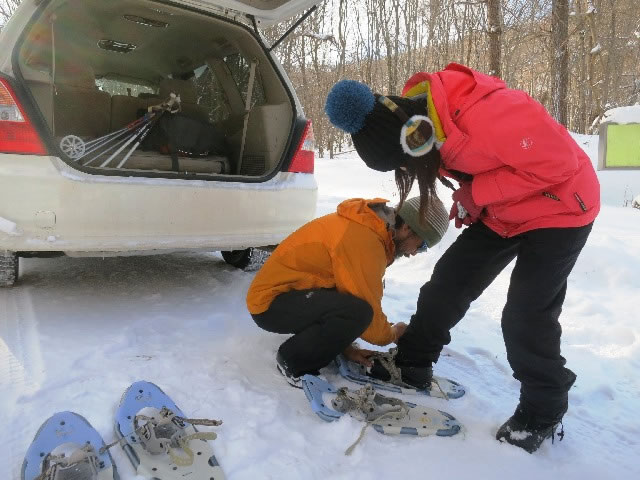 Bearded uncle assisted us in putting on the professional snow boots. The snow boots are lighter and easier to walk in than we thought.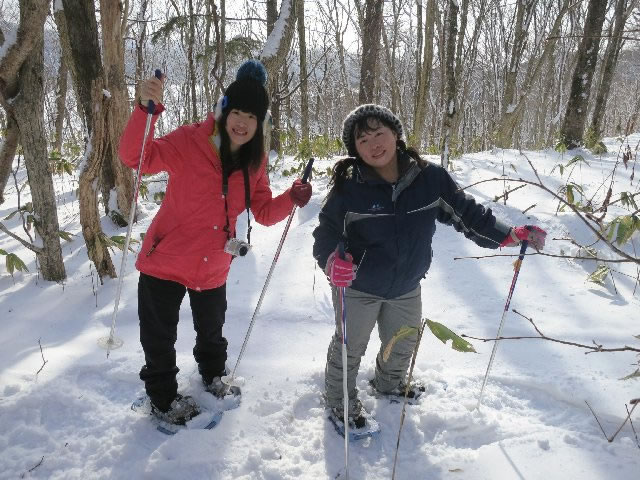 Walking over the snow-covered land. Deep snow in the mountains is not hard and slippery, but soft like cotton candy. You will want to try sleeping on it.
Bearded uncle taught us how to distinguish animal foot tracks and told us about plant species. He told us that the lines in a trees are horizontal. This is a cherry tree. Thanks to Bearded uncle's guidance, we had a wonderful day of learning.
After an hour of hiking, we arrived at the summit of the mountain. Surrounded by a blue sky with white clouds, snows flys around us. The breath-taking view of Onuma Park right in front us leaves us speechless.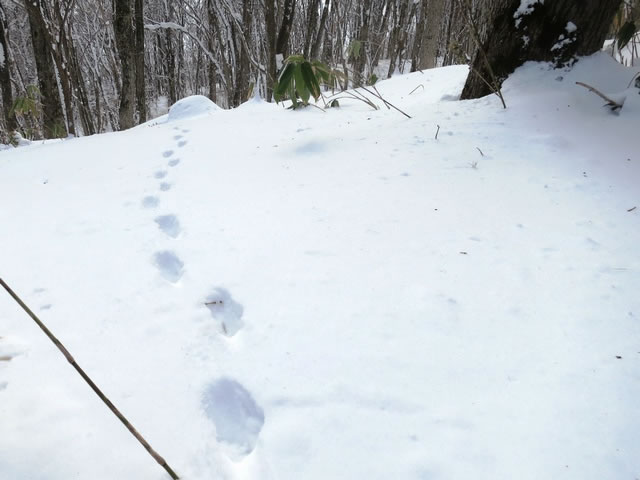 Every foot track is unique. Guess, is this track an Ezo red fox's? a squirrel's? a hare's? or a little mouse's ?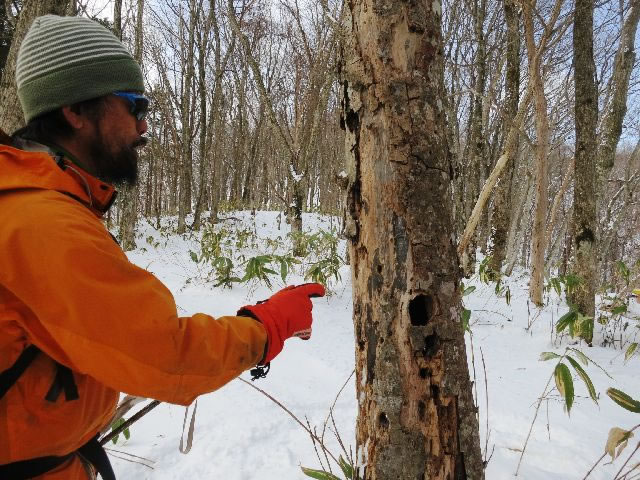 Wow, a tree with holes - a naughty joke made by a woodpecker.
Explore the wilds with a feeling of expectation! What will we find there at the end of the woods?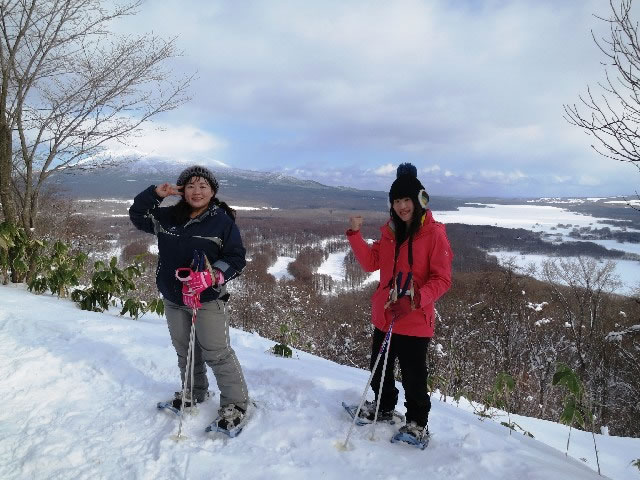 Viewing Onuma Park from the summit, you are looking at a "molding landscape."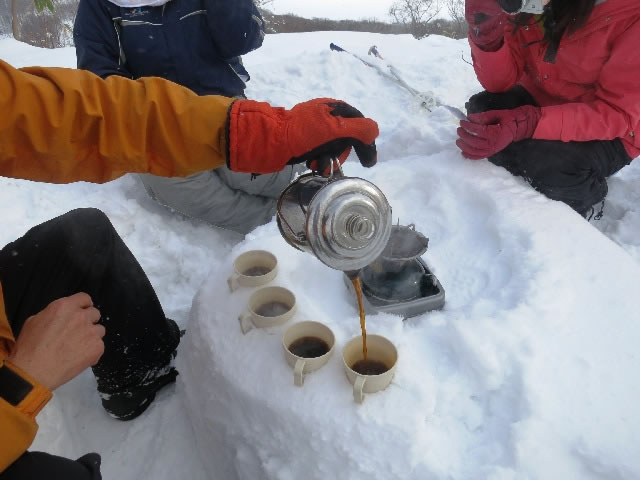 Coffee with a bit of whiskey in it made by Bearded uncle served to us on a natural snow table – a very unique flavor.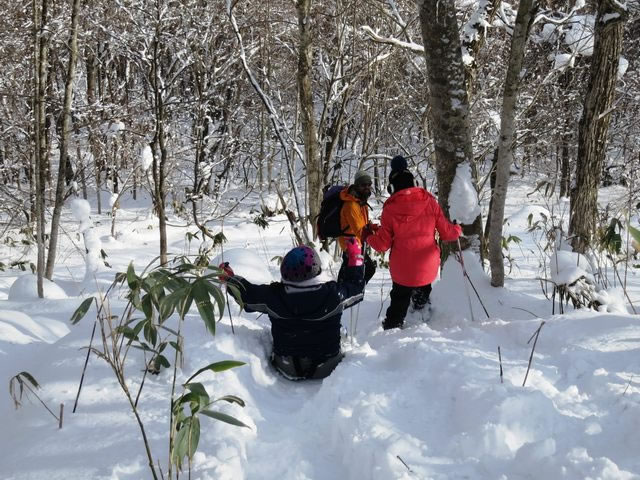 An exciting return trip. We played on the slide while Bearded uncle enjoyed the steep slope.
Phone:0138-67-3419
Feast your eyes on the beauty of Swan Lake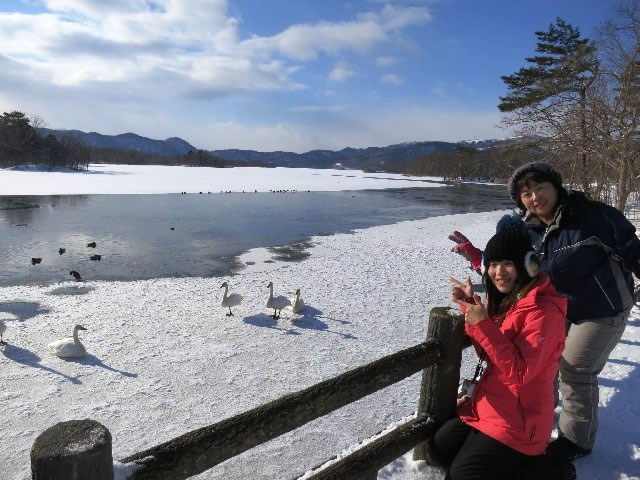 In January, swans fly from Russia stopping at this lakeside. We are here to see their elegant poses. From the observation deck, the not-yet frozen lake looks like the playing ground for swans and ducks. There is a signboard next to the observation deck describing the transformation processes of an ugly duckling to a beautiful swan. There is also an introduction about rare bird species.
We drove to here after the mountain hike. You can also take a 15-minute walk to here from Onuma Park.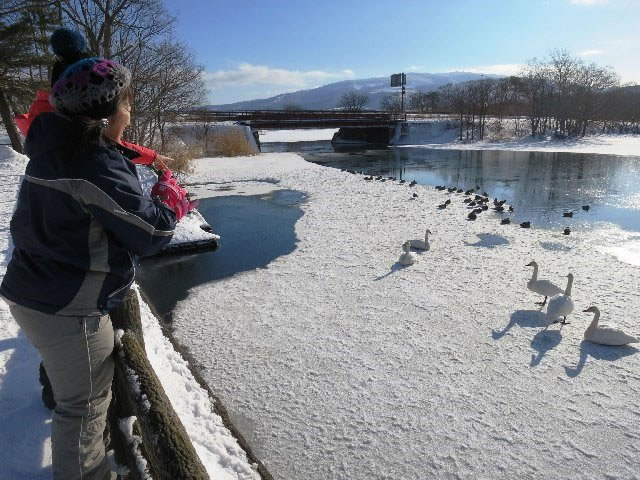 Tourists feeding swans and ducklings. We suggest you feed them with less fatty feed.
If you are lucky, you will see swans swimming and dancing in front of you.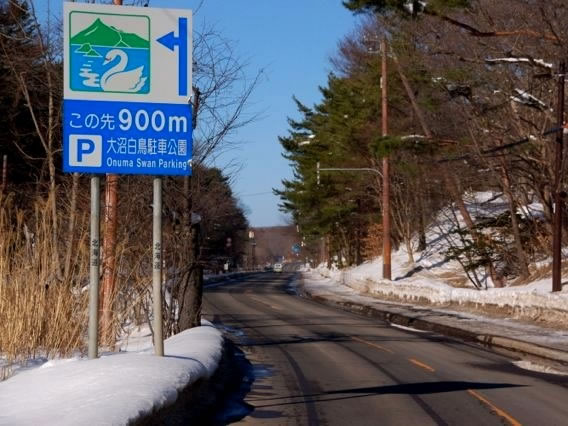 You can easily walk from Onuma Koen Station to this observation deck as the snow is removed from the road.
Catch wakasagi on the frozen lake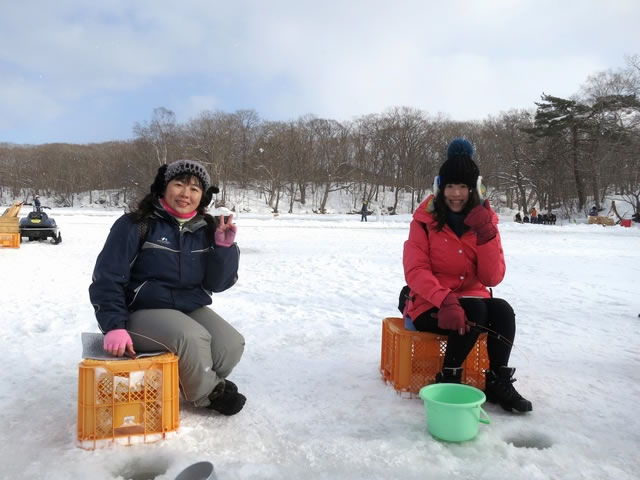 That's right! We are standing on the surface of a frozen lake.
The thickness of the ice is about 30 centimeters in winter which can bear all of us. It is safe to walk, slip and even jump on it.
Local staff will assist you with digging holes in the ice and tell you how to change your bait. They will also teach you about what to look out for to know when you have caught a fish. So much fun to feast our eyes in the snowy mountains and lake while waiting for fish to be caught.
Fish catching on the frozen lake costs 600 yen without a time limitation. Rental for fishing equipment including fishing rod, bait, chair and bucket is 500 yen.(2016)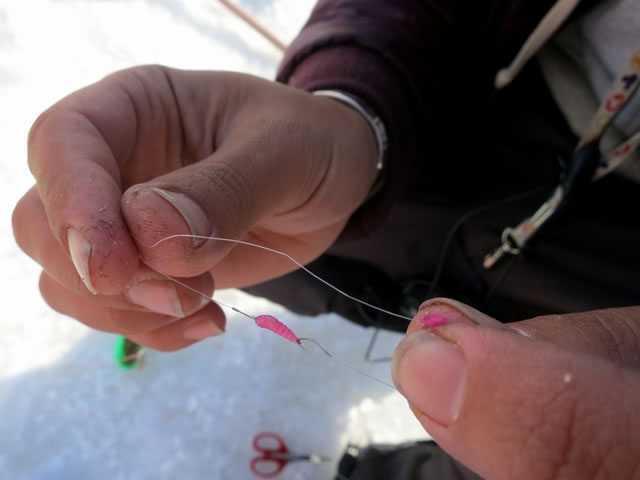 The little red worm is the fishing bait. A special feature of the fishing rod is the bait can be used repeatedly.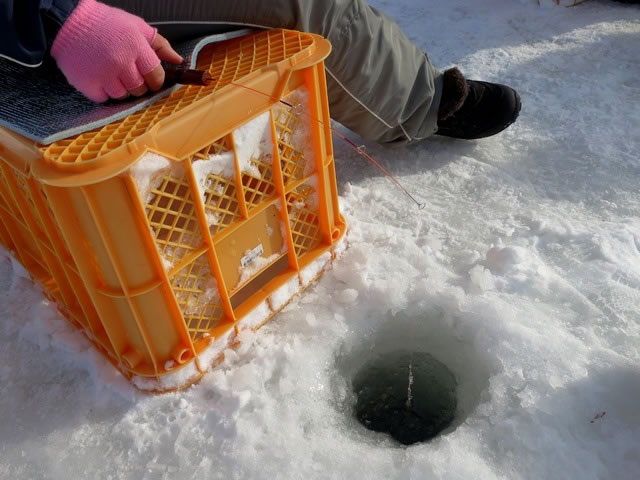 Fishing time! If no fish are biting, gently move the fishing rod up and down.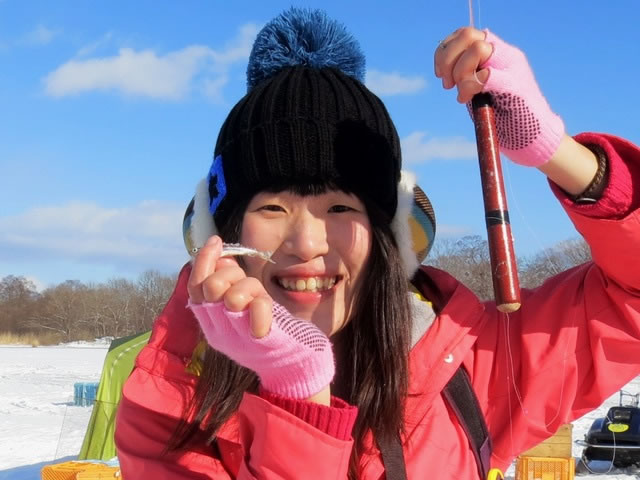 Here is the little fish!
Rich harvest! Two of us caught 50 fish in one hour. You should come and try.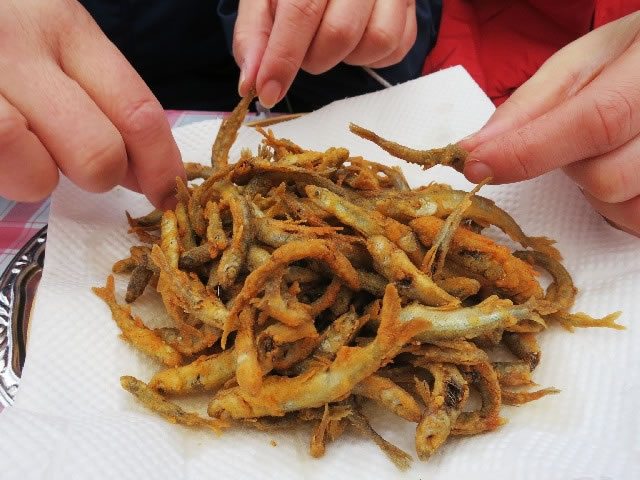 Deep fry the just-caught fish and taste the real freshness. 300 grams of deep fried fish costs 500 to 1,000 yen.(2016)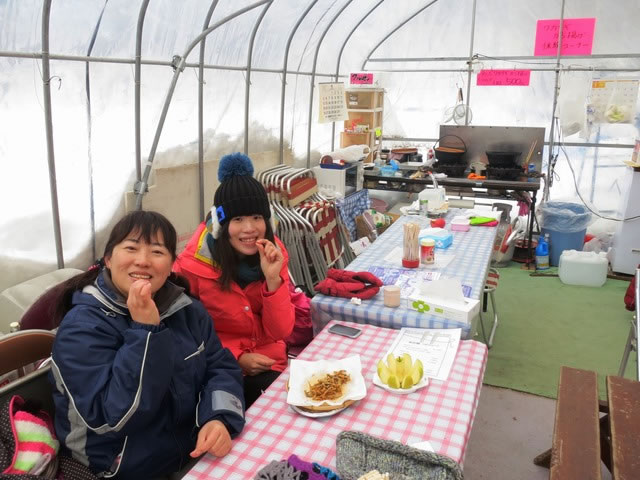 Enjoy the fresh deep fried fish in a warm room. It's so delicious! And fortunately, we were given 2 free apples.
●Tsuribori Taikouen 9:00~16:00
Phone: 090-2810-7347
Return to your home sweet home, after buying "MUST BUY" souvenirs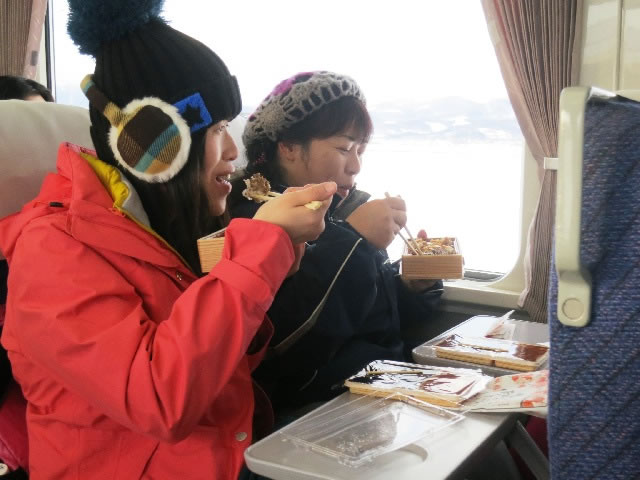 After enjoying Onuma, buying delecious food is a must.Onuma beef and Japanese rice dumplings are 2 famous local gourmets. Be sure to try them.
We bought an Onuma beef boxed lunch priced at 1,180 yen, at the well-known restaurant "Gengoro" near Onuma Station.
Numanoya, located near Onuma Station, is the best known dessert shop. It is suggested that you eat this fresh dessert on the day you purchase it. There are 3 kinds of rice dumplings served in 2 combinations: red bean and Soya; black sesame and Soya. A small pack costs 390 yen.
Onumatenbokaku, located near to the park, is a restaurant having a unique atmosphere. Sitting inside the building with a raised ceiling, you can enjoy both the fine food and the beautiful landscape. Some local souvenirs are also available.
To save time, you can call Gengoro and order your boxed lunch in advance.
Phone:0138-67-2005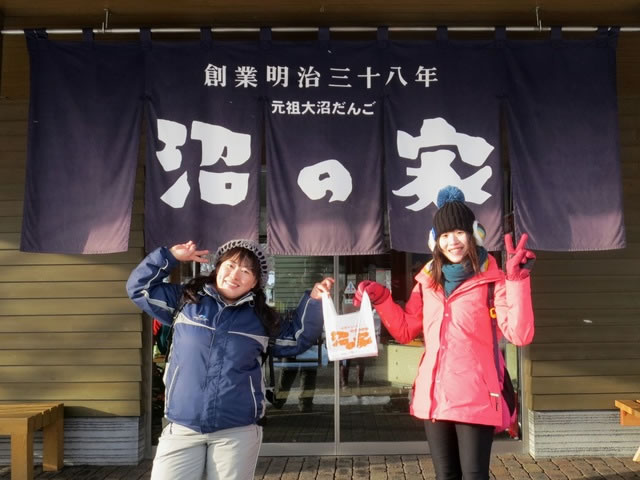 The delicious Numanoya rice dumplings. All kinds of Onuma Park souvenirs are available for sale. You can look at these while you taste the rice dumplings and take a rest.
Phone:0138-67-2104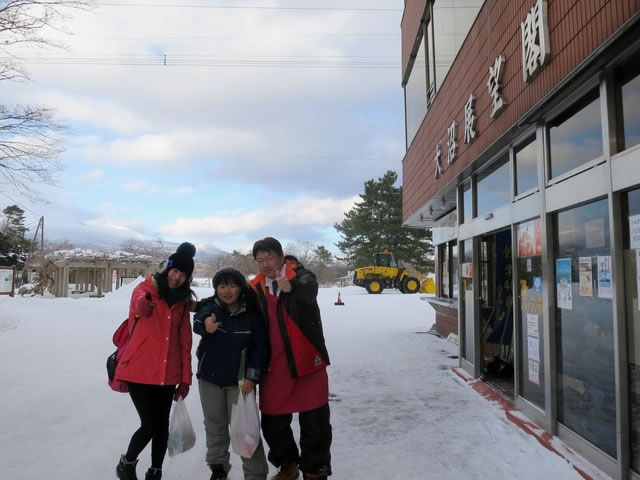 We asked the warm and cordial shop clerk to take a photo with us. Onumatenbokaku
Phone:0138-67-3311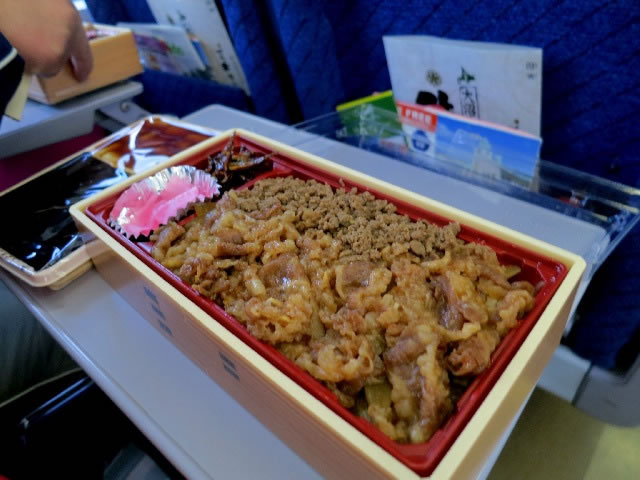 Onuma beef boxed lunch. The beef is juicy and goes well with rice. The sauce is not terribly salt, and is very tasteful.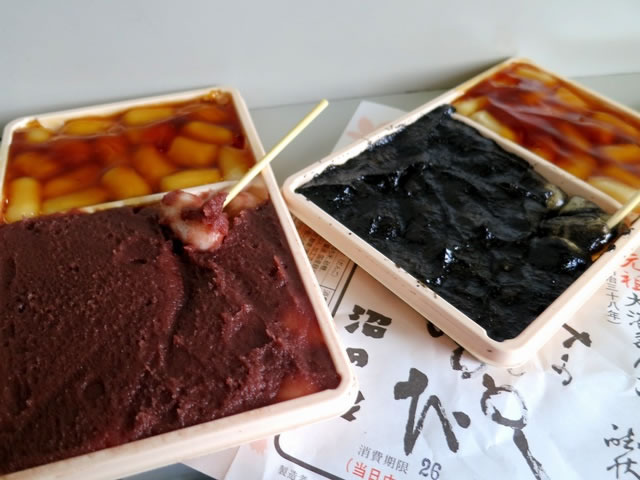 The stuffing is creamy and goes well with the chewy rice dumplings. Sweet and salty makes for a harmonic balance and tastes so good.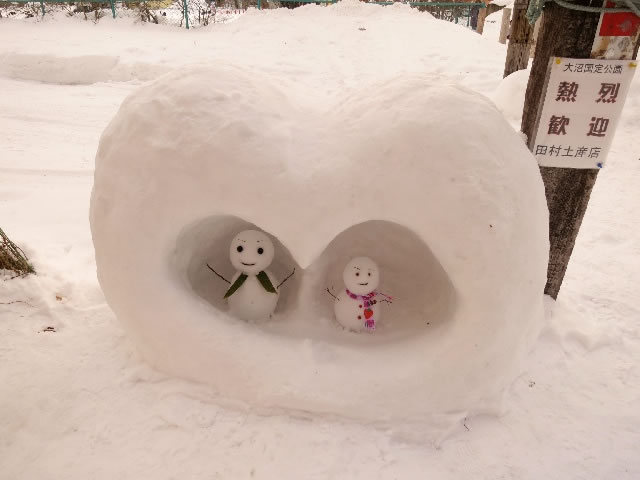 The lovely home of a snowman. Another great delight.
Before we started our hike, we were nervous as we had never hiked in the snowy mountains before, caught fish on a frozen lake and tried delicious food at Onuma Park. However, the marvelous arrangement brought us a lot of laughter and fun and unforgivable memories.
Hakodate in winter time is highly recommended. You must plan a visit to Hokodate and experience the beauty of nature.
(Visited and noted by Jen-Na Liu and Yi-Han Lin January, 2014)
*This travel guide was originally written for people of Taiwan.