My one-day summer trip to Hakodate, full of joyful food and shopping
Summer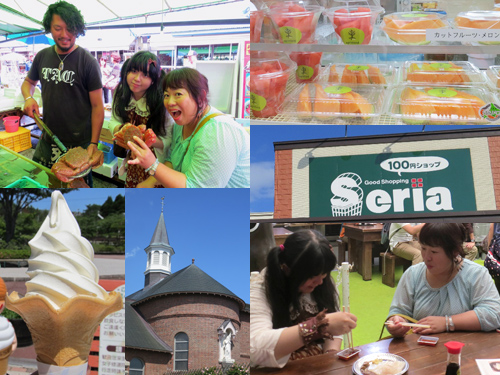 Hello everyone. I think a few people should find my face familiar. Can you guess who I am? Ha-ha, I am Jenna Liu, reporter of the winter's one-day-trip. I am honored to be your reporter again on this summer one-day-trip.
Hakodate is a wonderful region with four distinct seasons. Summer in Hakodate is shorter than in Taiwan, and its temperatures are also cooler than in Taiwan. The most incredible thing is that many families in Hakodate do not own air-conditioners or even need to use fans. So it is quite a suitable location to get away from the summer heat!
I am going to introduce to everyone a VIP who is with me to share the fun of today's food and shopping trip. She is the young and lovely Ye Yixuan, a super-fluent Japanese speaker and an exchange student from Taiwan. With her here to keep me company, I can make this report much more lively and fun! You will not want to miss it! Come with us and experience the joy of great food and shopping!
Morning Market 1: Let's enjoy the fun of squid fishing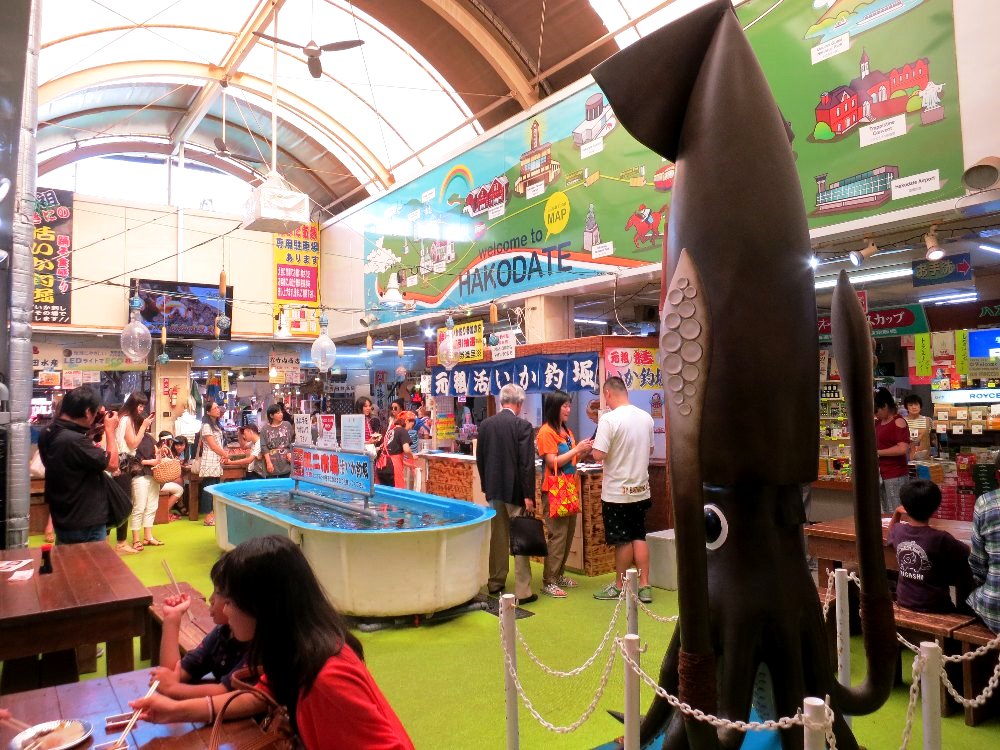 Our first stop today is to hunt for treasures at "Hakodate Asaichi" (Morning Market), situated just one street away from Hakodate Station.
Morning Market is the assembly center of the local region's major agricultural produce and marine stock. It is also one of the region's most popular tourist attractions. Our aim today is to fill our stomach with delicious food, so we have skipped breakfast and gathered our empty stomachs here at 9:00.
Let's start by experiencing something fun! In the middle of "Ekini Ichiba Market in Morning Market" building is where we can find the squid fishing site. There is a huge squid mannequin on the display at the side and it has attracted a lot of people to come here to catch fresh squid.
I will now hand over to our lovely friend Ms Ye to make a catch! Ms Ye, try your best please!
"No worries, leave it to me! ♪"
The way to catch a squid is pretty simple. The on-site officer will hand you a fishing rod rigged with a fish hook. All you need to do is put the fishing rod into the water and use the hook to hook the triangular part of the squid's head and you are done. It seems like a simple move, but it is giving me quite a workout! A single little squid does not seem very strong, but pulling him out of the water is still taking more work than I expected! After a brief struggle with the squid, I finally caught him with the fish hook!Thank you, Mr squid, for letting us make a meal of you!
The above is Ms Ye's first experience with squid fishing ♪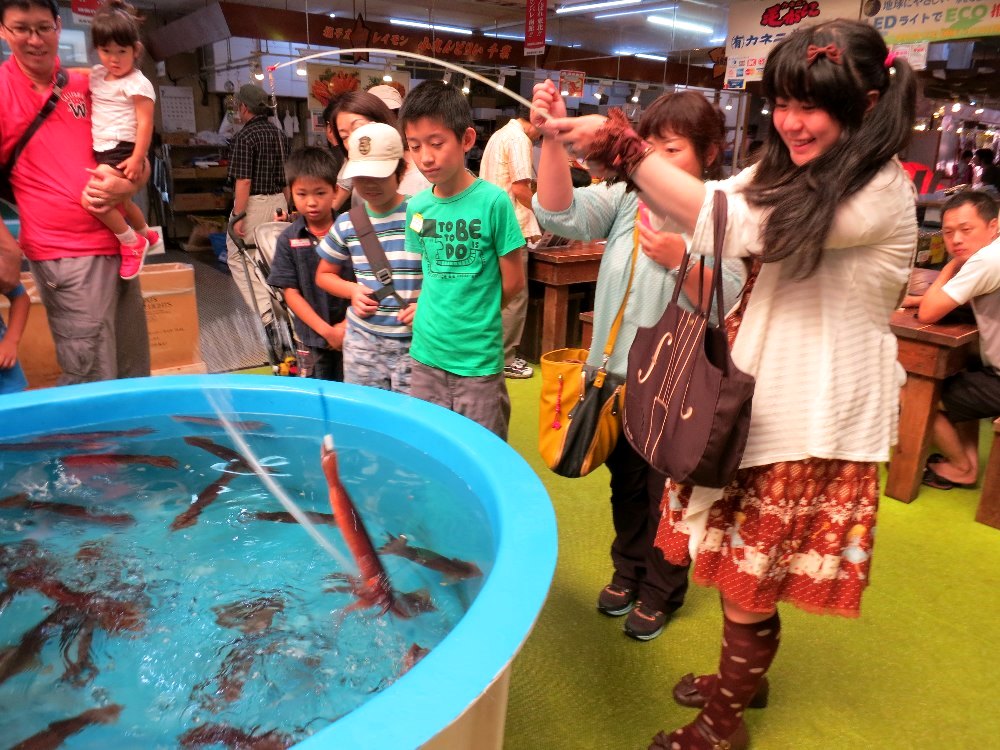 Wow! A live squid has been caught!!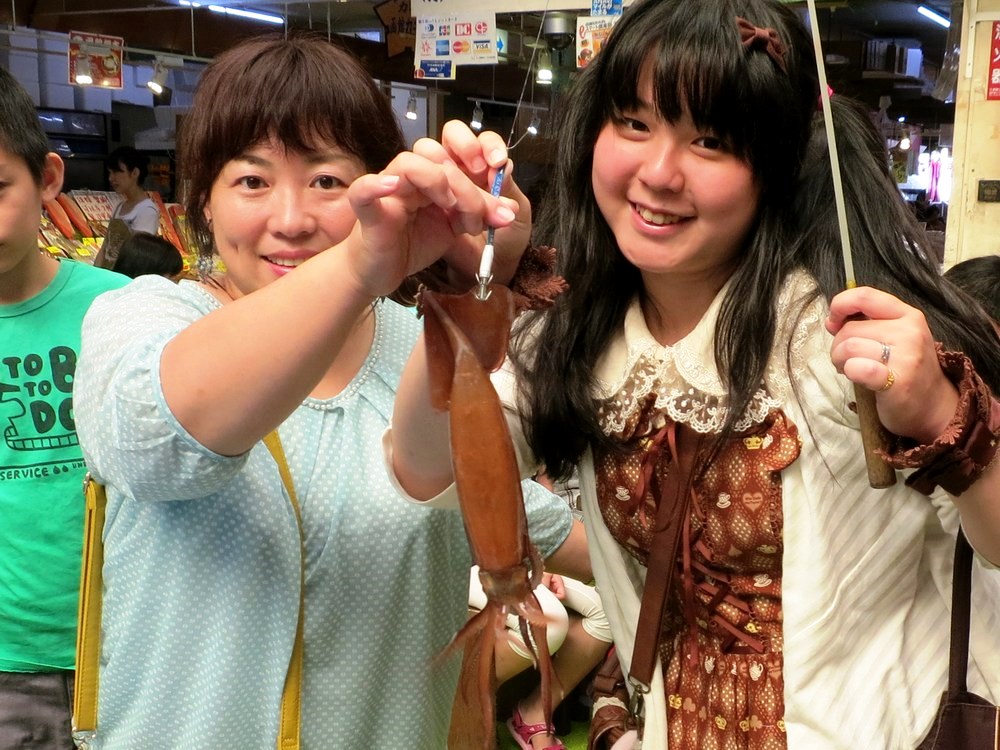 Very exciting! Did you see how big the squid we caught was! In a moment, it will be inside our stomach!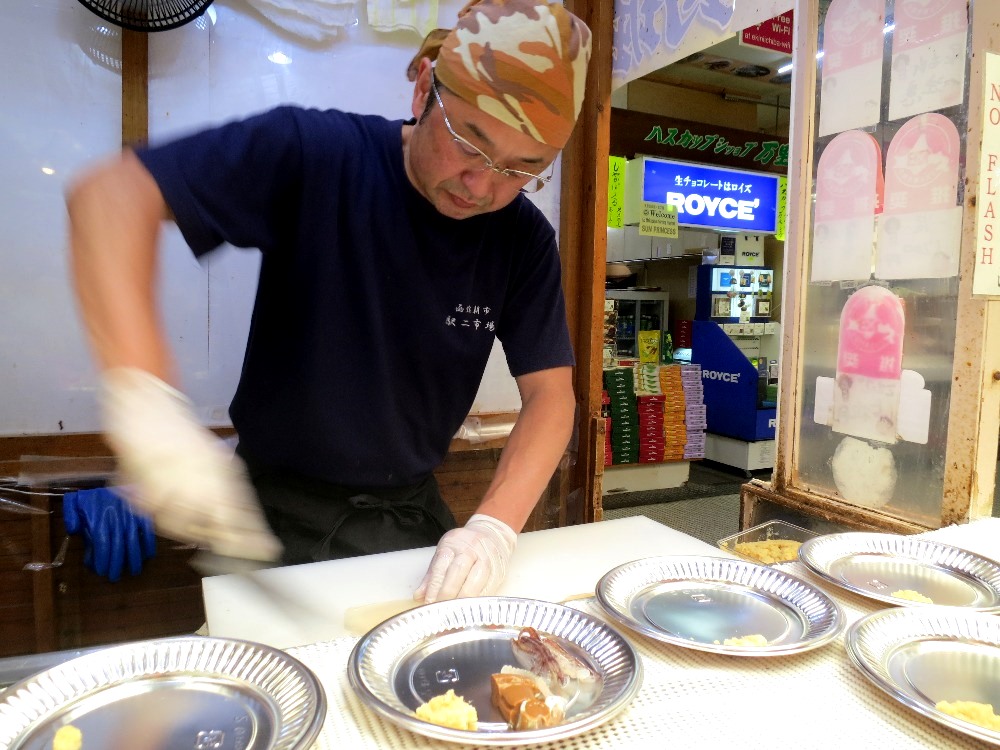 With a few fast and dexterous knife moves, the cook slices the squid into pieces and serves them on a dish.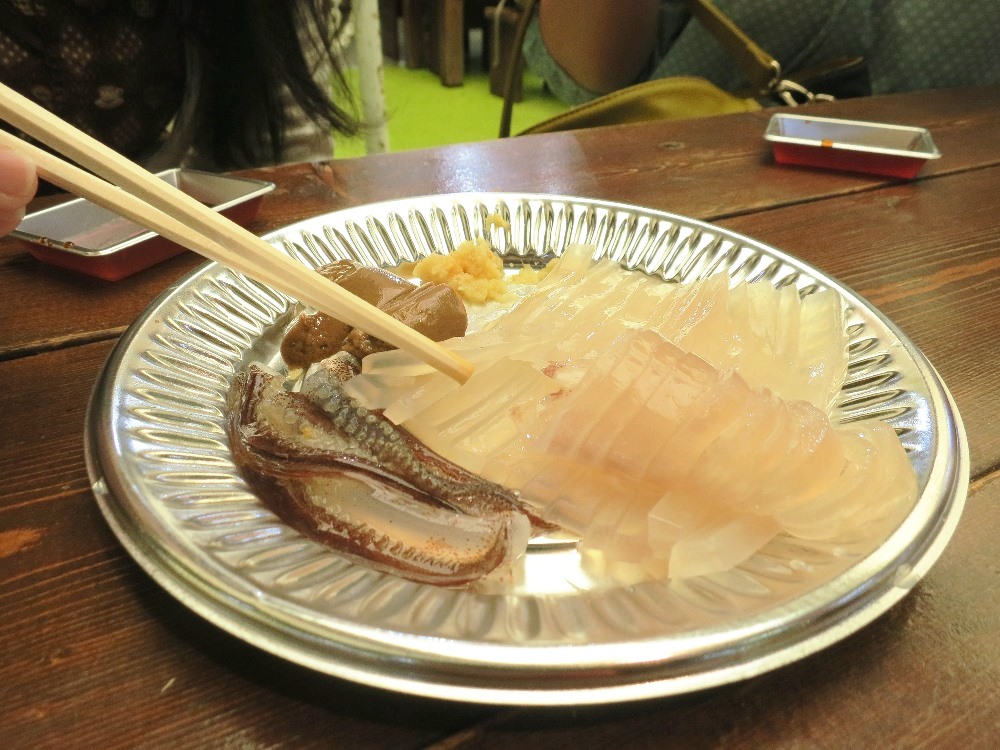 Pure, translucent squid pieces are presented before our eyes. The squid tentacles still move if you touch them with your chopsticks! How fresh!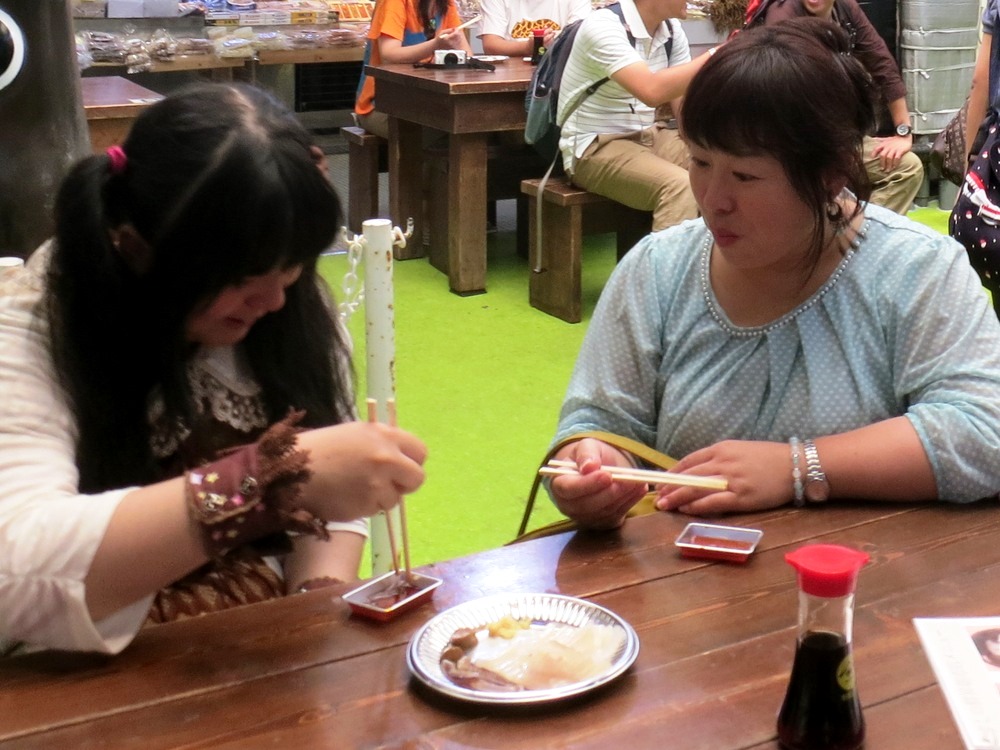 Dip them in ginger soy sauce and gobble them up one mouthful after another. That soft, crunchy sensation in your mouth is really hard to describe. Very quickly the squid has become a part of my body!
Morning Market 2: Let's pick a live crab from a water tank and eat it!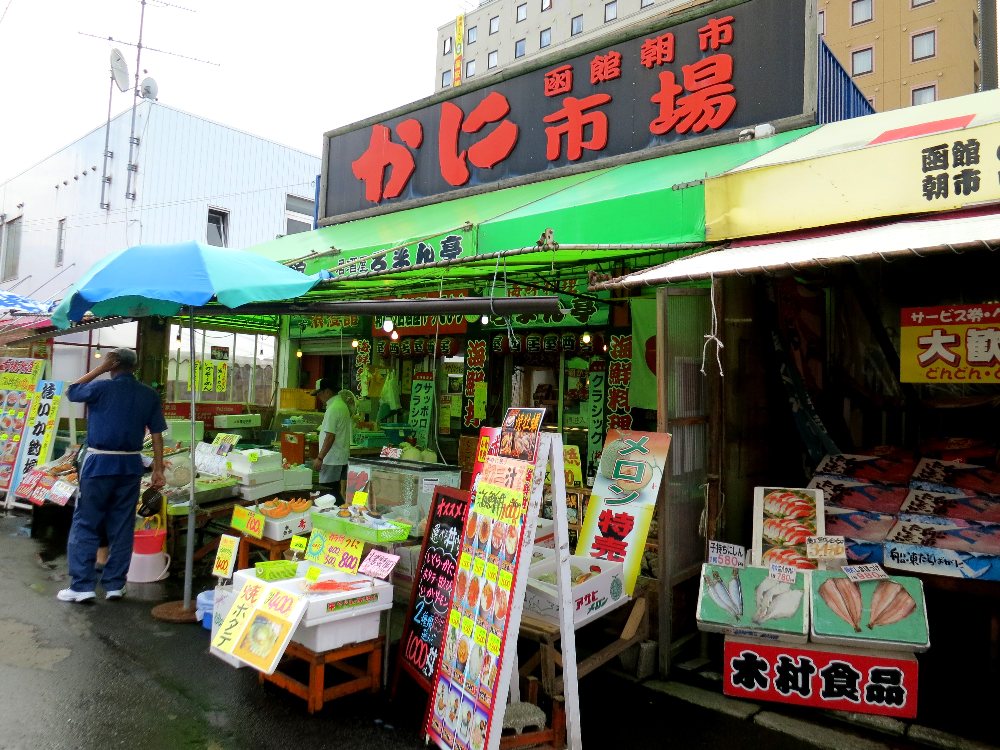 Next up is the most important object of today──eating crabs!
Whether inside or outside the buildings of the Morning Market, many shops have water tanks containing crabs. Listening to the various touts do their best to plug their wares: "Want to eat crabs?" "We can cook it right away!" ...... listening to their cries makes it hard to decide where we should go to enjoy a meal of crabs!
After choosing carefully, we are drawn to a shop bearing a sign that says "Kani Ichiba". There are many live horsehair crabs and king crabs in the water tank outside the shop. We choose a suitably priced horsehair crab as a sacrifice to our Temples of Gastronomy. By the time we come back to the shop about thirty minutes later, the crab has already been prepared into a delicious meal! It looks very tasty!
The horsehair crab we eat today (small sized; the internal is culinarily treated; crab soup is included) costs 4,000 yen /"Hakodate Romankan"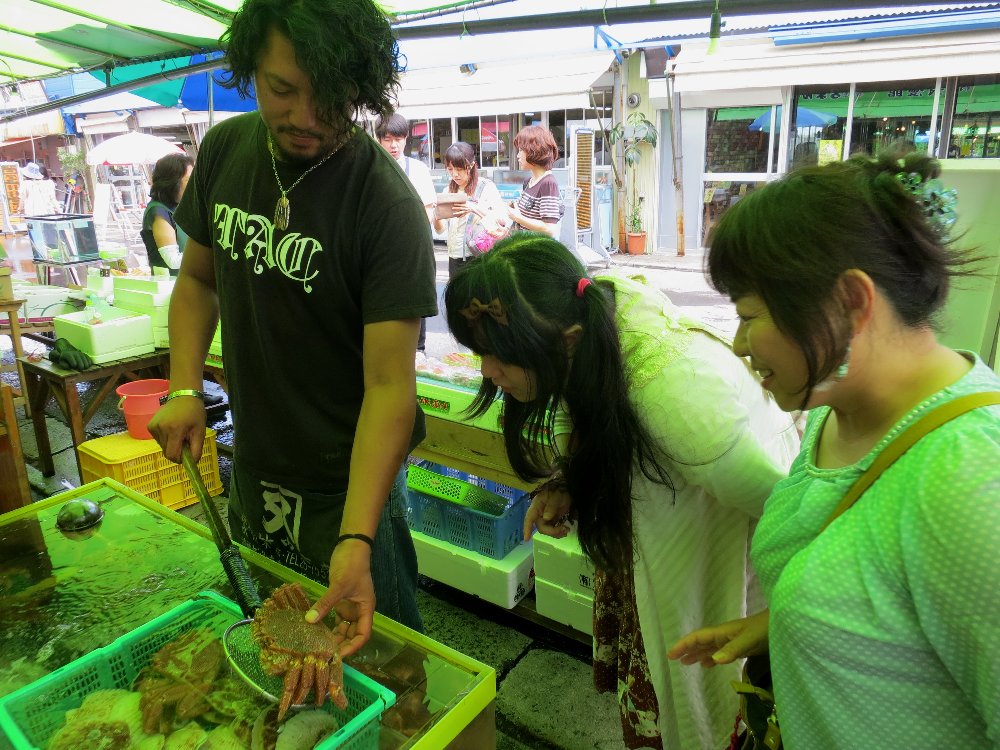 The handsome boy attendant explains to us the differences in crabs. Their price is determined by weight.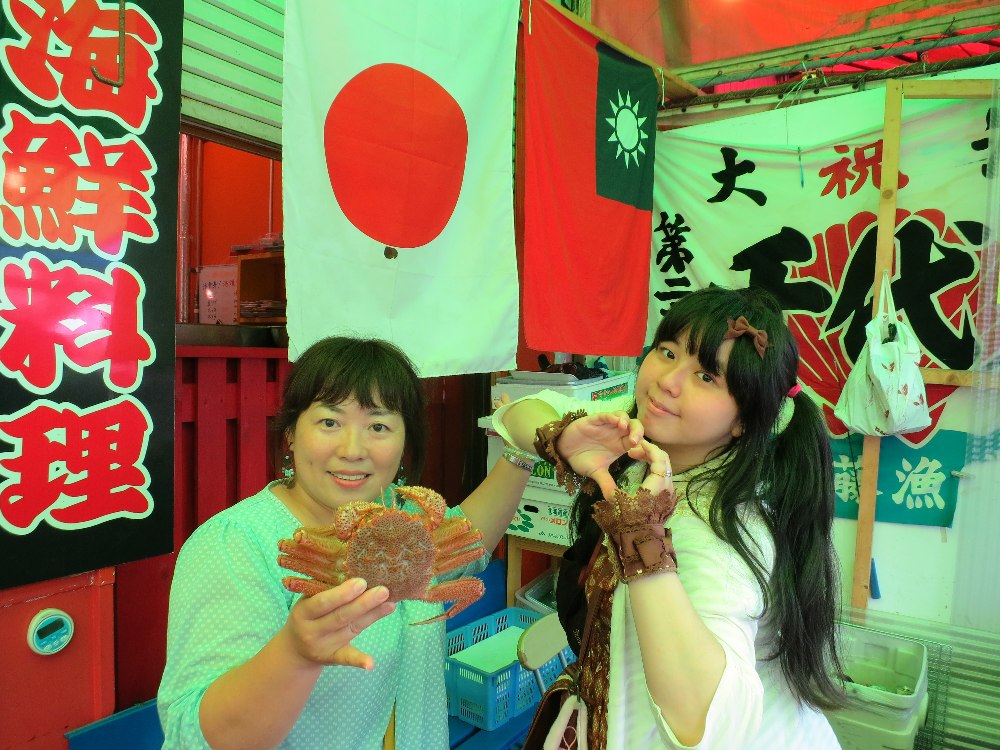 It is so exciting to see a flag of the Republic of China! This shop must have a lot of Taiwanese customers!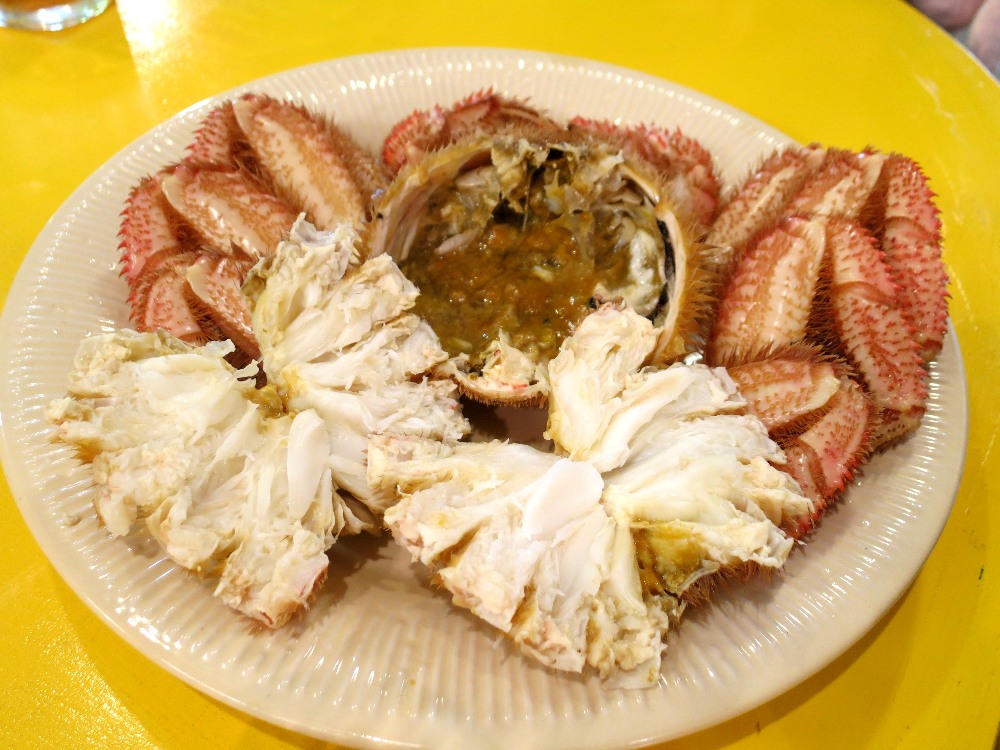 After waiting patiently for thirty minutes, we are presented with mouth-watering, white, tender crab meat, and my favorite, crab yolk. I feel a stirring in my heart just looking at it!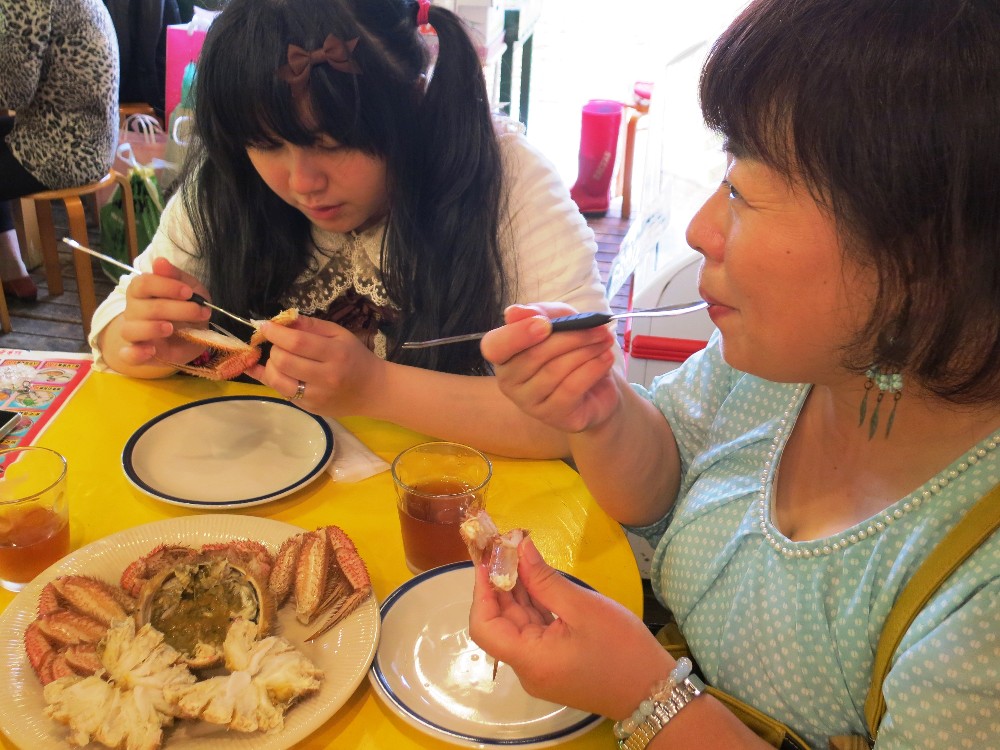 You can easily take out the crab meat by using a long soup spoon made for eating crabs. Wow! I am so happy!
Morning Market 3: Corn, melons ... etc, and all kinds of scrumptious delicacies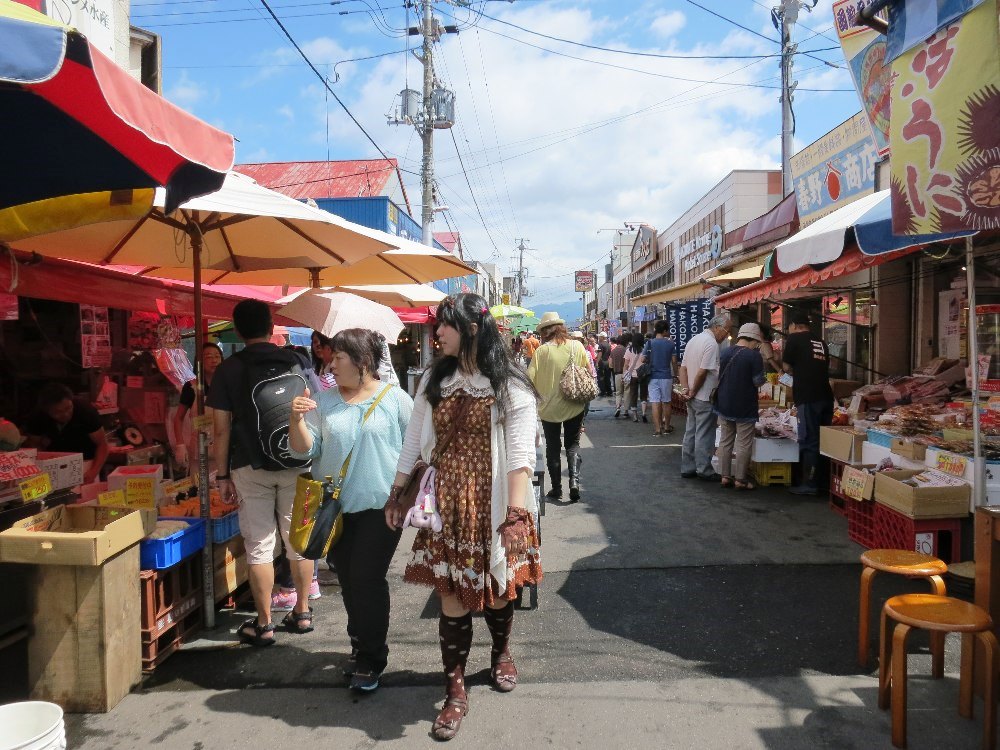 With our bellies full of crabs, we continue to roam the Morning Market and see what delicious food we have overlooked! Along the way, we hear the touts' voices coming from different shops: "What are you looking for?" "Do you want a taste?" At every shop, we see a full display of fresh fish, fruits and vegetables. To tell the truth, I wish we could try everything in every shop. But our stomachs are limited and we must select only a few lucky shops to try out! Every morning there are quite a few Taiwanese tourists visiting here, so the Morning Market actually looks quite similar to a Taiwanese market. It also gives me an optical illusion──just like I have returned to Taiwan.
"The smell of grilled corn is wonderful~" "Just looking at the JuicyJuicy yubari melons whets my appetite~" I want to shove everything into my big belly!"
Yubari melons and yubari melon juice, corn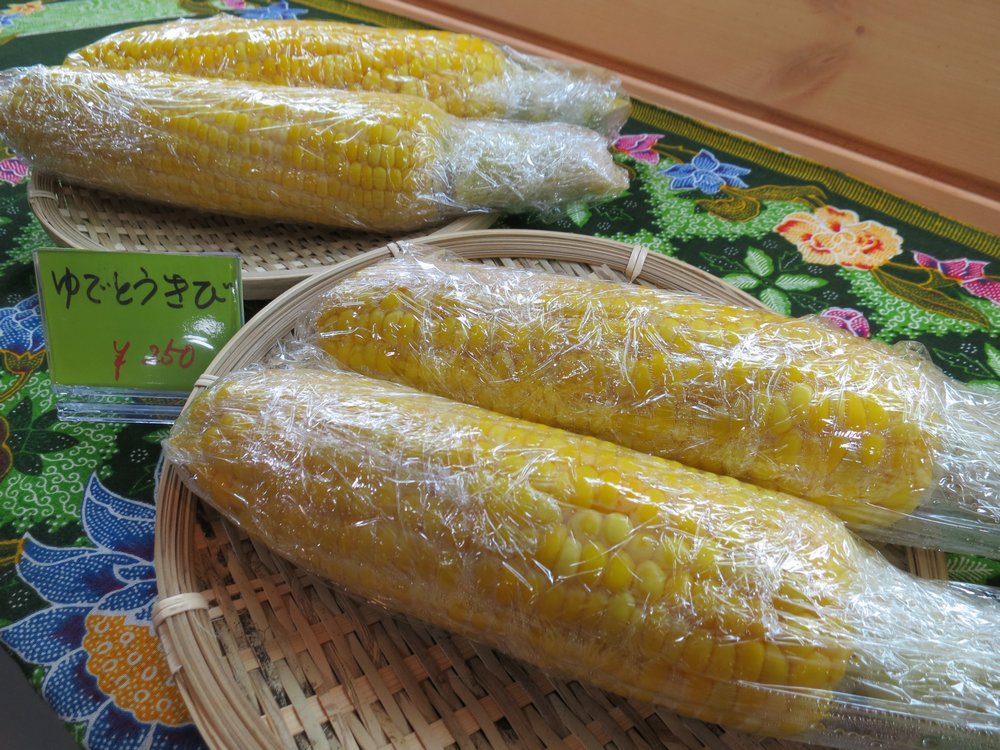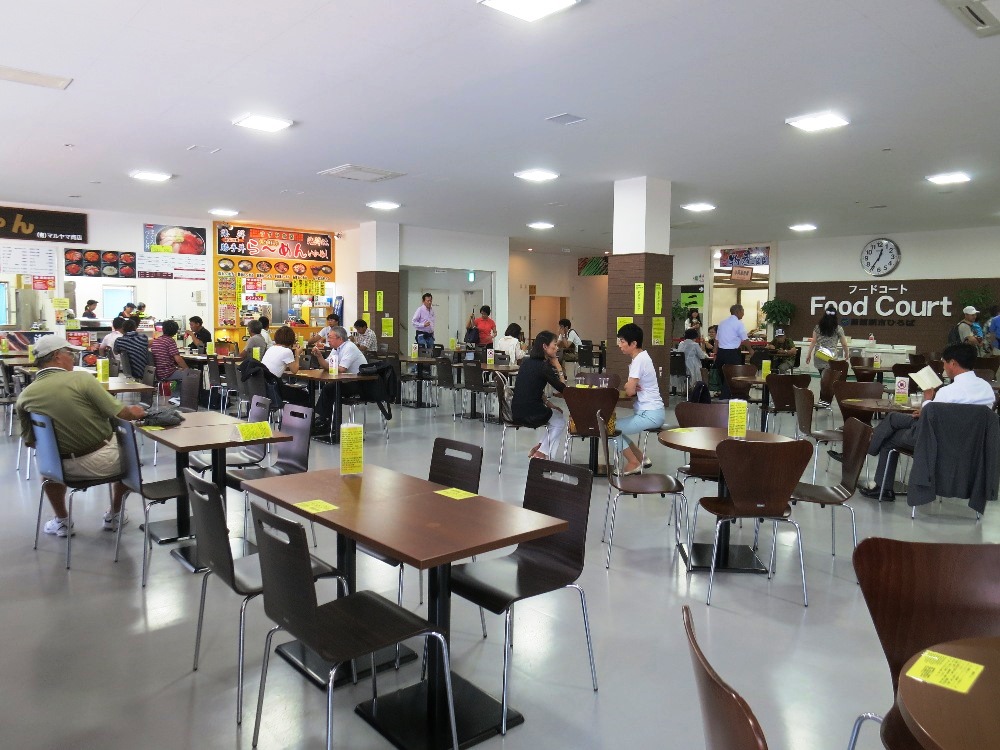 This place known as "Asaichi Hiroba Square" sells all kinds of delicious food. Today we have chosen our very best dessert! The super icy, super sweet and super delicious yubari melon and icy cold fresh yubari melon juice. Here, you can also buy the sweet tasting corn produced in Hokkaido. As long as you have purchased something, you can get a seat, and this is an excellent place for resting your feet after an exhausting walk! The 2 slices of the delicious yubari melon we ate today cost 300 yen and 1 glass of fresh yubari melon juice costs 500 yen. One ear of boiled corn costs 250 yen / Agristand (in Morning Market)
We take the shuttle bus to a popular tourist attraction "Trappistine Convent"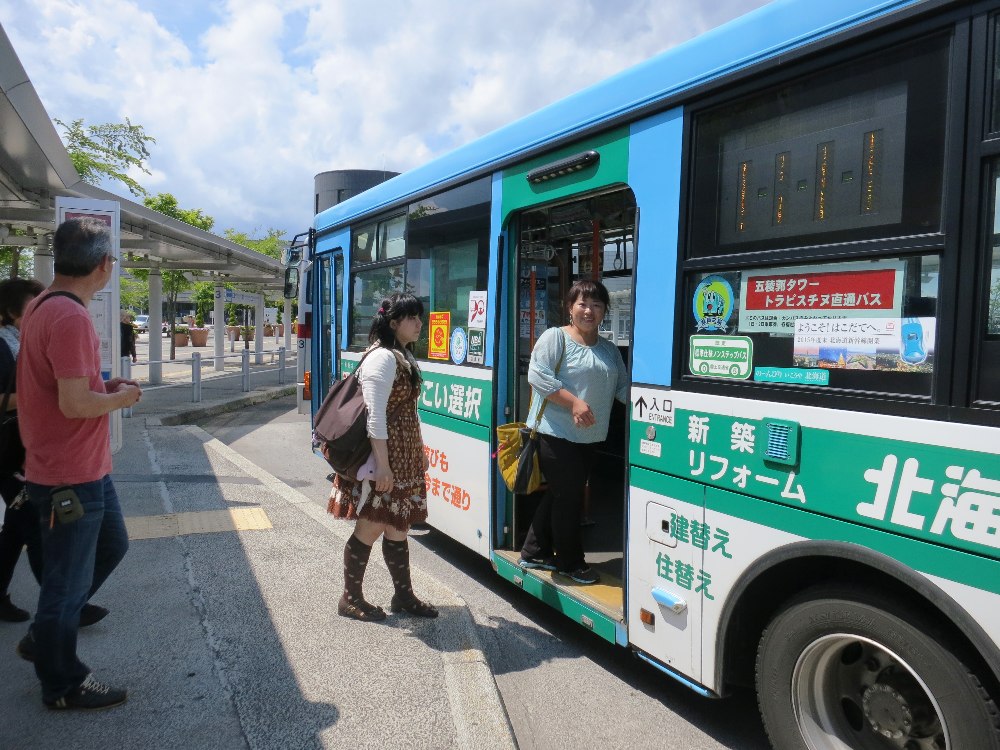 Next, we visit "Trappistine Syudouin (Trappistine Convent)" which is also quite well-known in Taiwan. Here you can enjoy delicacies such as petite madeleines (or shell cakes) and white chocolates and various handcrafts personally made by the nuns.
Take the shuttle bus at the number 4 bus stop before Hakodate Station (buses run between 9~14 o'clock; the trip takes about 40 minutes; the fare is 300 yen) to reach Trappistine Convent. Don't forget to pick up the ice-cream discount coupon before you get off!
Although at Trappistine Convent you cannot see inside the convent or the pulpit, you can visit the beautiful and elegant European-style courtyard buildings and the beautifully manicured trees in the garden. It immerses you in the atmosphere of Europe. Taking a photograph here will make people think that the photograph is taken during your visit to Europe! But you must beware not to make any loud noise, because you don't want to interfere with the nuns' devout prayer schedule!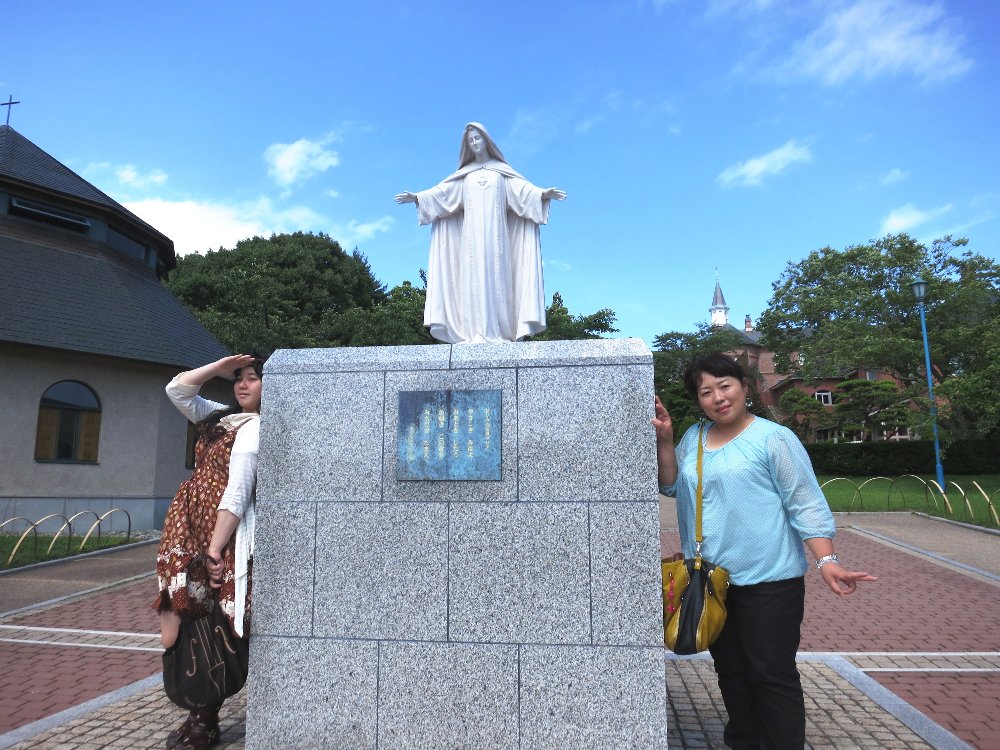 Although you cannot take photos with the nuns, it is still pretty good to take a photo with a statue of the merciful Virgin Mary!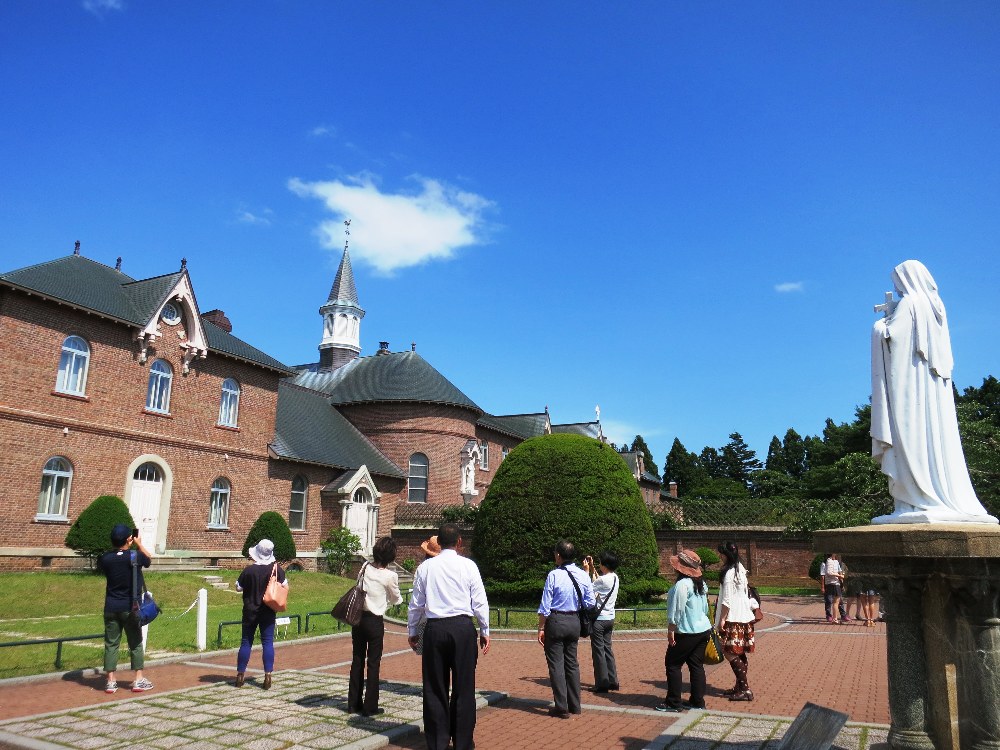 So many tourists visiting here! And there are tourists from Japan as well as from overseas! The guide's explanation about the features of the convent has greatly enriched our knowledge!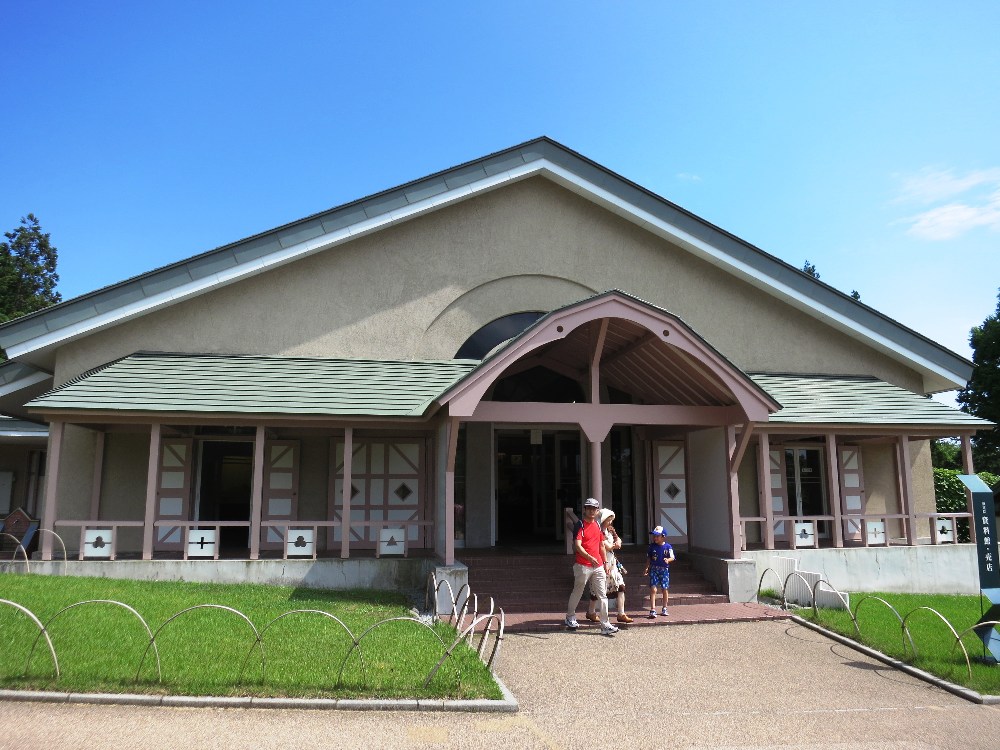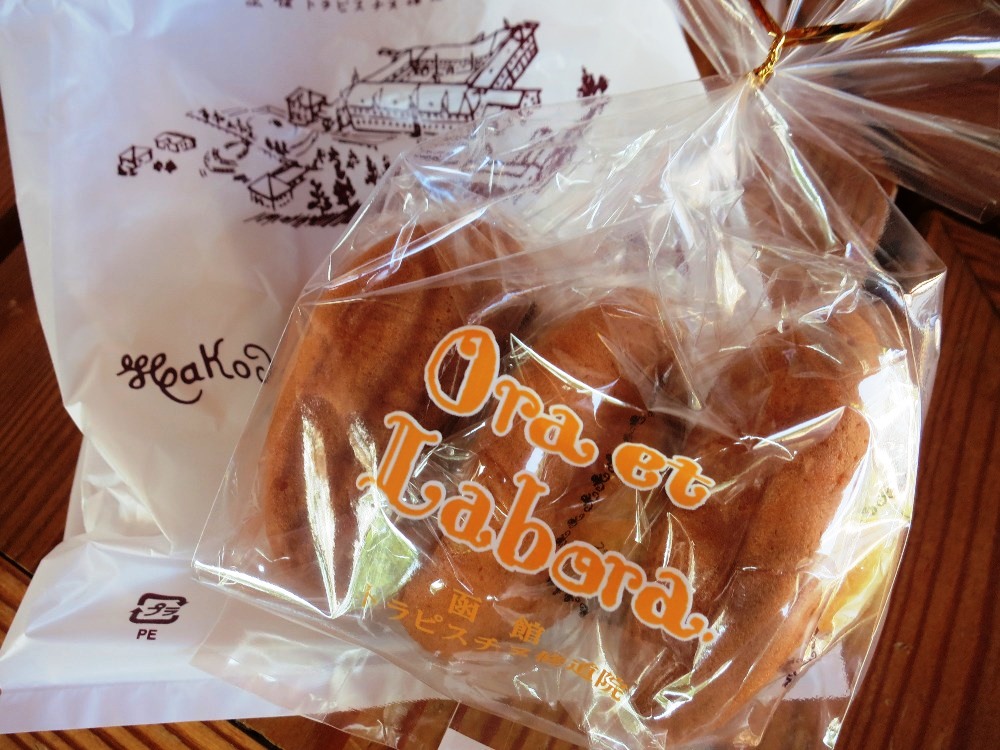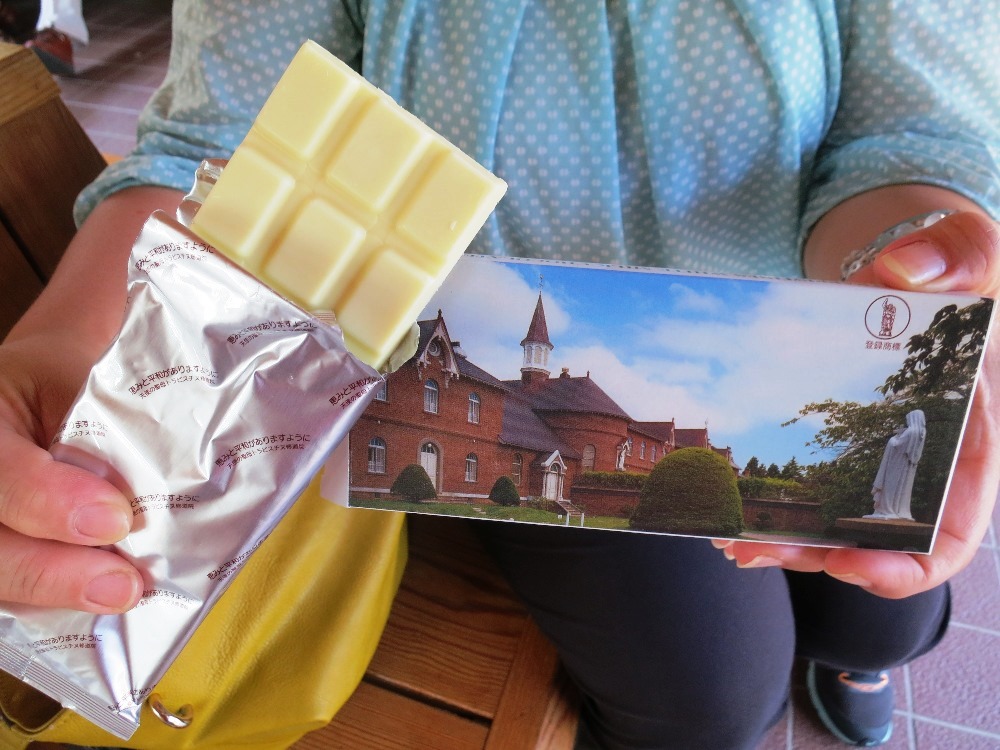 The convent has a gift shop and an archive. The archive displays photos and information about the lives of the preceding generations of nuns. It also sells handcrafts and French pastries made personally by the nuns. Today, we choose a bag of three petite madeleines (or shell cakes) for 450 yen and rich-tasting white chocolates (300 yen). The exquisite package box has a scenic picture of the convent printed on it. It has commemorative value and is the perfect choice for a souvenir!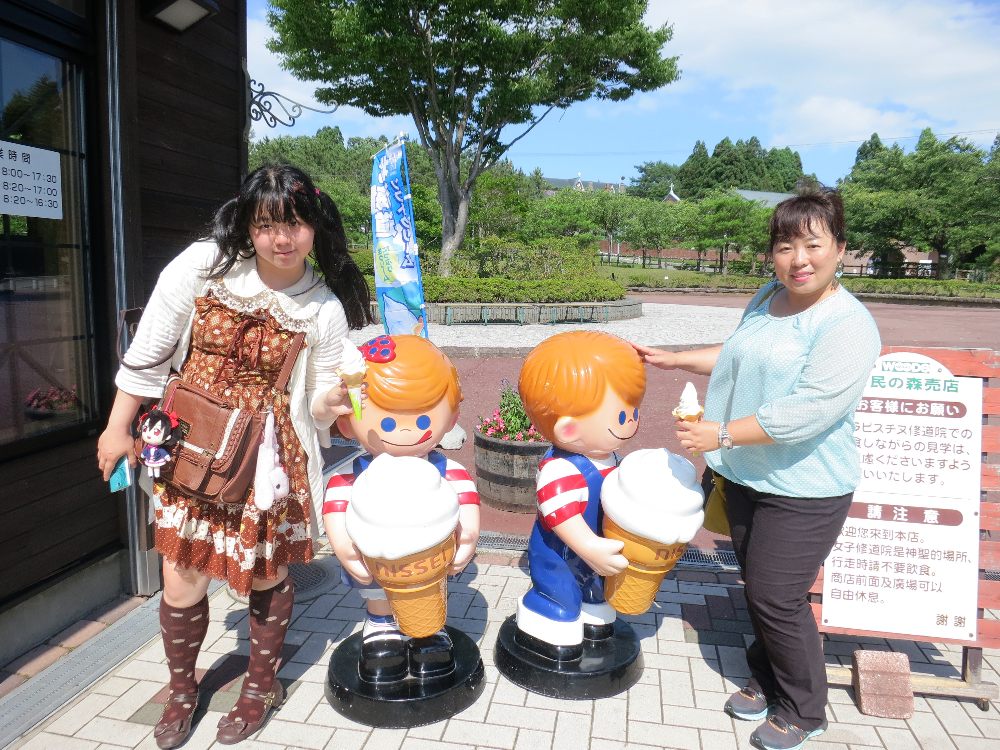 After leaving the convent, we use the spare time while waiting for the hourly shuttle bus to visit the store next to "Shimin-no-mori Park". The ice-cream sold here is said to be the best ice-cream in Hokkaido! With its genuine premium ingredients, the flavor is especially rich! It is well liked by the locals and by tourists visiting here from afar! We, of course, are no exception to the rule, and we purchase a plain vanilla flavor ice-cream for a trial tasting. After using our 300 yen discount coupons, we only need to pay 250 yen to enjoy the rich creamy milk flavored ice-cream! Because the ice-cream is made with genuine premium ingredients, it melts easily and should be eaten immediately! While enjoying the rich creamy taste of the ice-cream, be sure to check out the area opposite "Shimin-no-mori Park" shop! There are many species of gorgeous hydrangeas in full bloom here and they also a special feature of Hakodate!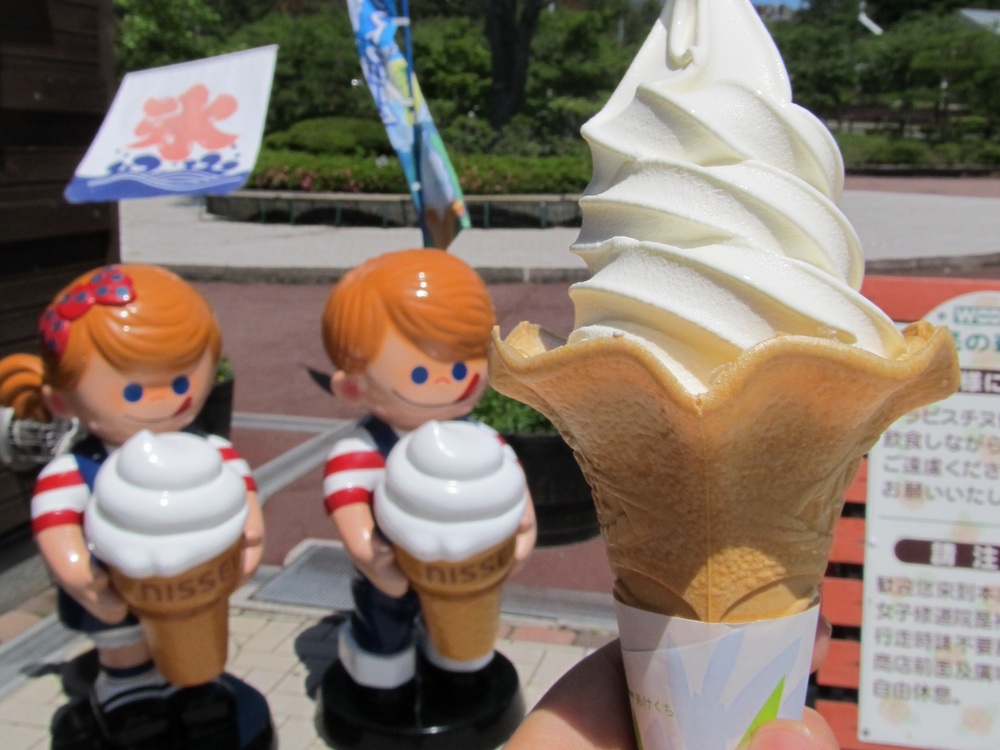 Ice-cream sold by the "Shimin-no-mori Park" store──a delicious flavor you can enjoy for just 300 yen (250 yen after applying a discount)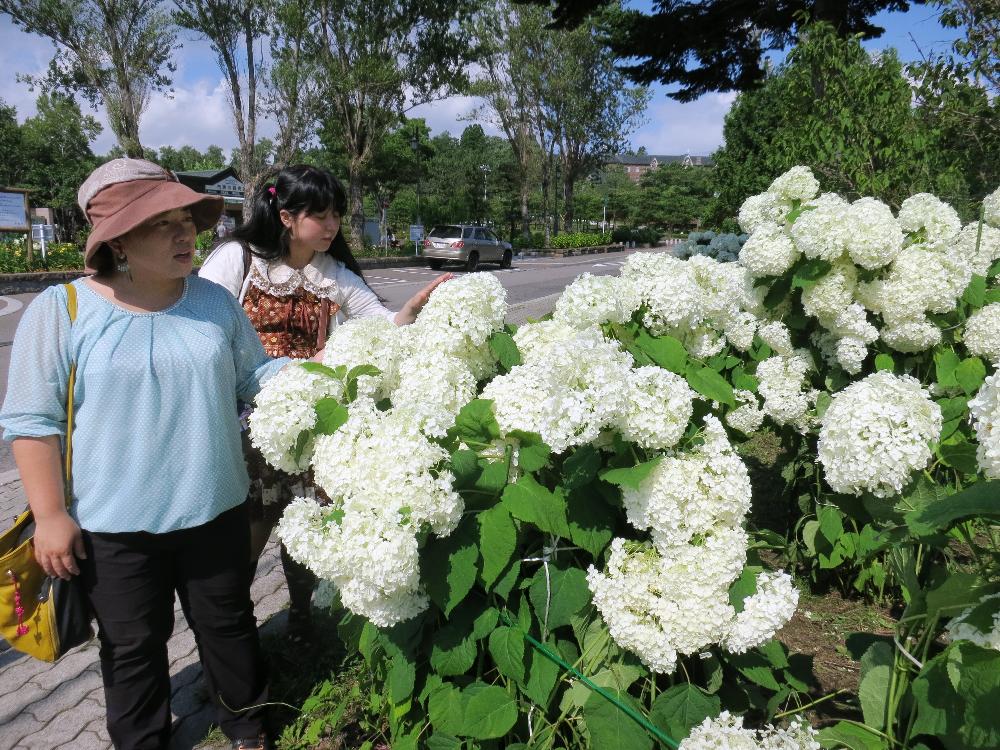 The white variety of hydrangeas (nickname: Annabelle) is truly special! Even though you can see hydrangeas in Taiwan, the hydrangea species you see here are amongst the best in Japan!!
Buy lovely goods at the huge shopping center "Fresupo Tokra"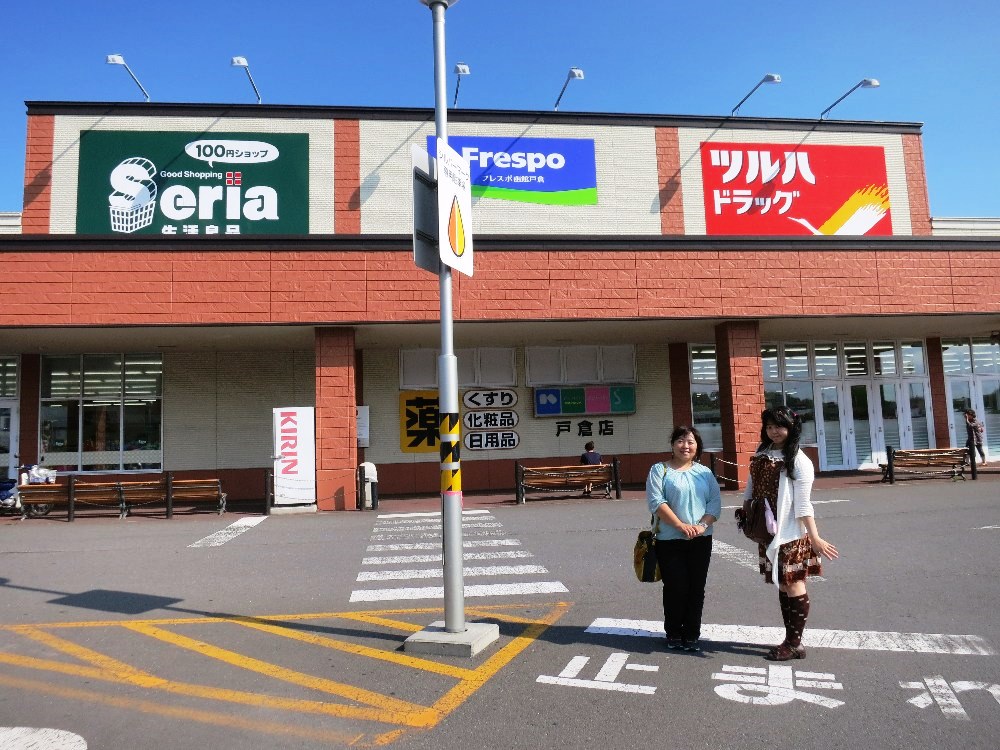 Lastly, I want to introduce everyone to Fresupo Tokura──the shopping center where Hakodate residents often go to do their shopping. There are shops that sell local souvenirs oriented towards tourists, and there are shops that sell famous Hakodate delicacies and goods. Recently, the number of people shopping at drug stores and 100 yen shops has increased. In this place, you can buy many products cheaply, including trendy items that are not sold in Taiwan, cute novelty items, and goods that are too expensive to buy in Taiwan.
Take the shuttle bus from Trappistine Convent and travel to the first station in the direction of Hakodate Station──"Yukura Jinjya Mae" (costs 220 yen), then go back on foot for about 10 minutes and you should reach Fresupo Tokura. Before getting off the shuttle bus, pay attention to the left-hand side, where you should see a large shopping business district as you pass by.
The leading drug store──"Tsuruha drug"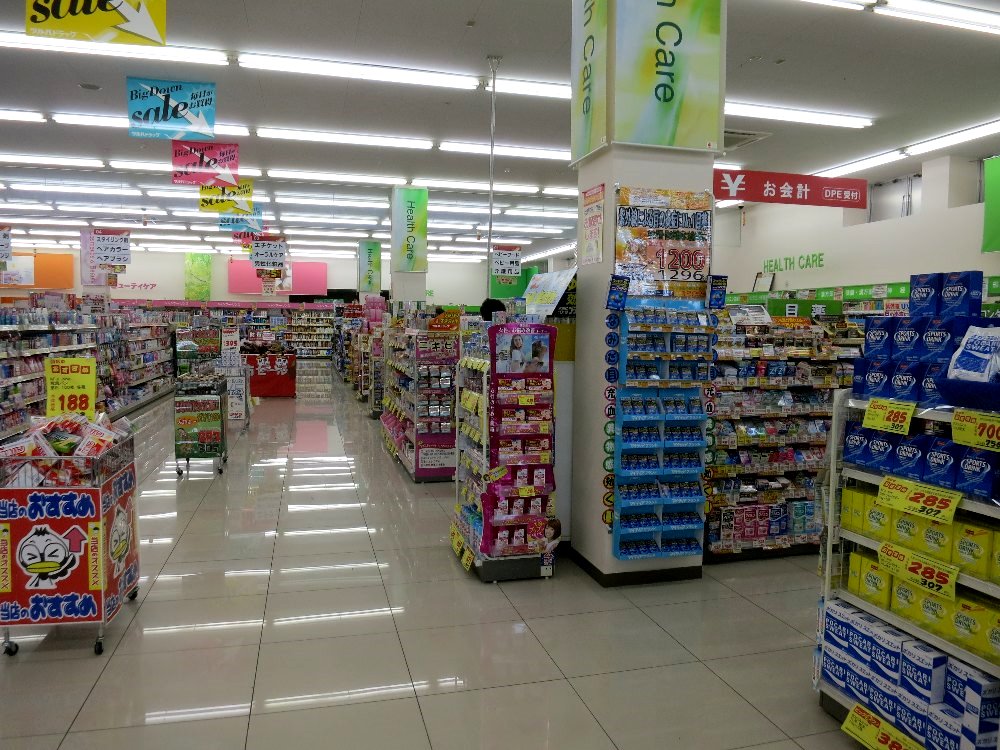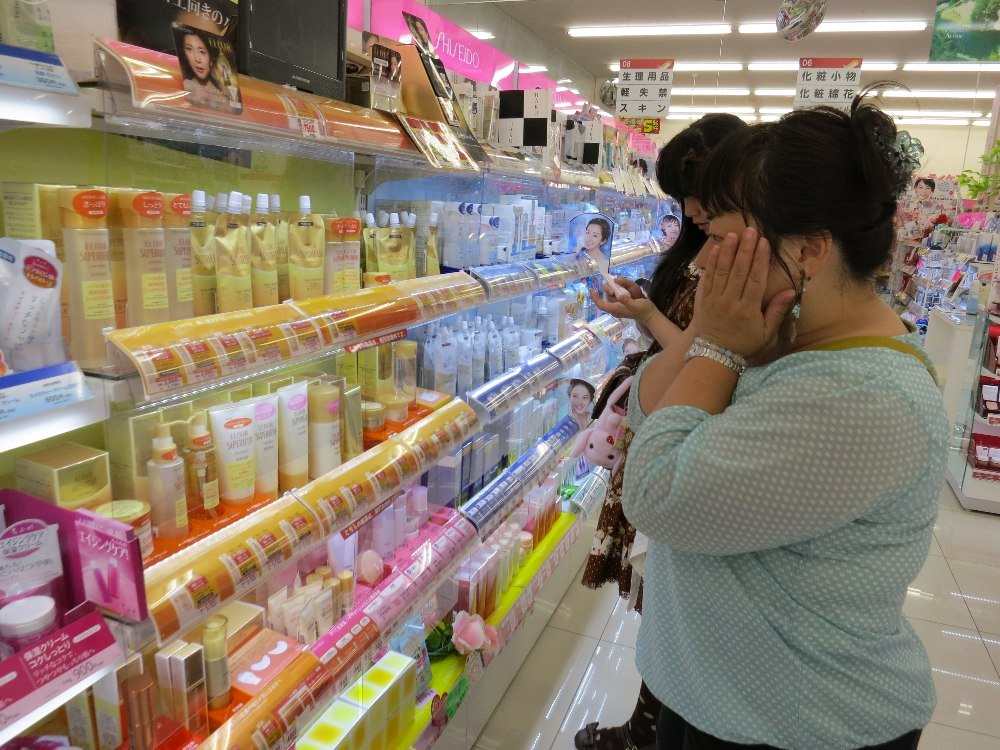 The store interior is very spacious and brightly-lit, and the clear layout makes everything easy to see. The impressive array of goods is dazzling and dizzying! Pharmaceuticals, cosmetics, food, household items: everything is right here. Of course, Shiseido cosmetics favored by women are also ready available for purchase. We dawdled inside the store for a long, long time. Which item should I buy? Should I get this one, or is that one better? Every product makes one want to take it.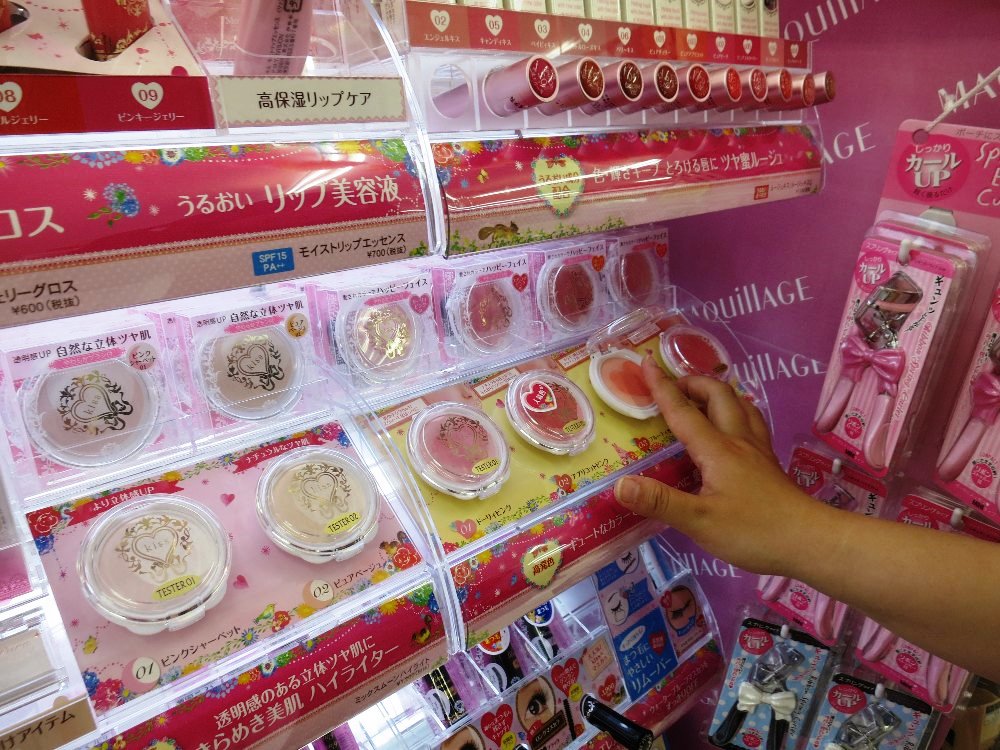 Those lovely cosmetics: if you are a woman, you will not want to miss out!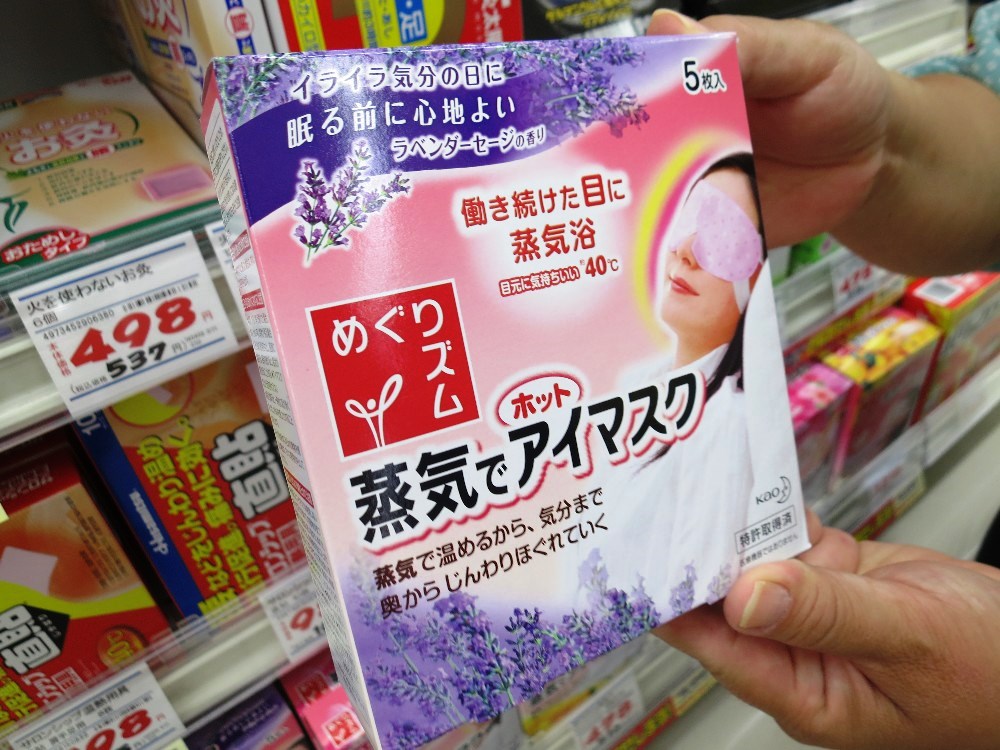 I saw on TV a gossip news story which says eye warmers can eliminate one's daily eye fatigue.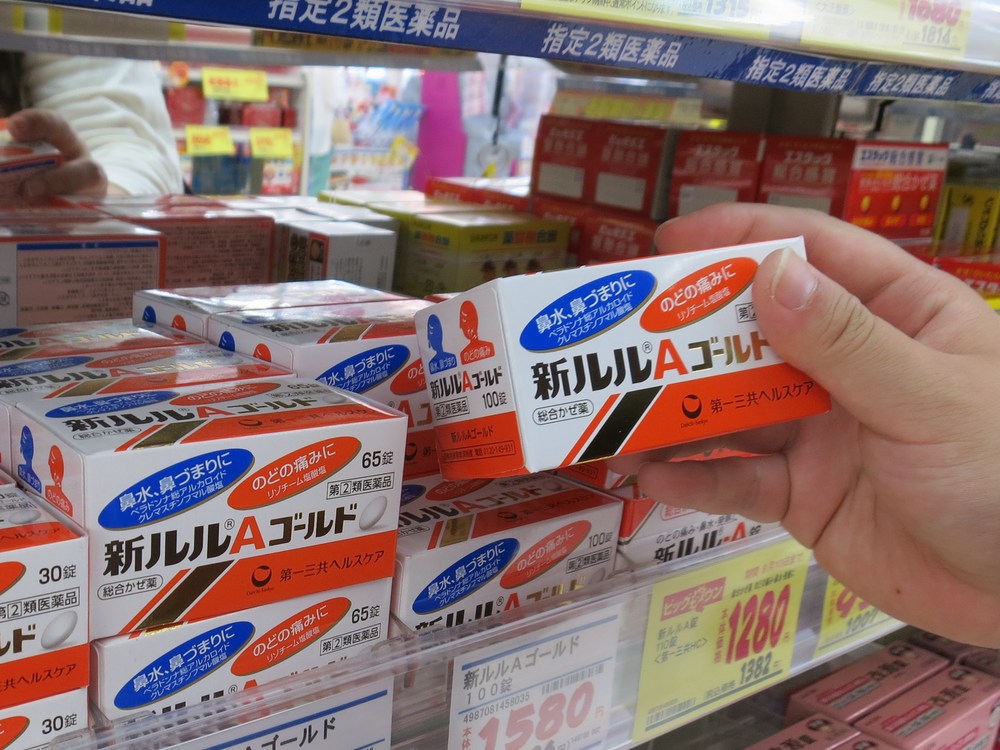 You can stock up on many of the pharmaceuticals popular in Taiwan cheaply here!
The 100 yen shop specializing in cute and fine goods──"Seria Hakodate"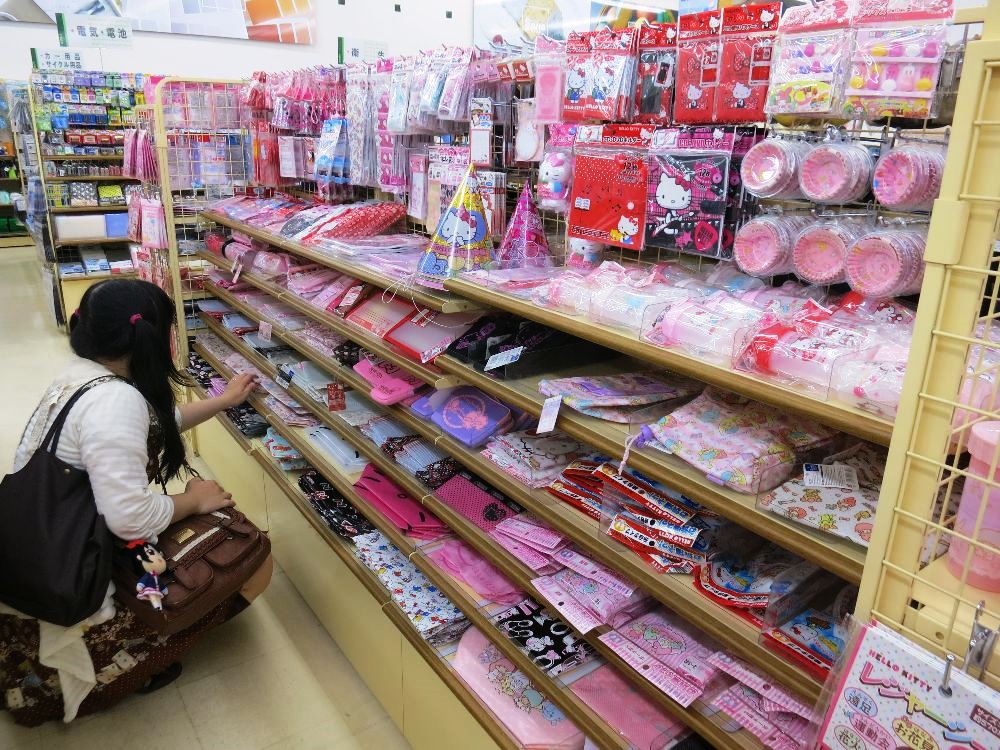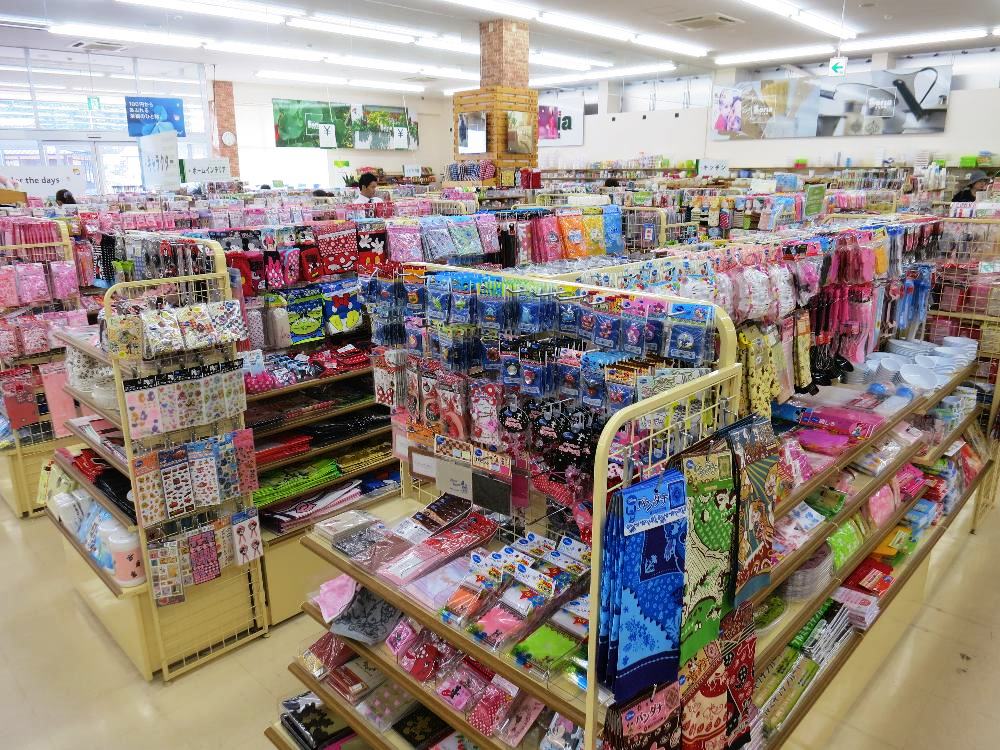 Just like "DAISO", which already exists in Taiwan, Seria is also a "100 yen shop" in which every product costs 100 yen (excluding tax). Here you can buy plenty of practical small objects that are "Made in Japan". Kitchen supplies, gardening supplies, decorations, stationery supplies, household items, cleaning supplies ...... everything can be purchased at the 100 yen shop! Strolling around here can really cause you to "act on impulse" and inadvertently fill up an entire shopping basket with items!
[Jenna's recommended products]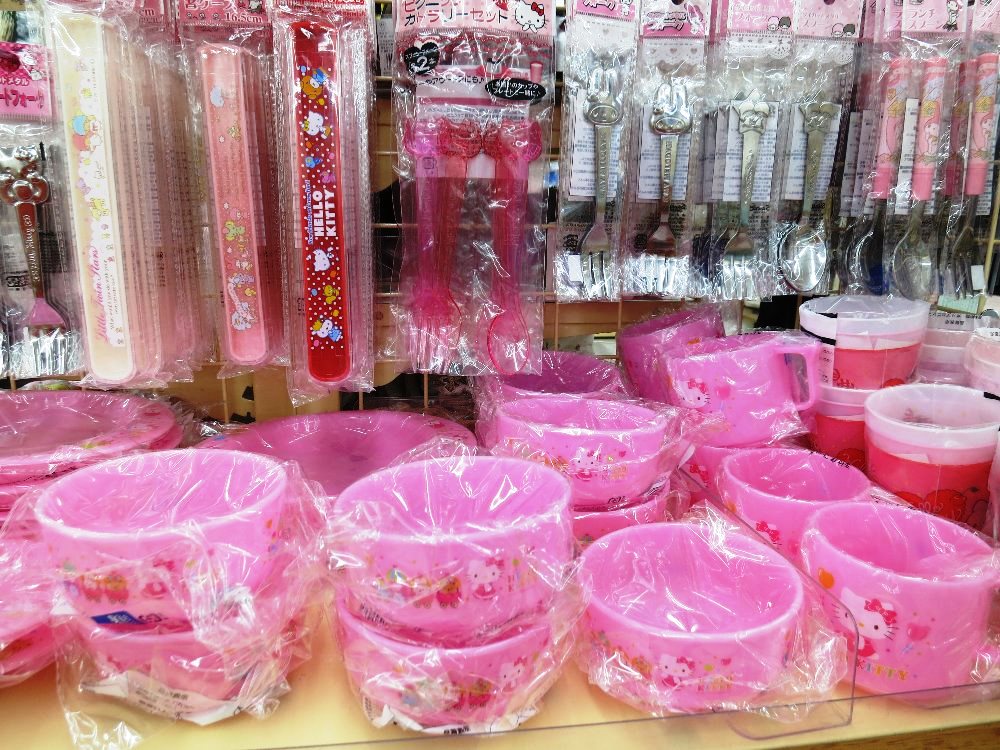 Cartoon character tableware
Do you like to use cute tableware that comes in a set? Whether you are looking for characters from a Sanrio cartoon or from a Disney cartoon, they are all here! No discrimination in relation to age, suitable to young and old, makes you want to grab them all!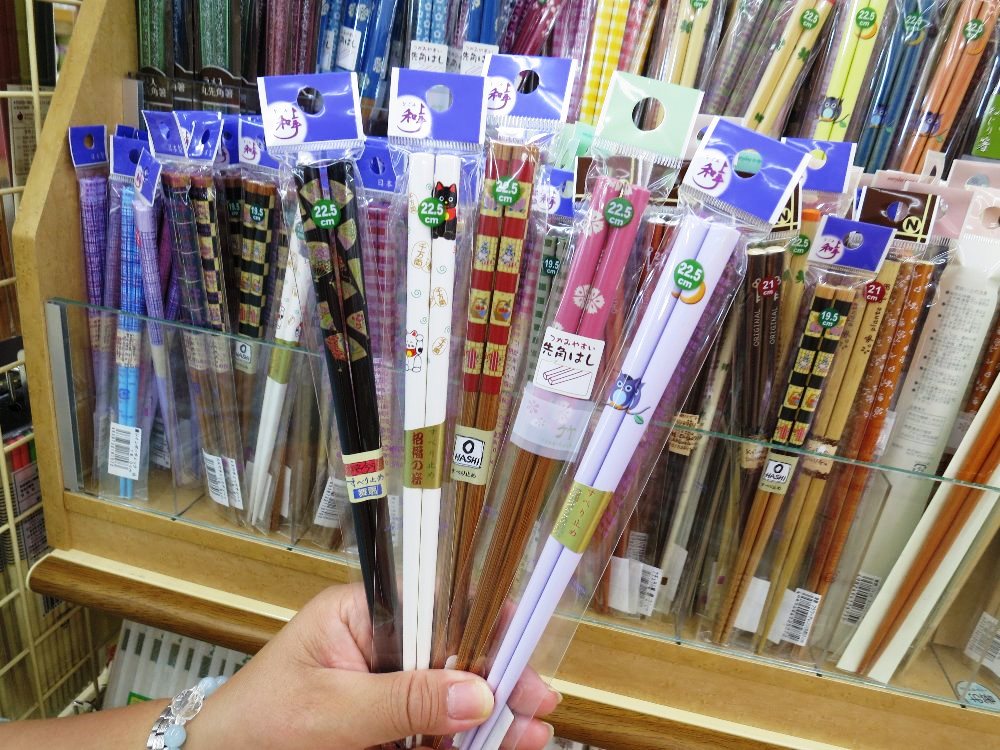 Japanese-style chopsticks
Our constant friends in life, the good-old chopsticks! There is a wide variety of chopsticks available here! They are suitable for personal use and for gift-giving. Pick up a few Japanese style "Made in JAPAN" chopsticks and take them home!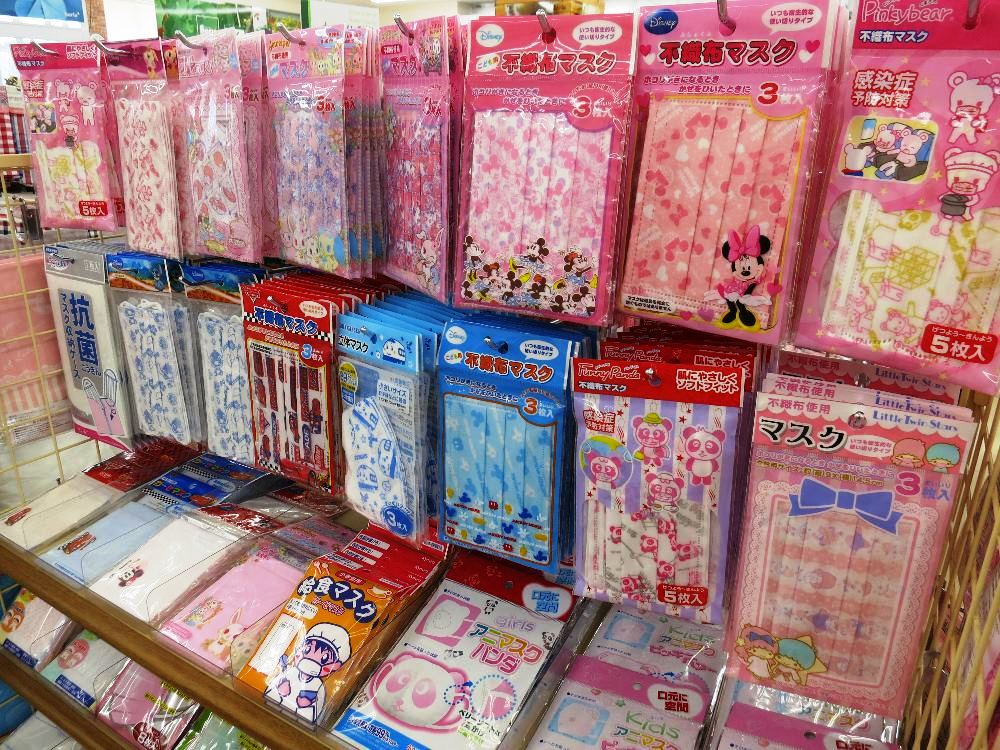 Cartoon character masks
Wow! What super cute masks! They can help you handle Taiwan's air problems. Children who don't like wearing masks will also surrender as soon as they see their favorite cartoon character on the masks!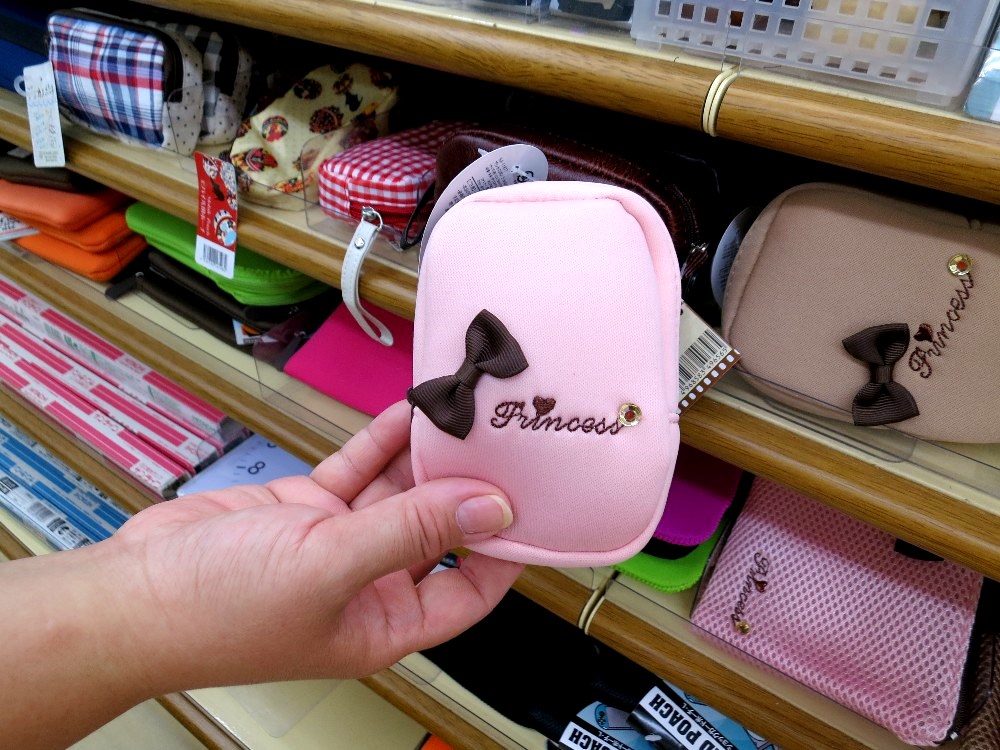 Camera bags
This is a lovely and intricate camera bag. It has a hard exterior! But it only costs 100 yen (excluding tax). You most certainly will not believe it!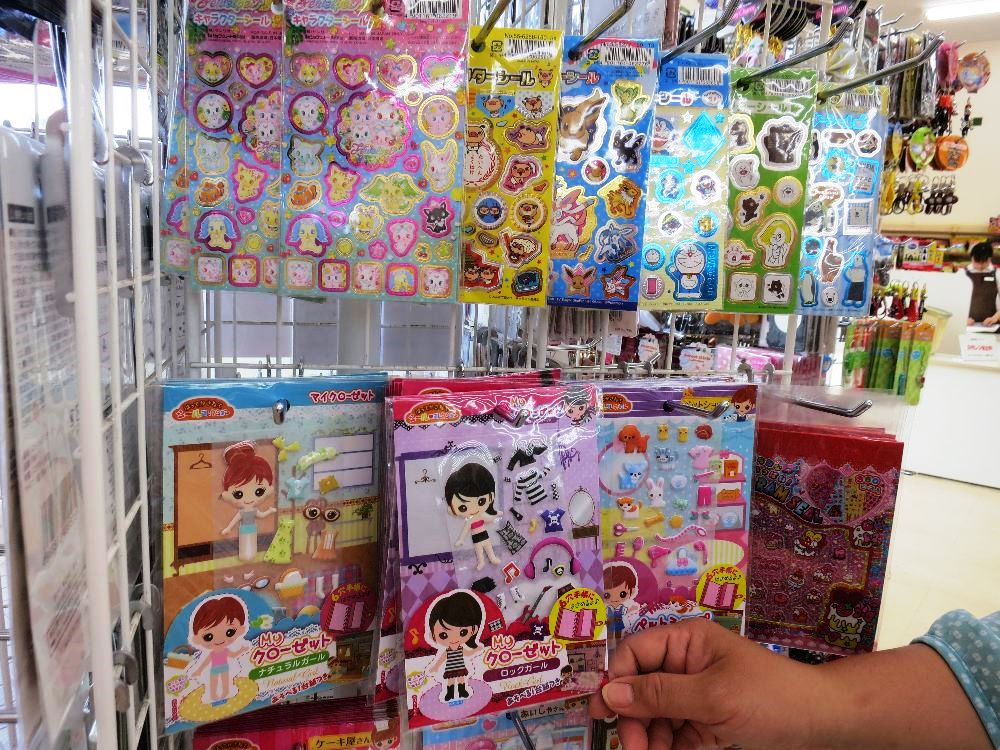 Cute stickers
This sticker is really special! It brings out the child in me and makes me remember the paper dolls I often used to play with as a child. These stickers are very creative and they are my children's favorites. They are suitable to young fans who like collecting stickers. Hurry up and take your pick!
[Ms Ye's recommended products]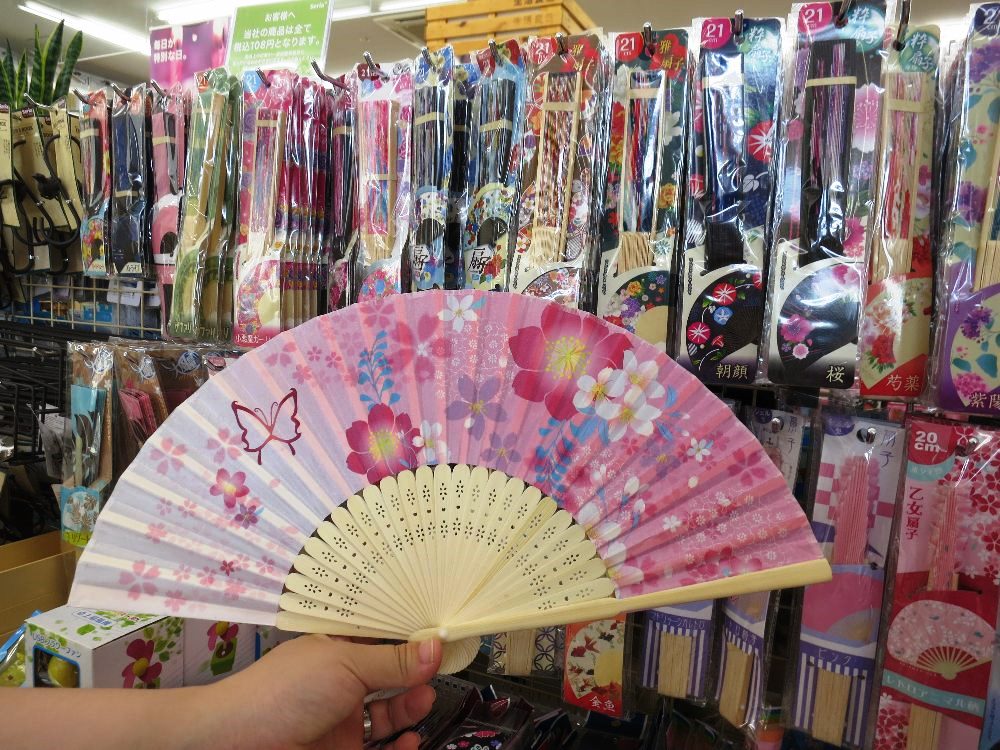 Japanese style pattern fans
Friends who like the style and fashion of Japan should not miss out on this excellent product. It is great as a fan to generate wind during summer, and it is great as an accessory when you put on a Yukata(Japanese summer kimono) to attend a summer festival. It is also a great choice as a collectible and decoration.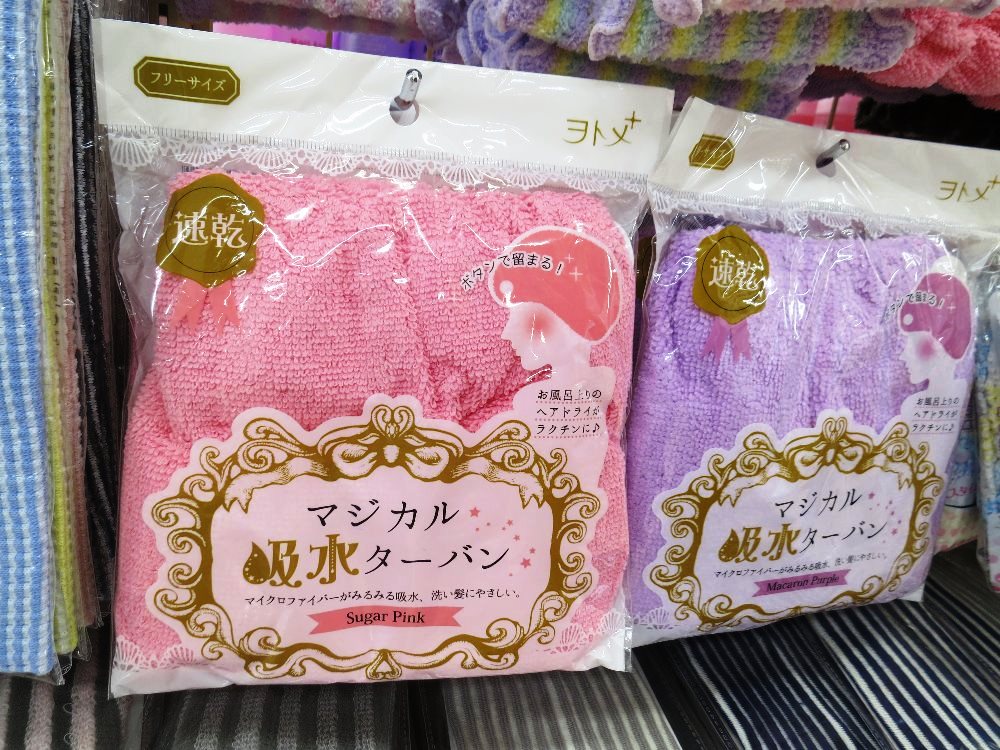 Absorbent shower cap
After washing your hair, just wrap your hair in the absorbent shower cap, wait 20 minutes and then blow-dry. It saves a lot of time and power. This shower cap is very expensive in Taiwan. In Japan, it only costs 100 yen (excluding tax)!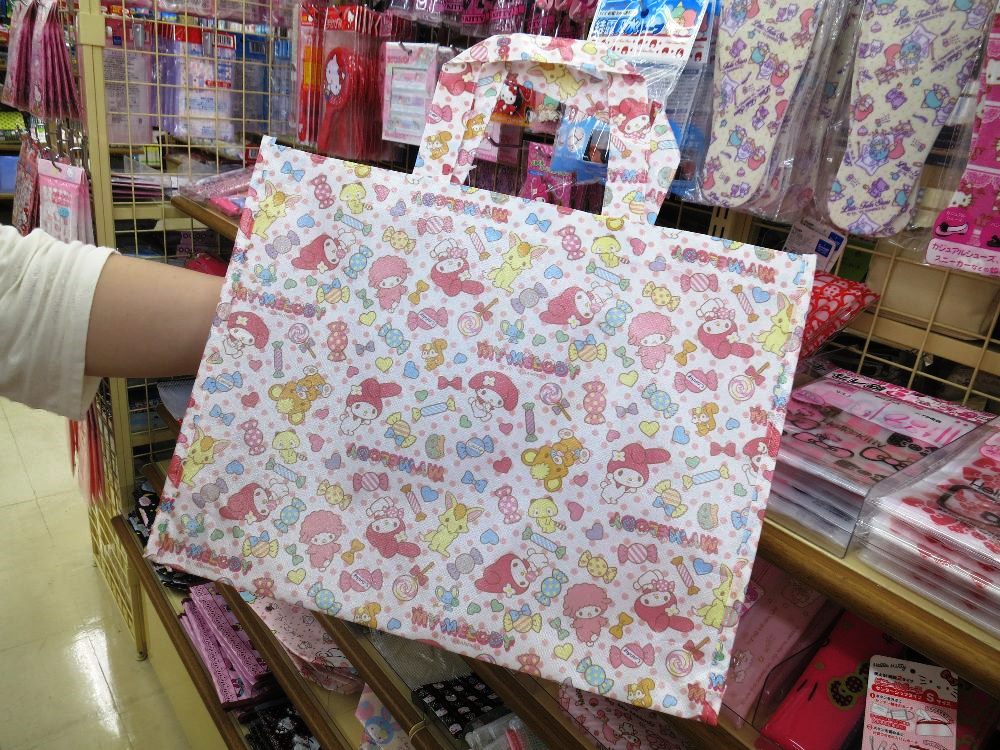 Merry Melody shopping bags
In the 100 yen shop, you can see many Sanrio licensed merchandise. Do you like Sanrio's Hello Kitty or Merry Melody? You only need 100 yen (excluding tax) to take it home ~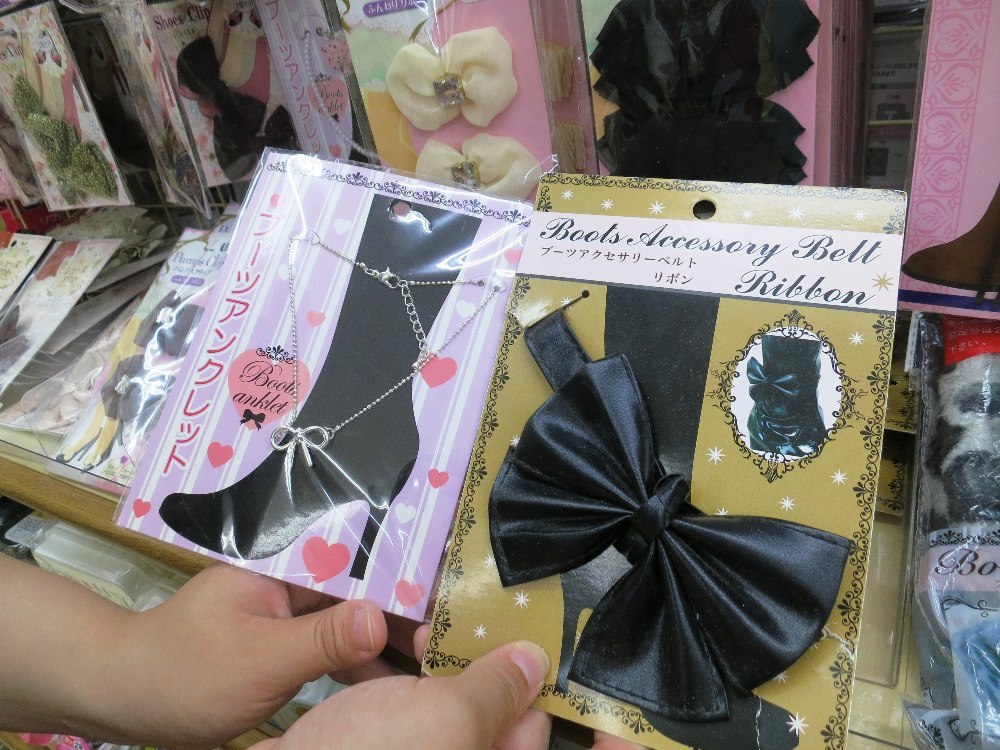 Shoe accessories (Boots ornaments)
In Taiwan, this small decorative object easily costs over $100. Isn't it delightful that you can purchase this stylish and cute little item for 100 yen (excluding tax)!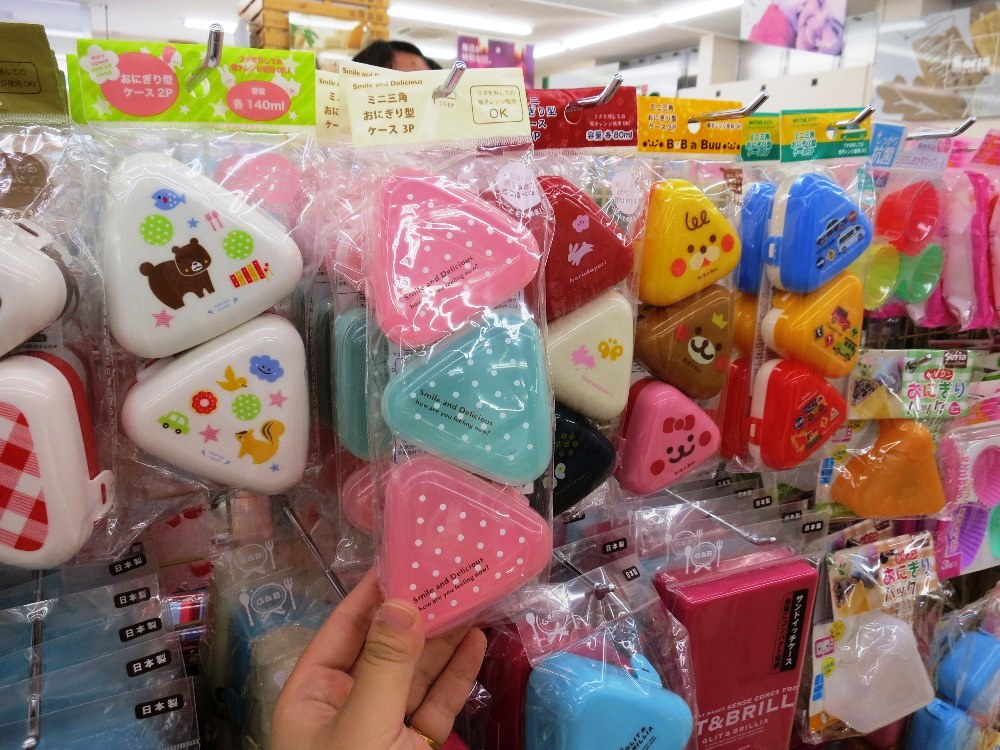 Rice ball maker
Do you want to make you own Japanese-style rice balls? It only takes 100 yen (excluding tax) and you can take home this lovely rice ball maker. It will greatly increase the fun of making your own rice balls!
Hakodate is a beautiful city. It has many wonderful features and many beautiful sceneries. From morning to evening today, we have eaten and played. We have filled our stomachs with food and visited many wonderful places. From the gourmet trip in the early Morning Market, to the physical refreshment of "Trappistine Convent" in the afternoon, to the final shop-till-we-drop mission at the Tokura Shopping District ...... we have felt enormous contentment and happiness! It is not a bad idea at all to leave behind the hustle and bustle of Taipei city and spend a day to relax and unwind in the tranquil harbor village of Hakodate! Do you wish to do as we did and experience a joyous day? Just follow your heart and act now!
(Visited and noted by Jenna Liu & Ye Yixua July 2014)
*This travel guide was originally written for people of Taiwan.