Traveling by ferry from Hakodate to Shimokita Peninsula in Aomori Prefecture
Shimokita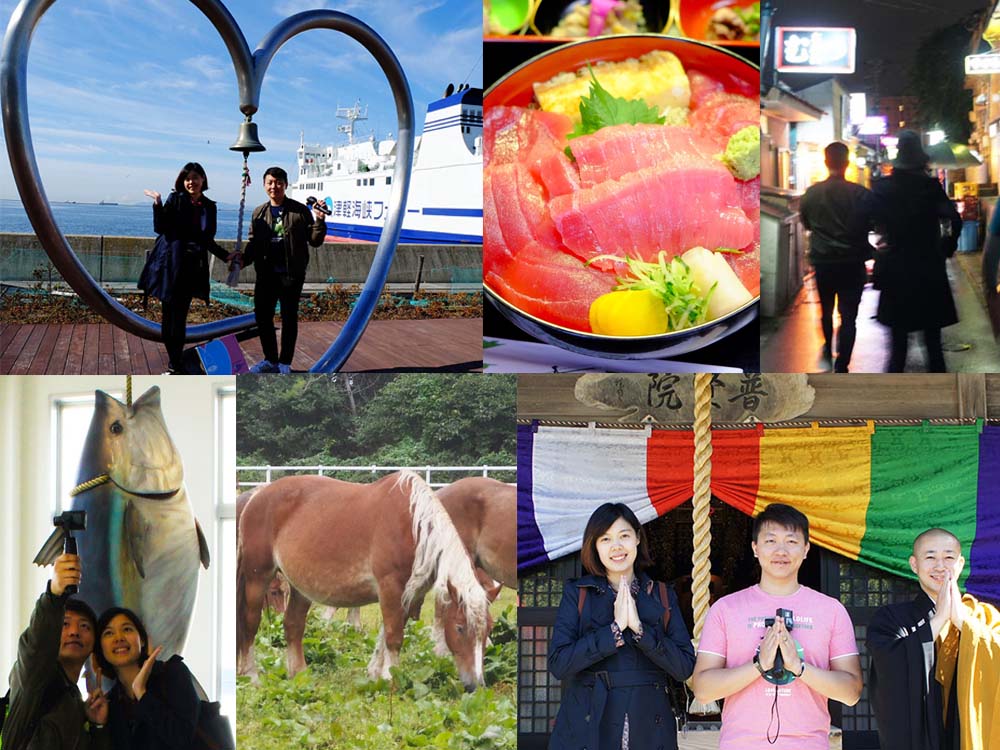 Only 90 minutes on the ferry from Hakodate, we can go to Shimokita Peninsula in Aomori Prefecture. Let me introduce you to Shimokita, a place with a lot of wonderful scenery and delicious food.
*This travel guide was originally written for Taiwanese people.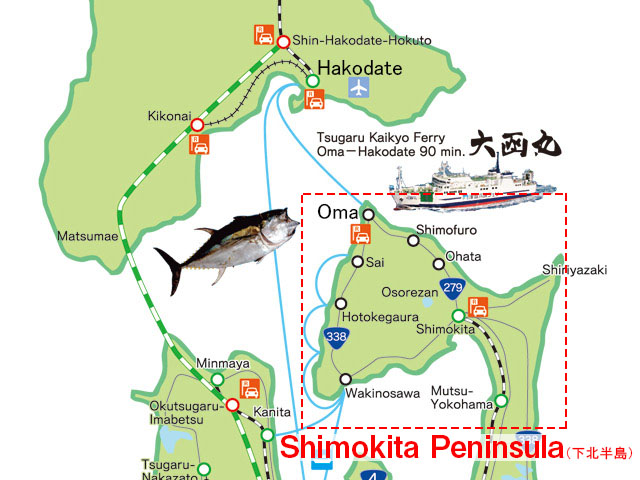 Day 1 : Crossing the Tsugaru Strait on the Ferry, onward to Oma in Aomori Prefecture!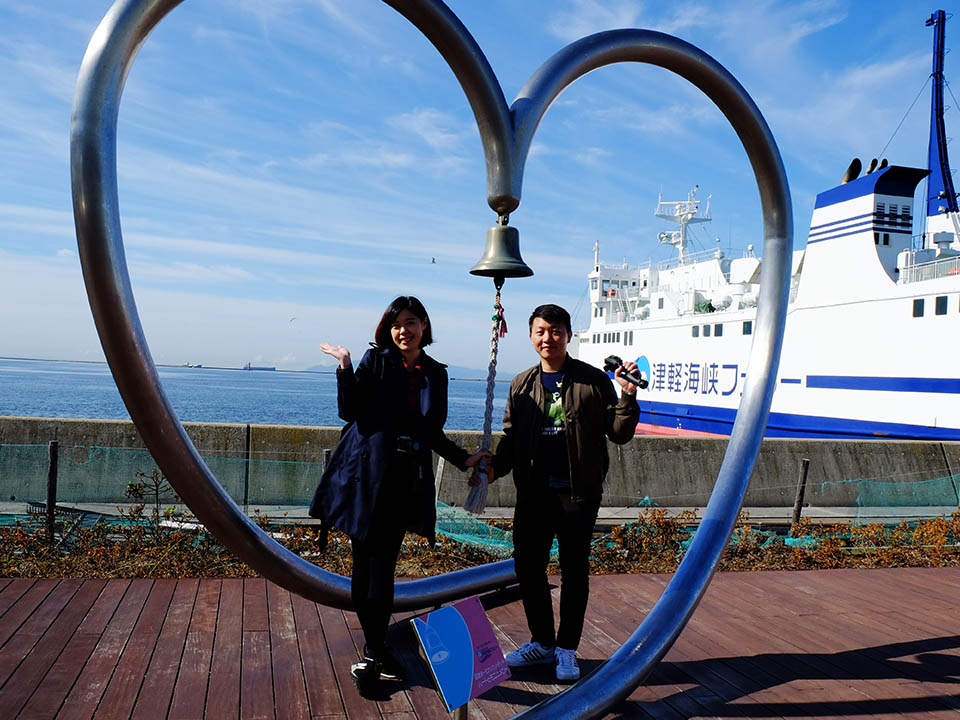 Travelers: Erica & Ian (From Taiwan)
We visited my friend in Hakodate, then went on a small trip to Shimokita Peninsula. You can travel from Hakodate to Shimokita easily.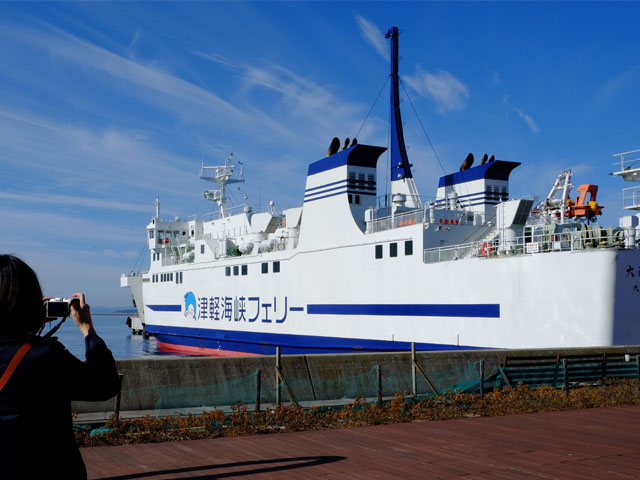 There is a shuttle bus that goes to the ferry terminal from both Hakodate Airport and JR Hakodate Station. We took the 9:30 ferry from Hakodate to Oma.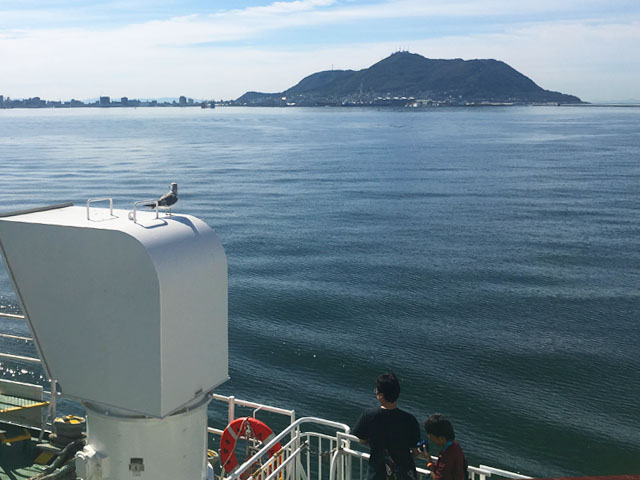 After the ferry left the port, we went up to the deck and viewed the ocean scenery. The blue sky stretches out and we could even see the ropeway at Mt. Hakodate.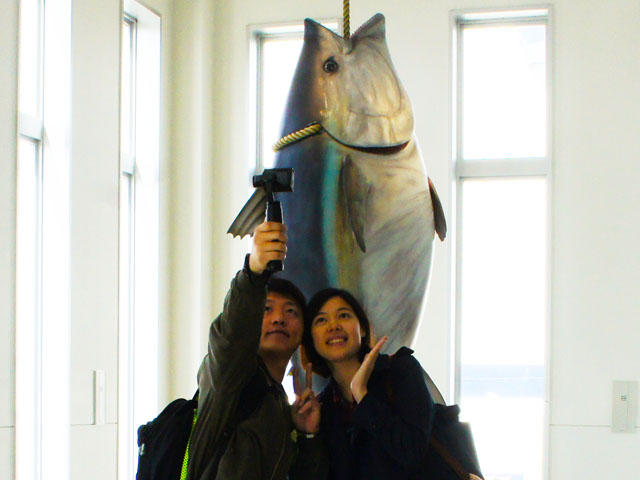 After 90 minutes, we were in Oma, Aomori Prefecture. It felt like it took no time at all! Immediately we got a picture with Oma's famous tuna!
To Sai Village by Rental Car. We Were Amazed by the Sea Urchin Rice Bowls.
We rented a car from Orix Rent-a-Car and went on a trip around Shimokita Peninsula. Oma's Orix Rent-a-Car and the ferry company teamed up to provide a special discount if you use both services.
We drove 20 minutes on the road next to the sea and reached Tsugaru Strait Cultural Center "Arusasu". We ate lunch at a place called "Manjuya" in the building.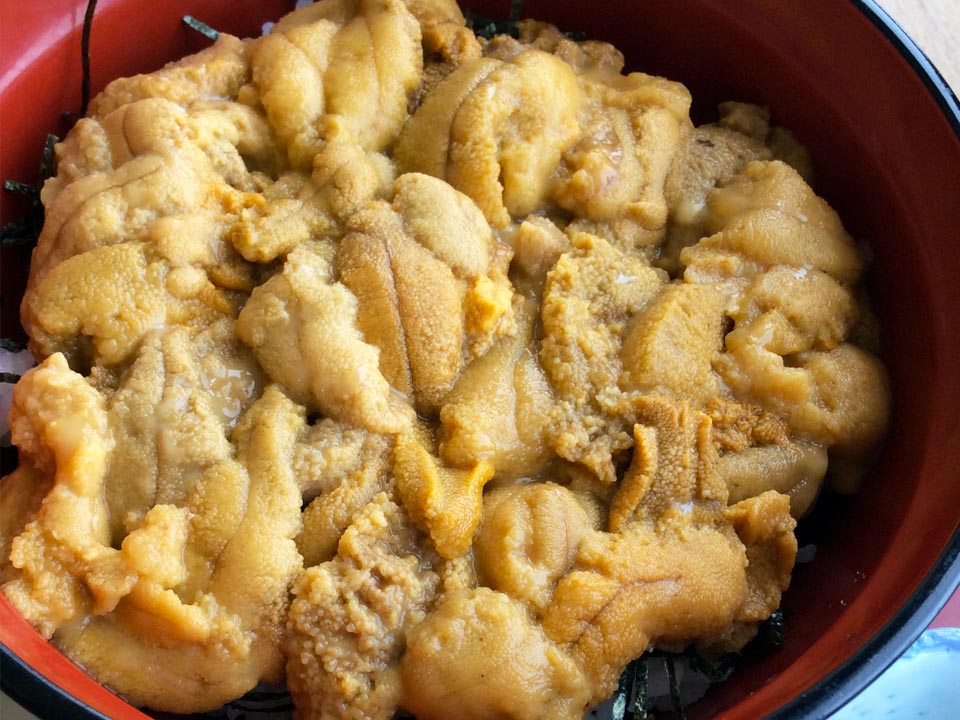 Sea Urchin is famous here in Sai. Everyone, take a look! Fresh sea urchin is served on top of piping hot rice. The sea urchin melted the moment it entered my mouth. The taste of sea urchin and the scent of the sea filled my senses.
Riding the Sightseeing Boat to Hotokegaura, Enjoying the Unusual Rocks Sculpted by Nature
In the afternoon we rode the sightseeing boat provided by Hotokegaura Kaijyokanko (Hotokegaura Marine Tourism), and went to see Hotokegaura, a miracle work of art created by nature. Each rock is sacred and has its own style, so you'll never grow tired of looking at them.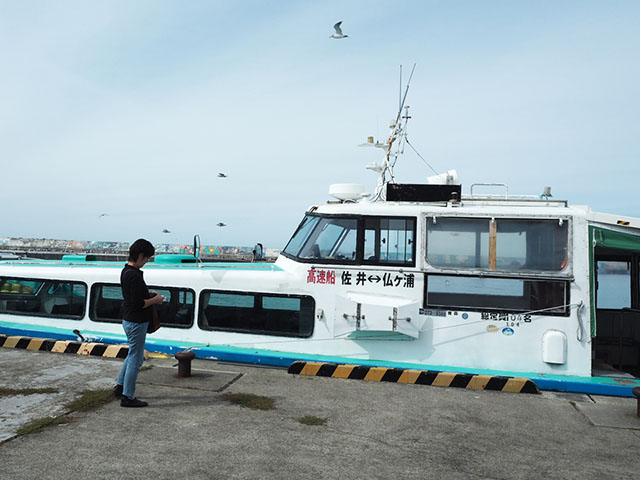 You can buy tickets for this boat at the ticket window at "Arusasu". A round trip ticket is ¥2400 and takes about 90 minutes.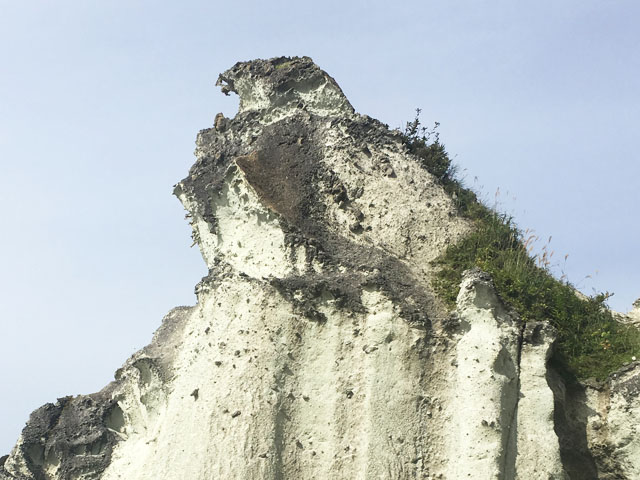 There are large rocks that look like the face of the Buddha, as well as rocks that are shaped like animals.
When we returned to Sai Port, we tried fishing for mackerel. You can borrow the equipment for fishing at "Arusasu". It costs 2,500 yen for two people.
Resting Ourselves at Northernmost Honshu's Shimofuro Onsen with Natural Hot Springs and Delicious Seafood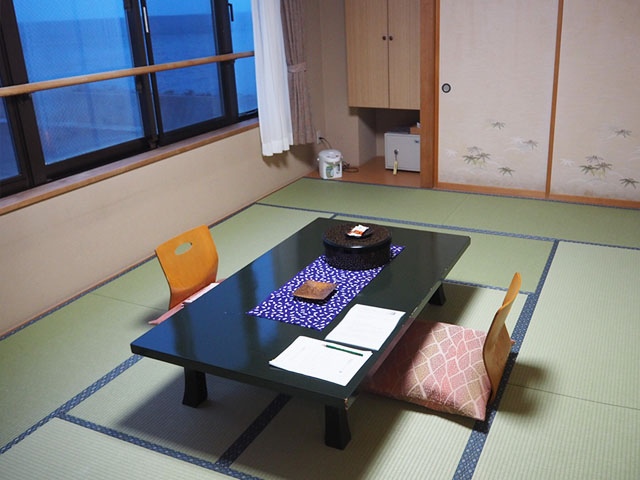 From Sai, it is a 40 minute drive to "Hotel Miuraya" in Shimofuro Onsenkyo Hot Spring Village. There are traditional Japanese style rooms.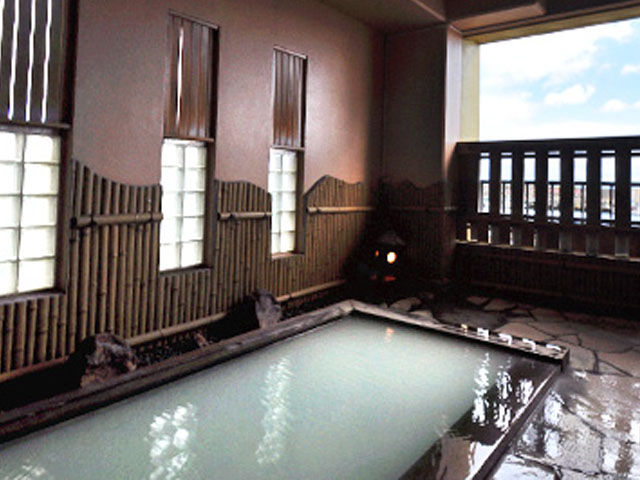 The open-air hot spring bath in Miuraya.
Delicious food made using the plentiful seafood of Shimokita Peninsula.
Day 2 : Taking a Stroll in Yagen. Surrounded by the Scent of Cypress, Enjoying Bathing in the Forest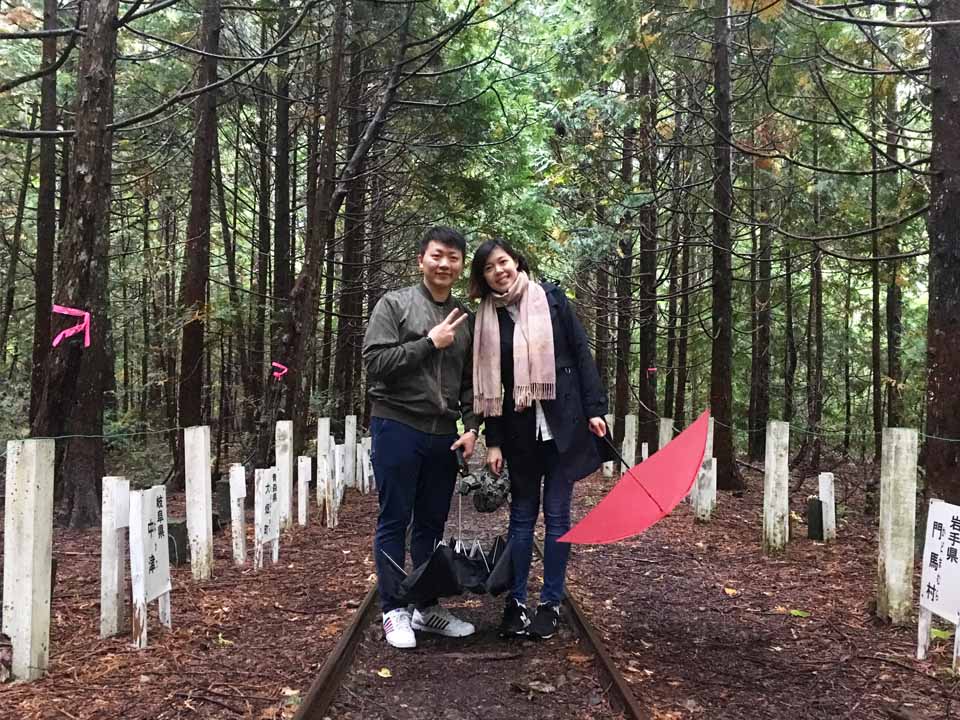 This morning we went to Yagen, a forest in the Ohata District of Mutsu City. It's 30 minutes from Shimofuro by car. Aomori Hiba (Cypress), one of the three most beautiful trees in Japan, grows here in Yagen. There is a six kilometer walking path along the stream.
Mid-October is the season when the leaves fall. The contrast between the red and yellows of the leaves with the flow of the stream is very beautiful. This place is a famous area for viewing the autumn leaves.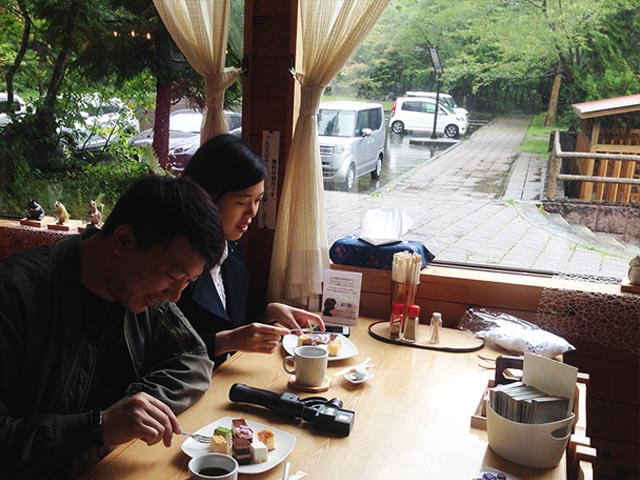 In the Yagen Forest there is a building made from cypress called "Oku-Yagen Shukeikoen Rest House (Oku-Yagen Landscape Park Rest House)".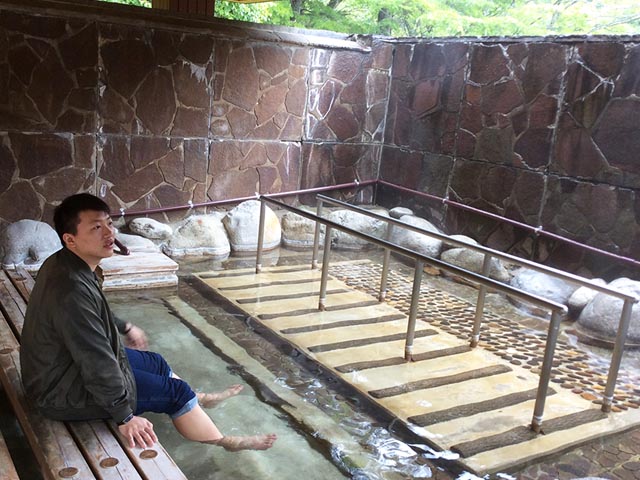 The free foot bath outside the rest house uses natural spring water.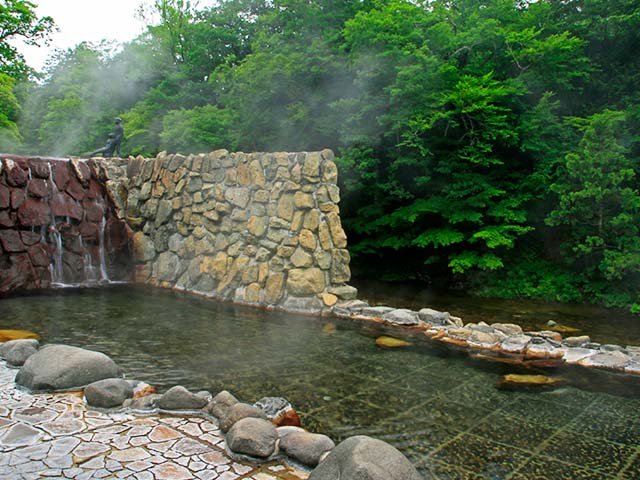 Next to the rest house is "Fufu-Kappa-no-Yu", an open air bath separated by gender.
Eating, Shopping and Having Fun in Mutsu City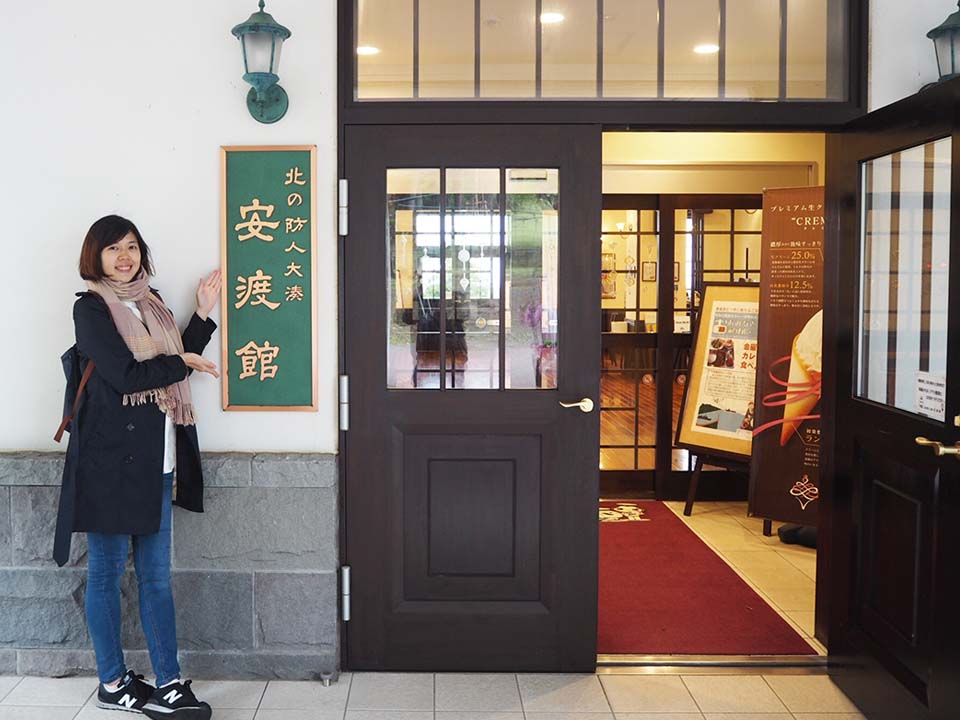 For lunchitme, we headed to a place 30 minutes by car from Yagen, called "Andokan"! We had Ominato Navy Curry. Andokan has buildings modeled after the Critical Naval Department Office buildings that used to stand there. The buildings will make you feel like you are in the Meiji or Taisho periods of Japan.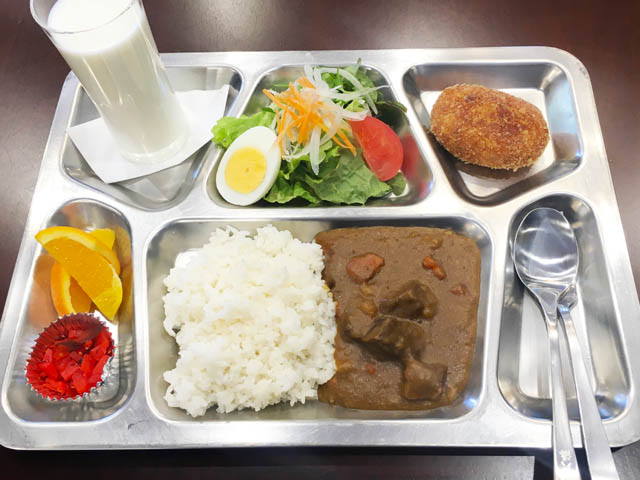 Ominato Navy Curry is sold in 10 places in Mutsu City, and you can experience the different flavors of curry served on various military vessels.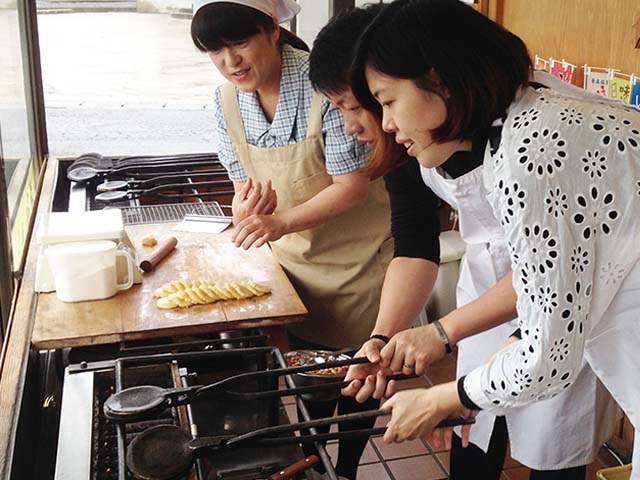 After lunch, we went to a shop called "Hachinoheya" to experience baking senbei crackers, a food from this area famously given as a gift.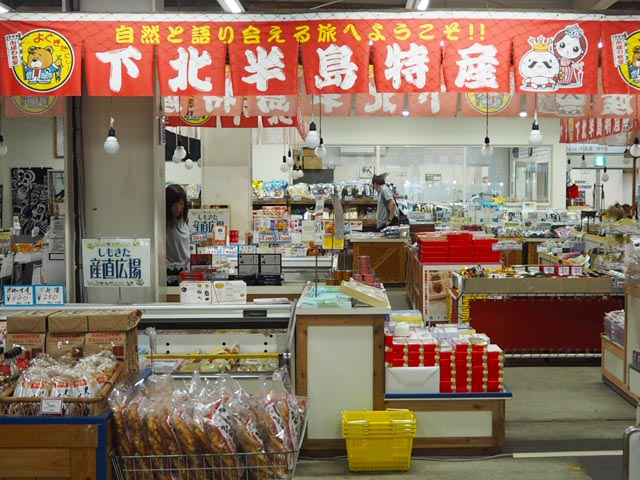 We went to Shimokita's biggest gift shop, "Shimokita Meisan Center".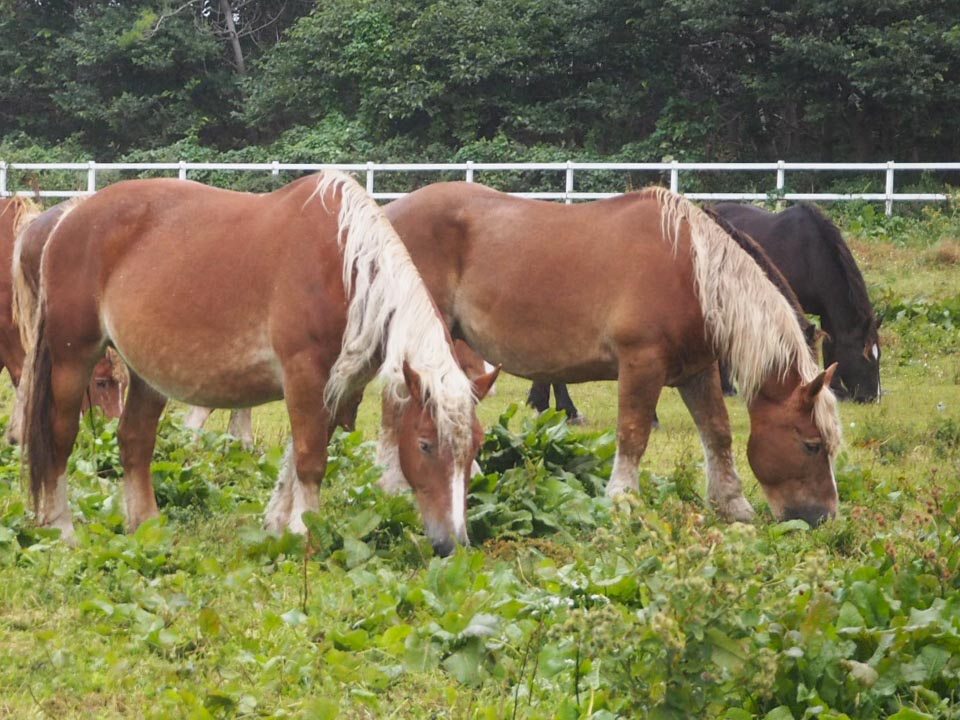 We went to Cape Shiriyazaki, which is about 40 minutes away from Shimokita Meisan Center by car. We were able to meet Kandachime horses. They are protected and cherished as a natural treasure in Aomori Prefecture.
The Kandachime horses grazing in the meadows of Cape Shiriyazaki are known for their resistance to the cold. Even the harsh cold of winter is no problem for them. The horses are used to people, so you can also pet them. But please don't stand behind them.
Walking around Tanabu at Night, Checking Out the Good Unknown Places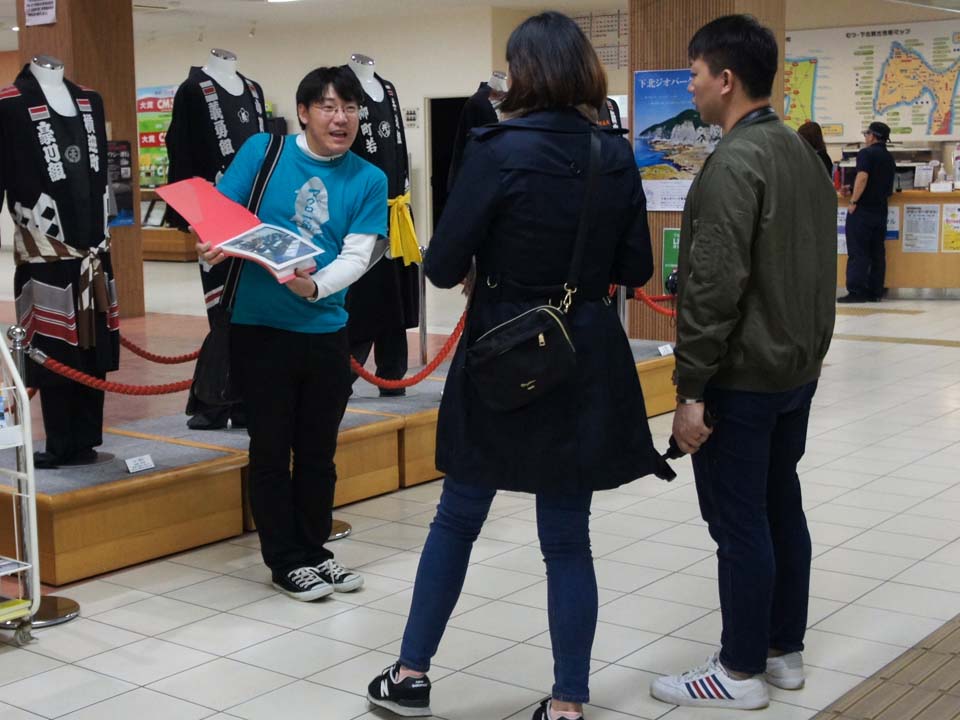 We went out to experience the town, on a tour led by Shimokita Tabi Assist. ¥3550 paid for a tour guide and a ¥2000 coupon for use at various restaurants. What a bargain!
Our tour started at the tourism hall Mutsu Kasamaikan. It's 30 minutes from Cape Shiriyazaki by car. We learned about the history and beautiful nature of Tanabu.
Mutsu Kasamaikan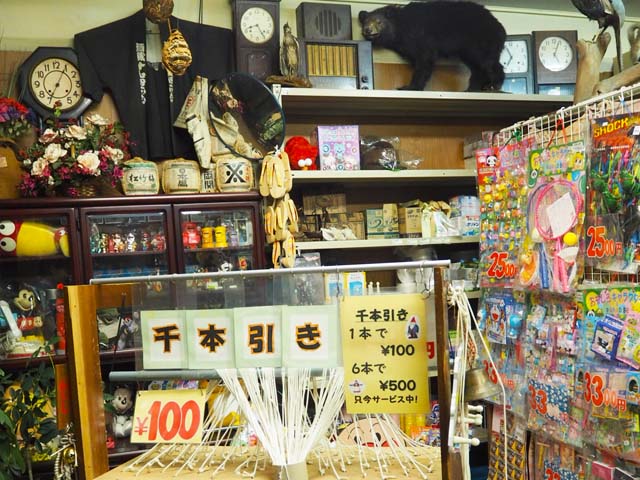 Here in "Nakano Shop", you'll find yourself adrift in the nostalgic atmosphere. The store is filled with retro toys and posters from the Showa Period of Japan. collected.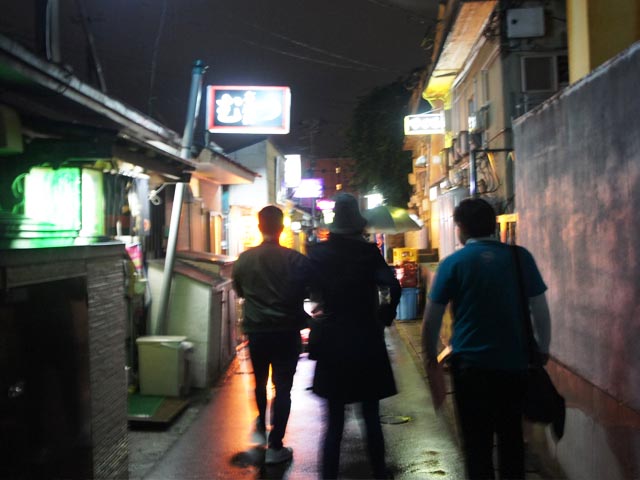 There are many picturesque bars in Tanabu. Just like we've seen in all the dramas and comics, they are small buildings complete with a hostess behind the counter, handing out towels to tired company workers with a smile on her face.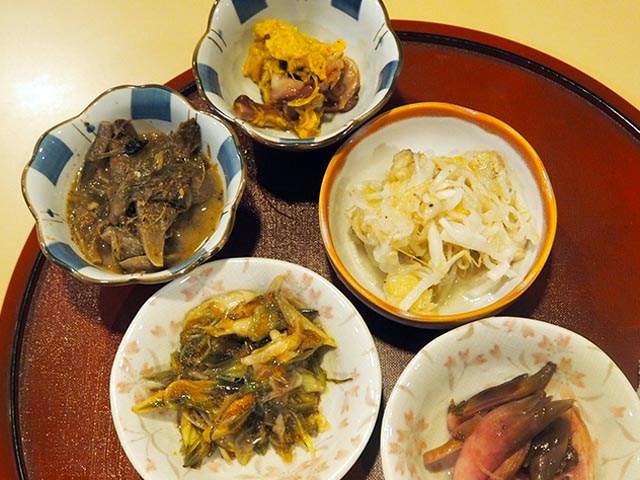 "Izakaya Hosokawa" is just like the world I've seen on TV. A hostess wearing kimono, karaoke, the hostess' handmade food...they have it all! Our full day was complete with the hostess' smile.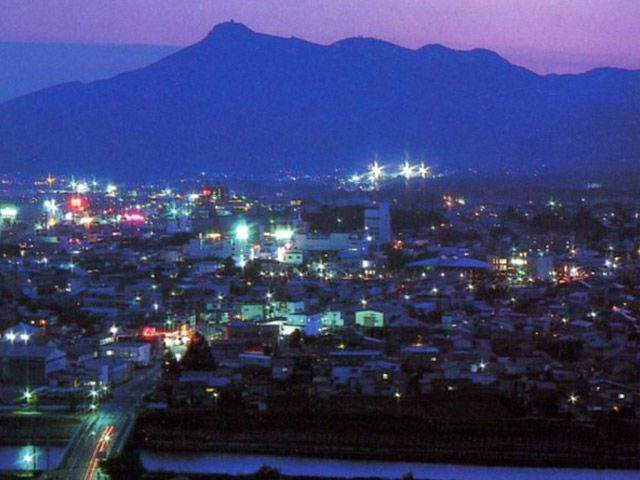 We went back to the hotel, enjoyed the hot spring, and prepared for Oma Tuna the next day. That night, we stayed at "Mutsu Grand Hotel". This picture is the night view of Mutsu City.
Day 3 : A Precious Time at Carpentry Shop "Waido no Ki"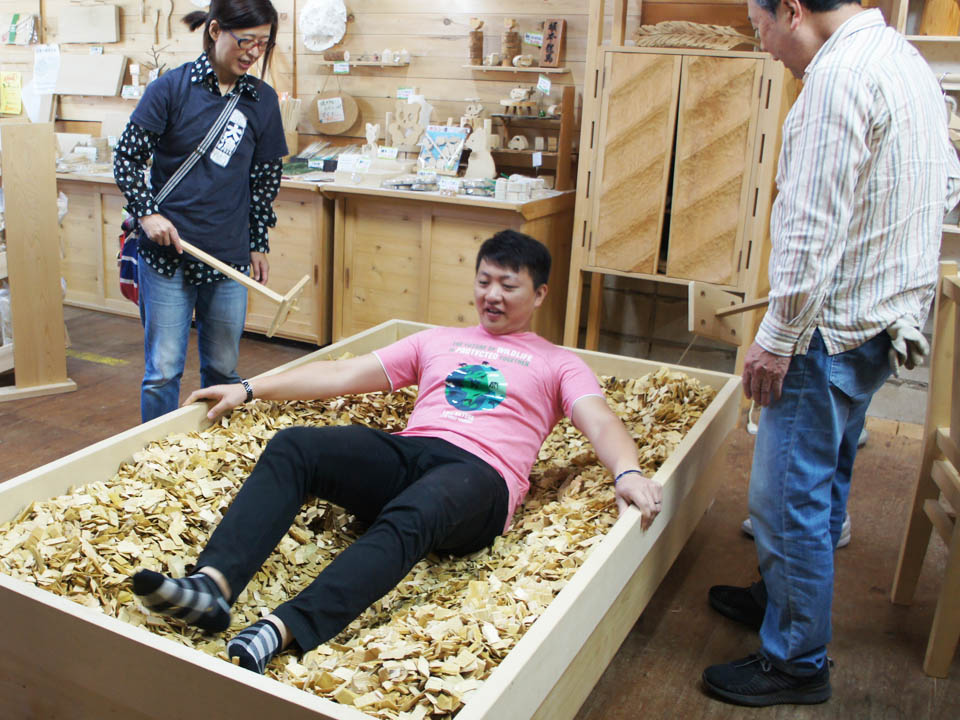 We went to "Waido no Ki", a carpentry shop that specializes in items made from Aomori Hiba (Cypress). It's 50 minutes from Mutsu city by car.
The man there explained the various uses of cypress. It has disinfecting and deodorizing effects. It is also resistant to mold and termites, and has a dehumidifying effect as well. He mentioned that the scent of cypress can also relax people, and I left believing that cypress must truly be amazing.
Finally, the cypress chip bath.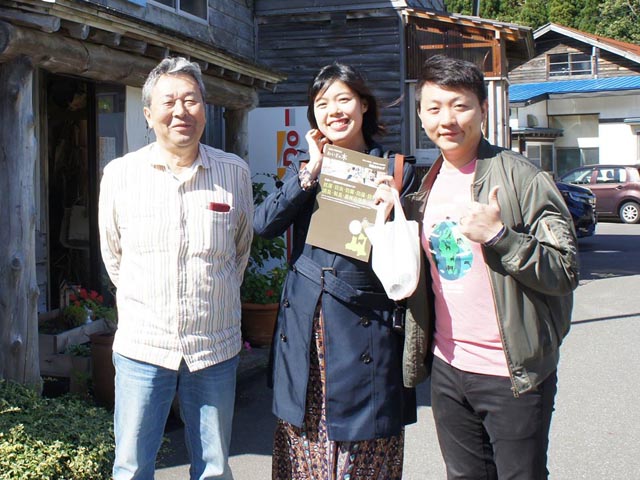 The person who greeted us was a kind and interesting old man who turned out to be the owner!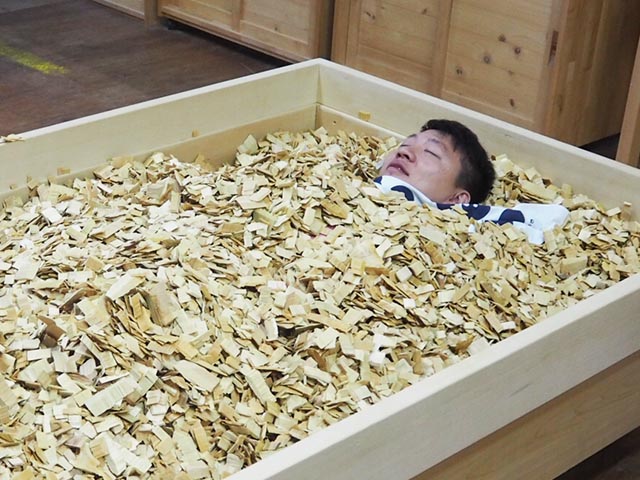 We went there especially for this, to try relaxing surrounded by the scent of cypress!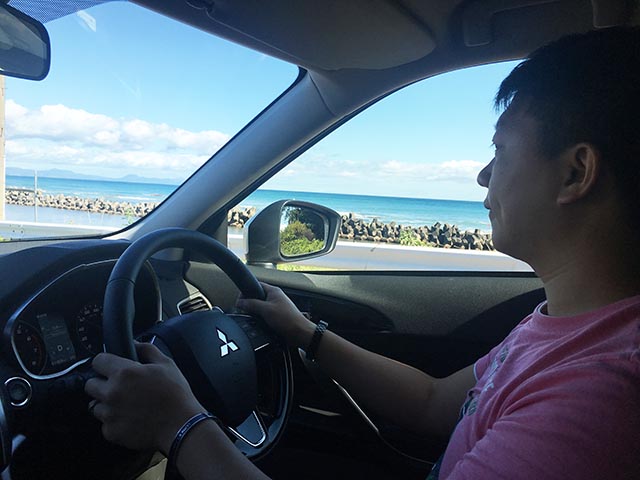 The weather was so great that the previous day's bad weather felt like just a bad dream!
Trying out Zen Meditation at a Quiet Temple. Trying Hard to Become "Free!"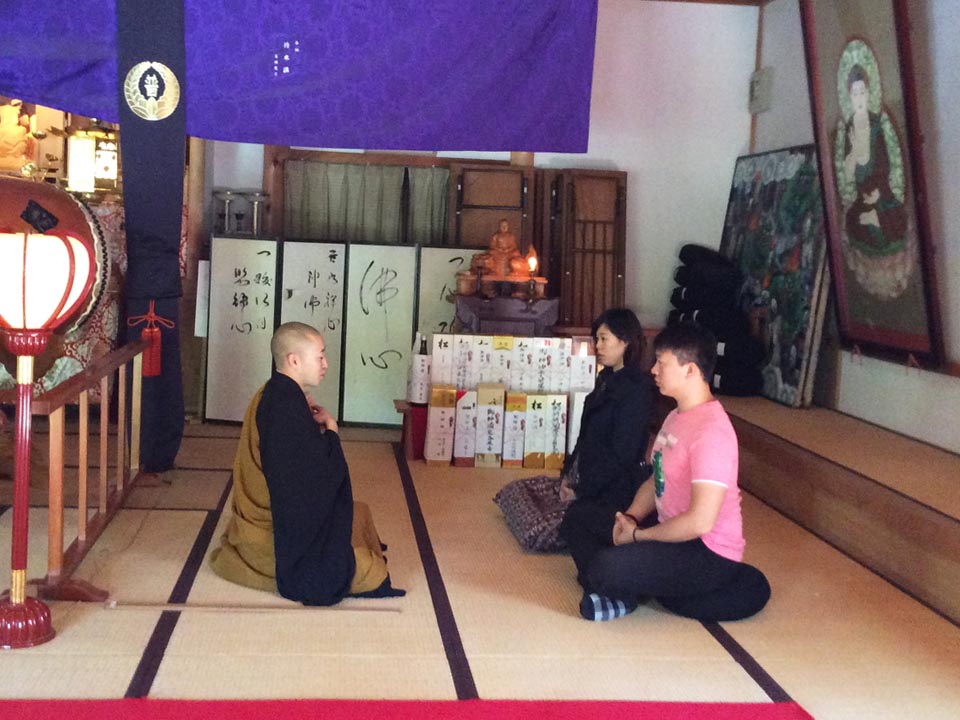 15 minutes away is Fugen-in Temple, a place where you can try out Zazen (Zen meditation) in Oma town.
The Zen meditation experience is normally 60 minutes, but this time we spent 30 minutes trying it. The chief priest of the temple explained the meaning and purpose of Zen meditation to free yourself of worldly thoughts through sheer mental concentration. Recently, Zen meditation has gotten popular. If you have space, you can do it anywhere, anytime, and use it to calm your mind.
During the Meditation, The chief priest rapped us on the shoulders with a wooden stick (called the encouragement stick). Actually, it wasn't a light touch so it hurt a little bit.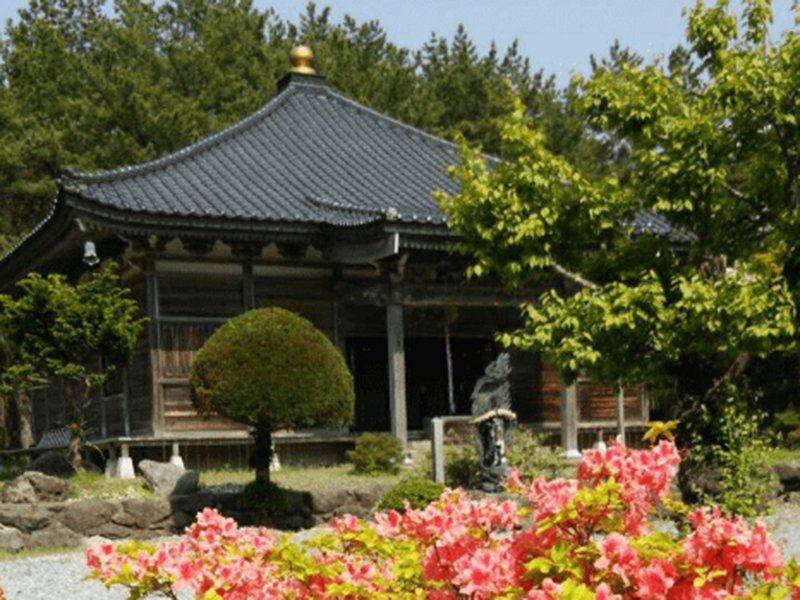 Fugen-in Temple in Oma Town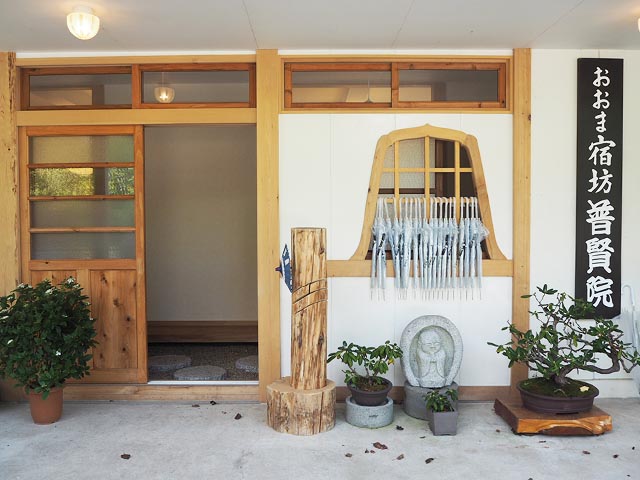 Fugen-in also has lodging space (one group per night).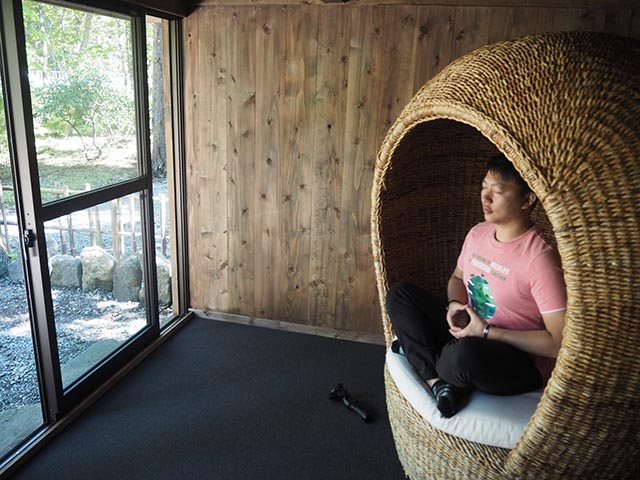 The lodging comes with these big chairs you can relax in.
Walking around with a Guide in Oma Town.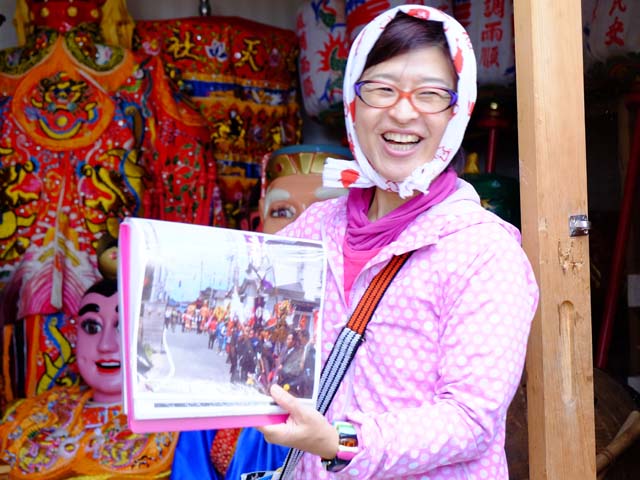 We joined a town walking tour led by Y-Project, a tourism company in Oma. The tour costs ¥2500. Y-Project plans many different tours.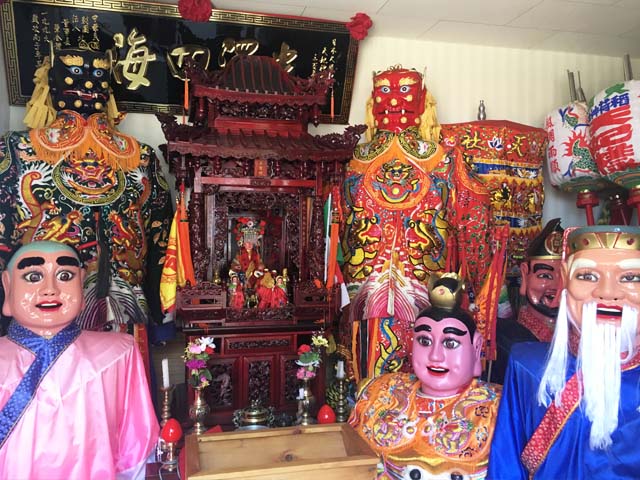 Since Oma is a fishing town, Taiwan's most well-known maritime deity Mazu is also revered here. Not only Mazu, but also Senrigan (Qianliyan), Junpuji (Shunfeng'er), and Santaishi (Nezha).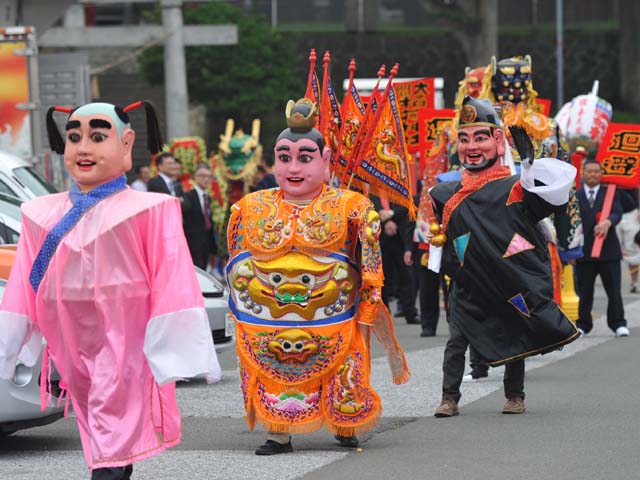 In addition, on Marine Day (July 20), they have the Tenpi (Mazu) Procession, just like in Taiwan.
Of Course, the Biggest Eye-Catcher is Oma Tuna!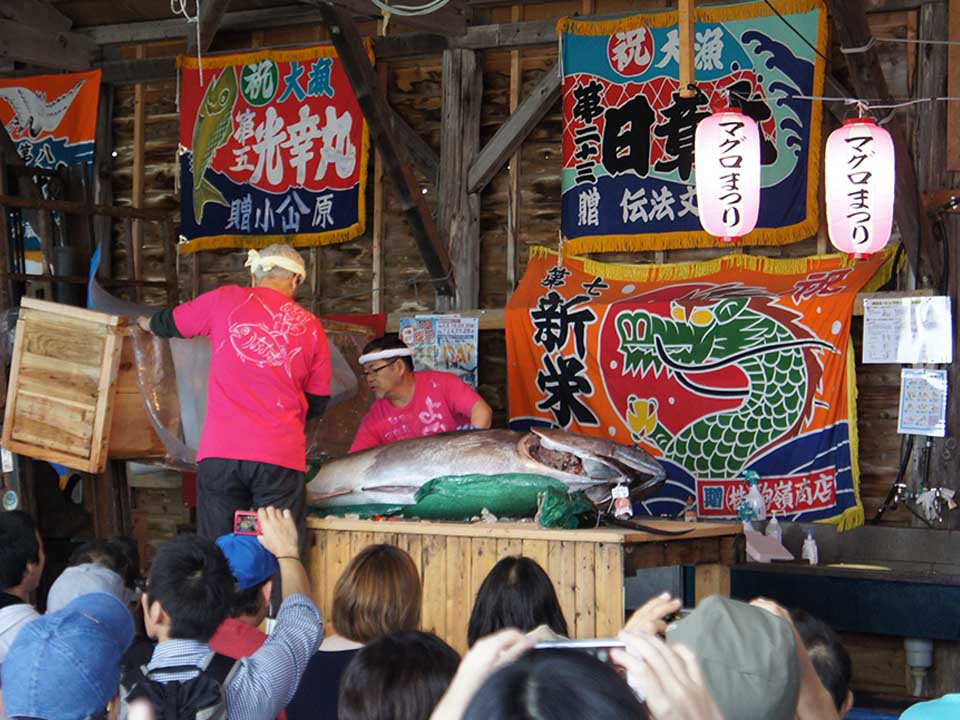 "Sunday is Tuna Day" is an event held every Sunday in September and October every year. Not only is there a show where they butcher a tuna, but you can also enjoy lunches made from the freshly butchered tuna.
The tuna to be butchered was brought in. It weighed 110 kilograms! Tuna over 100 kilograms are rare in Japan, but they're common in Oma.
In Oma, they catch tuna with fishing lines. Because they don't use nets that cause damage to the tuna's body, Oma Tuna fetches a higher price for being in the best possible condition at market. Tsukiji Fish Market was known for its "First Auction," a big auction at the beginning of the year. At one of these auctions, Oma Tuna was sold for the record high price of ¥150,000,000 for a 220 kilogram fish!
Oma Official Tourism Website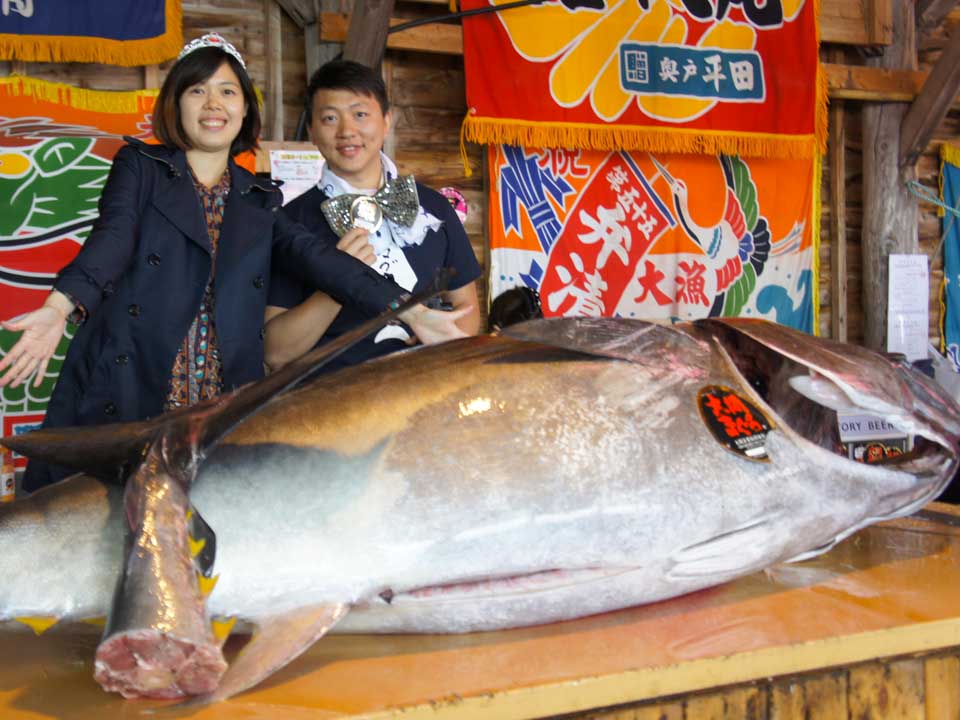 "If you believe you came from the farthest away to see us, raise your hand!" We confidently raised our hands and got a ticket for a free sample of the tuna. Finally, we took photos of the tuna. To be honest, getting close to the tuna made me realize how big it truly was.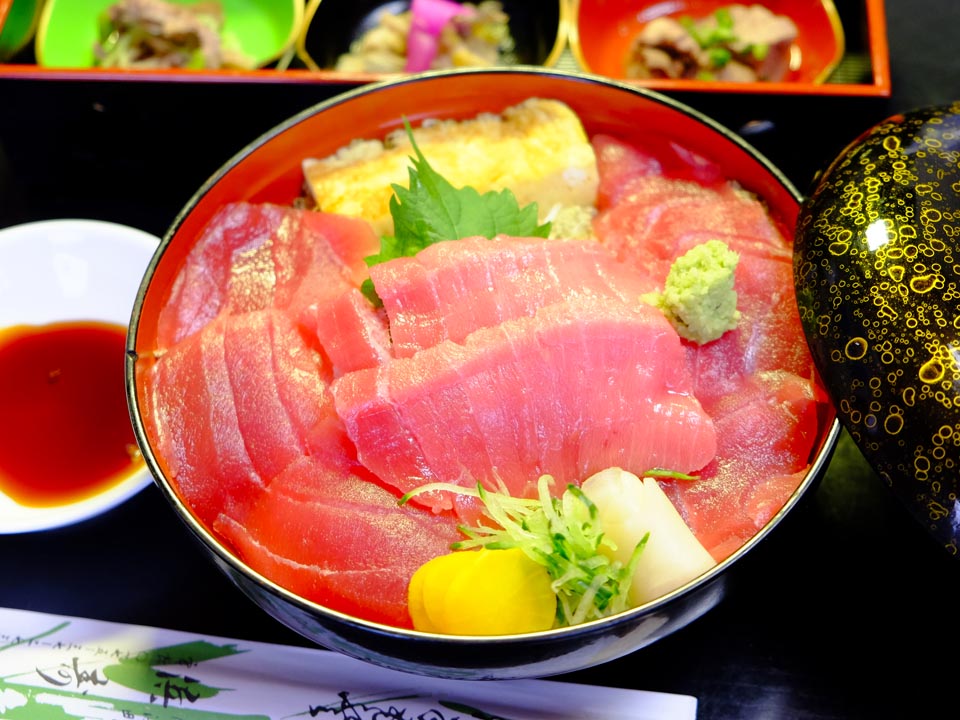 We went to "Hamazushi", a restaurant famous with the locals, and enjoyed tuna bowls and tuna sushi. The restaurant is popular so there was already a line for lunch, but we made a reservation through Y-Project and were able to go in ahead of the line.
First up was the tuna bowl, with red tuna meat and tuna belly meat. Unlike the mild tuna I've had before, I felt like I could truly taste the flavor in this tuna! The belly meat was like having all of the best parts of the red tuna meat and the expensive fatty belly meat.
Tuna sushi (red tuna meat, tuna belly, fatty tuna belly, tuna roll).
The red meat was a deep red and the savory flavor was truly refreshing. The tuna belly had the perfect amount of fat on it, and the fatty belly melted in my mouth as soon as I put it in! The tuna roll was no joke, either! When I put it in my mouth, the flavor of fatty tuna and the tastes of the sea mixed together to make a wonderful flavor.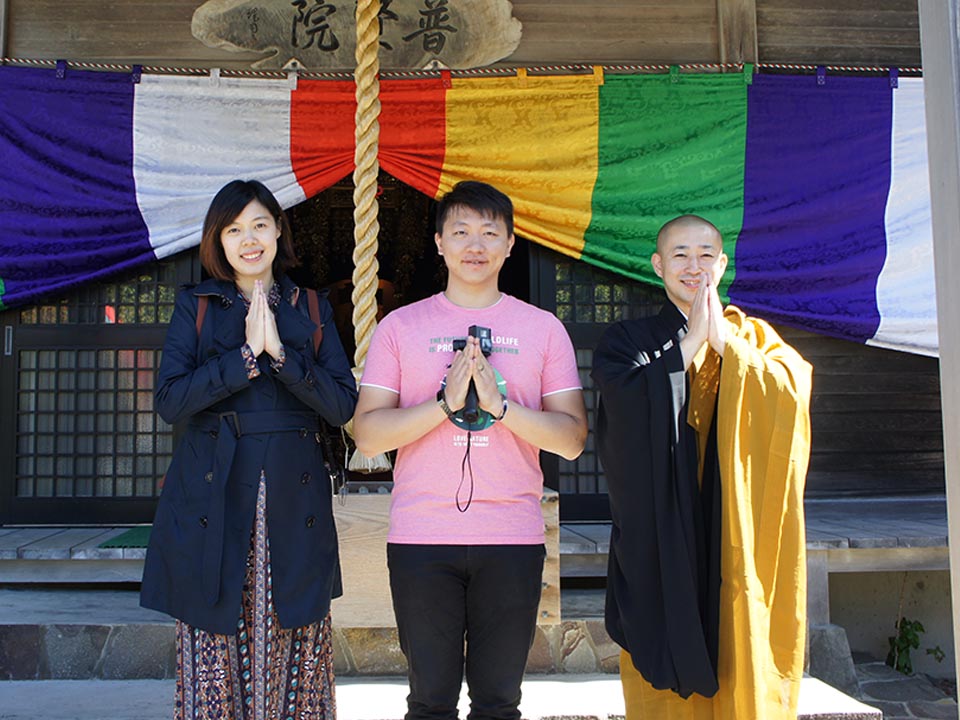 Shimokita doesn't have bustling cities, a convenient transportation network, big department stores nor amusement parks. However, the area is rich with the fruits of land and sea provided by nature. Since there is a direct flight from Taiwan to Hakodate, taking the ferry to Oma and using a rental car to see Shimokita Peninsula might be a new style of travel! I wholeheartedly recommend Shimokita for your next trip. You can enjoy the hot springs and the wonderful fresh foods.
Next time I go, I'd like to make my way to Yokohama Town, known for the biggest rapeseed flower fields in the Tohoku Region. They bloom in mid-May.
This was a Taiwanese person's introduction of little-known Shimokita Peninsula. You definitely should go and see it!
Visited and Noted by Erica & Ian September, 2018