Goryokaku Park and Hakodate Park – famous places to enjoy cherry blossoms by day or by night
Spring
Hello everyone. My name is Erika and I live in Taiwan. Before, I came to Japan to study Japanese as an exchange student. I have come to Hokkaido this time in May to enjoy cherry blossom viewing in Hakodate.
People in Taiwan do not usually imagine seeing cherry blossoms in Hokkaido. Everyone knows that Hokkaido's flower is the lavender. I enjoyed cherry blossom viewing in Hakodate with my Japanese friend. I will try reporting about my very enjoyable day.
Get a bird's-eye view of Goryokaku Fortress from the adjoining tower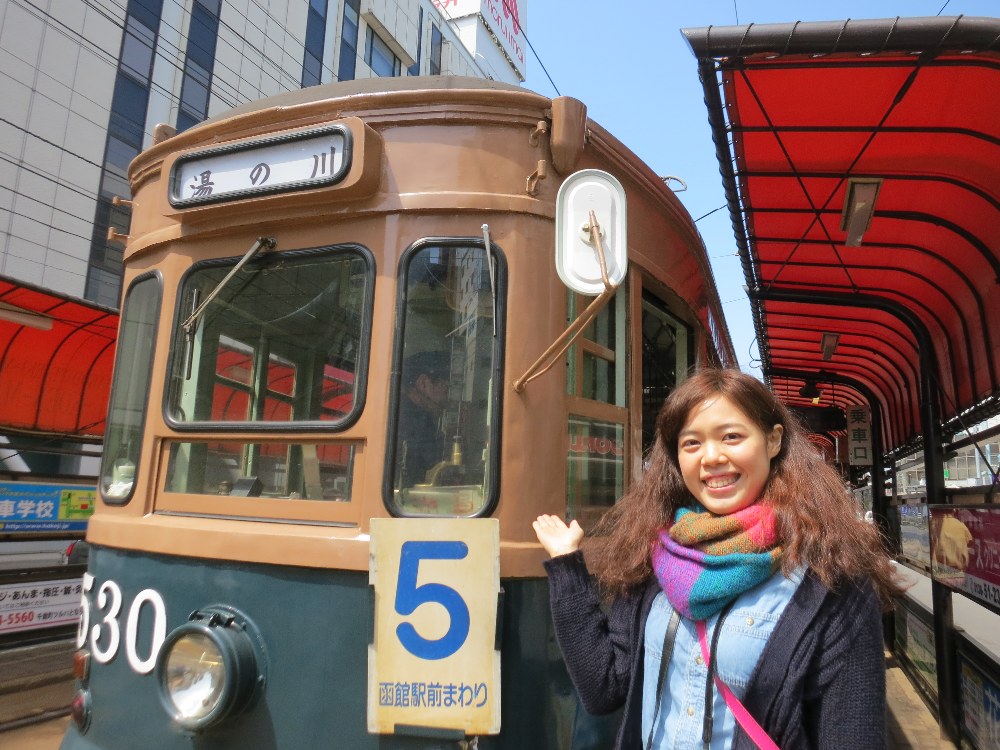 First, I want to tell you how to get to Goryokaku Park. Goryokaku Park is the No 1 spot for cherry blossom viewing in Hakodate. In early May the Someiyoshino cherry tress are in bloom.
In the morning I started my trip from Hakodate Station. A 5-minute walk from the station and I arrived at "Hakodate eki mae" tram stop. A clsssic tram came and I took this to "Goryokaku koen mae." (fare: ¥230) From Goryokaku koen mae stop the park is a leisurely 15 minute walk.
Walking under a row of cherry trees I soon could see Goryokaku Tower. This tower is 107 meters high and one can get a bird's-eye view of Goryokaku Park from the observation deck of this tower. (entrance charge is ¥900)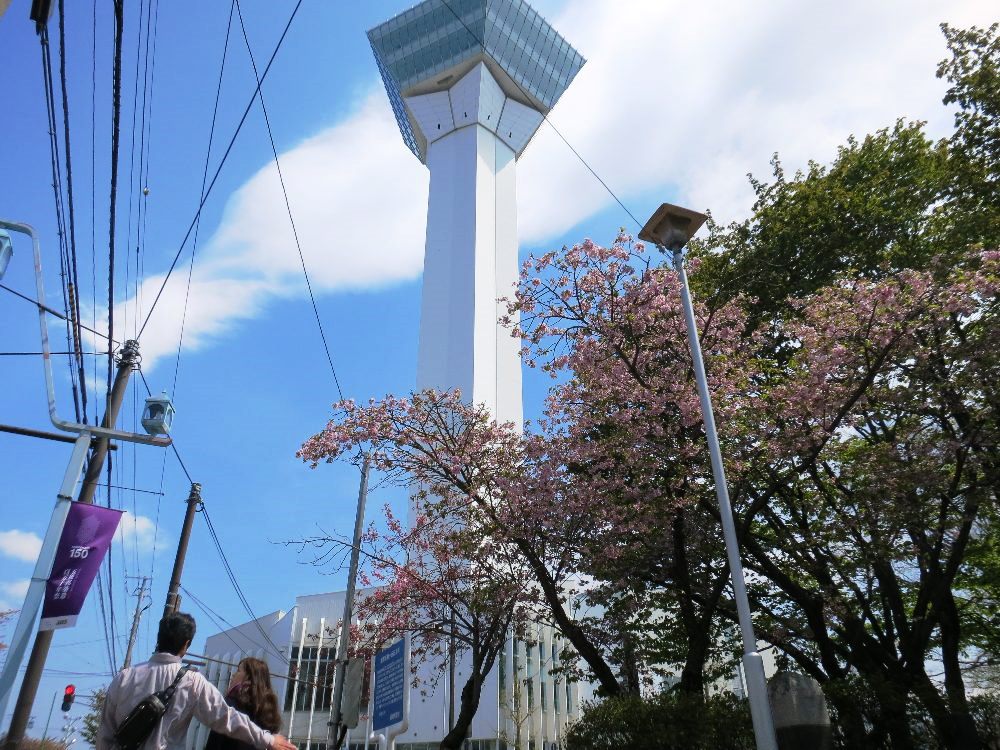 Goryokaku Tower stands before us. We can see cherry blossom trees outside the park as well.
We go up the tower by elevator. A panoramic view spreads out before us.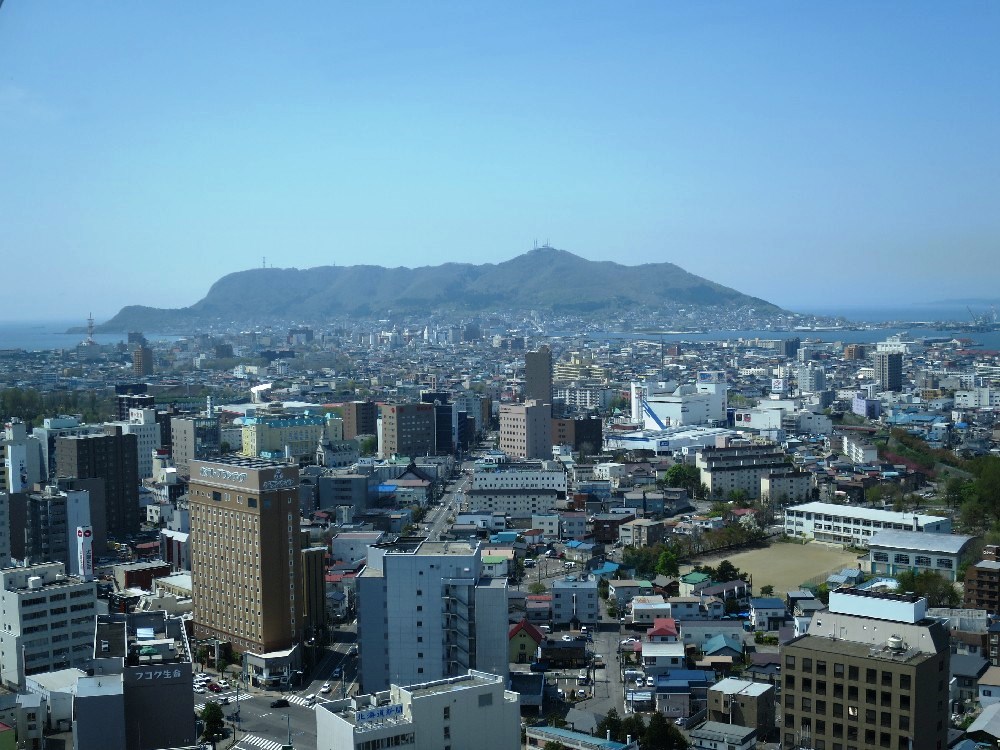 Not only can you see all of Goryokaku Park, you can also see Mt. Hakodate and the sea in the distance.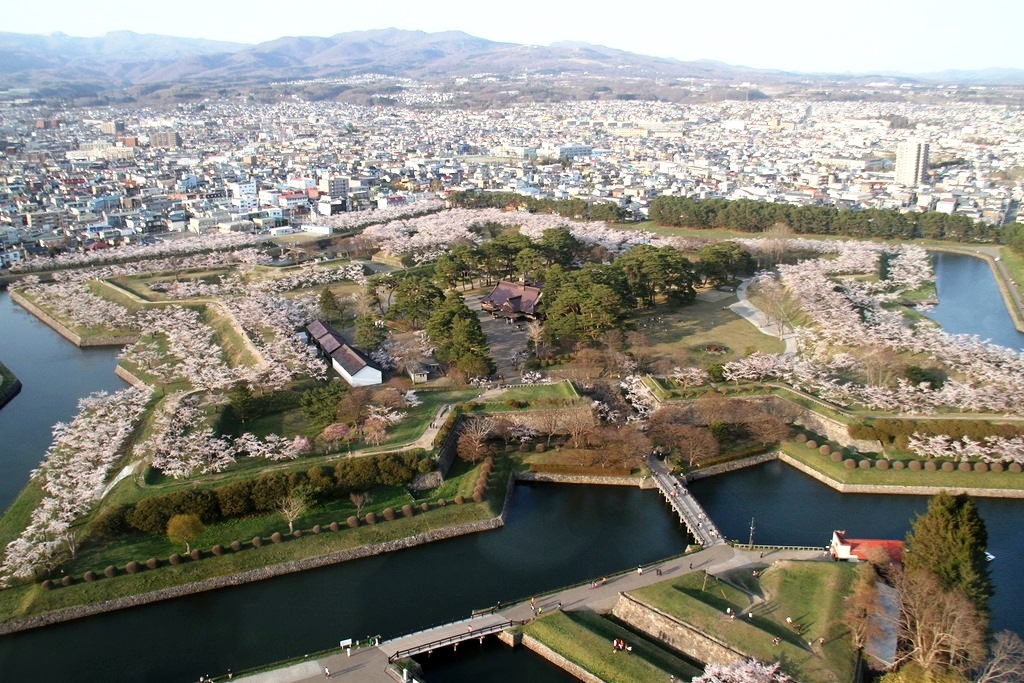 What a view! The observation deck is surrounded by a glass window and you are able to observe the star-shaped Goryokaku Fortress from above. The pink cherry blossoms surrond the fortress like pink carpet. You can see some people walking around the moat and others riding row boats.
Something that really surprised me was that the Hakodate-style meathod of enjoying the cherry blossoms is to spread a ground sheet on the ground below a cherry tree and have a picnic. Everyone told me that the picnic meal should be "Jingisukan"(Mongolian mutton BBQ)using a charcoal fire. I wondered if it is really OK to BBQ in the park. But everyone told me it is allowed for the 2-week cherry blossom viewing period.
I'm afraid I wasn't able to try "Jingiskan" this time but on my next visit I surely will.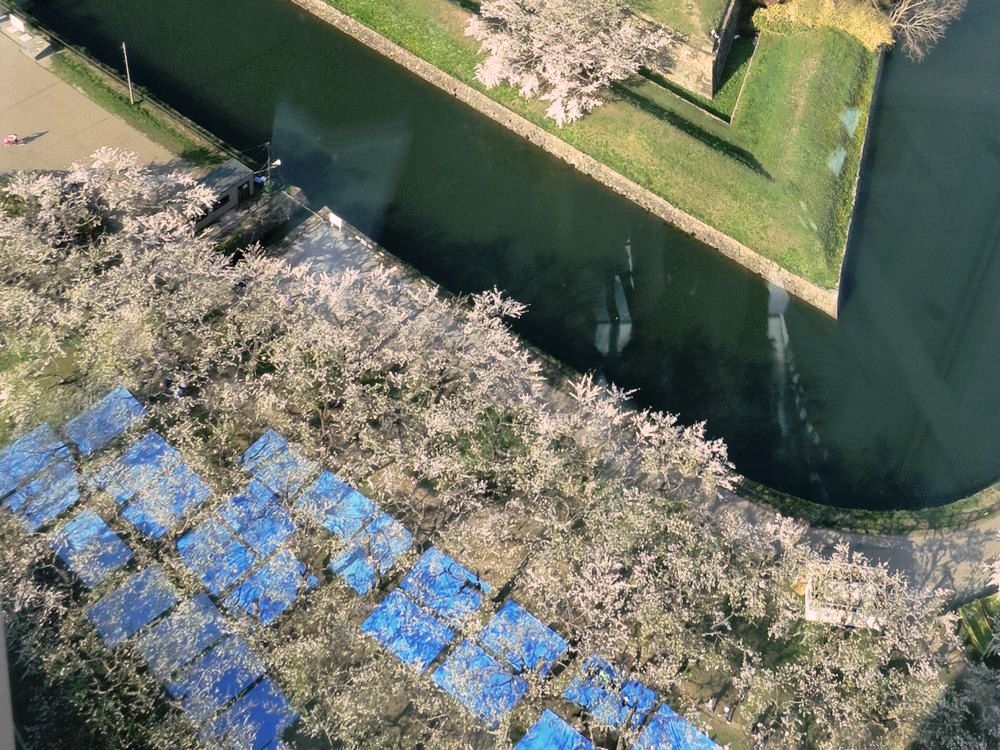 Blue plastic ground sheets are spread on the ground. I wondered why, but soon I found out.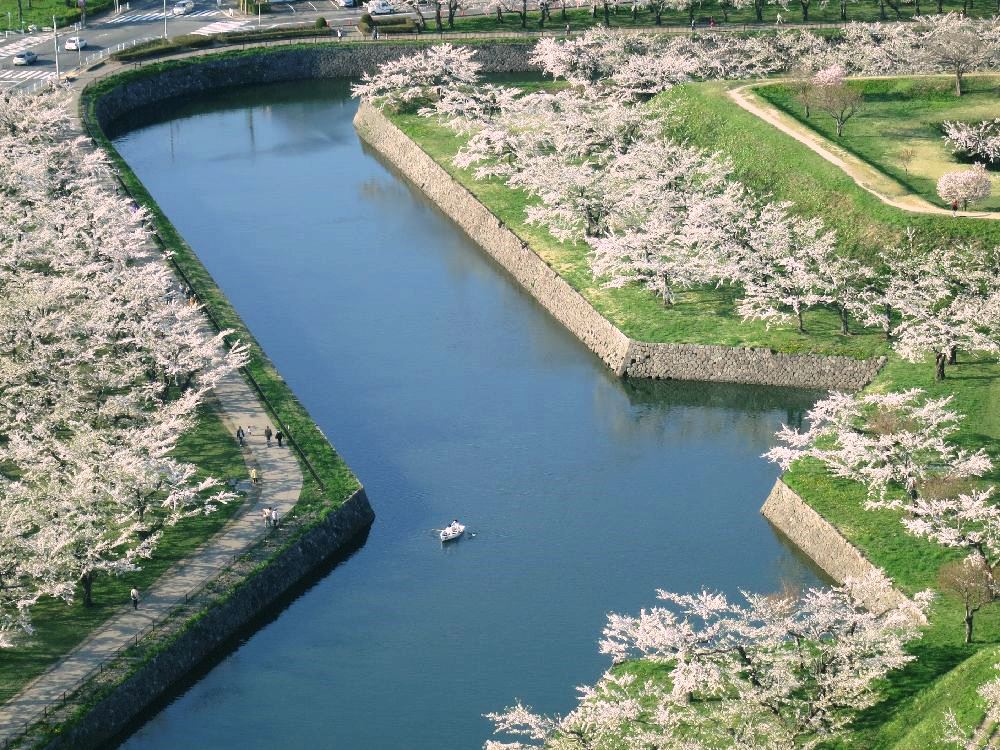 A completely pink park. It was really beautiful.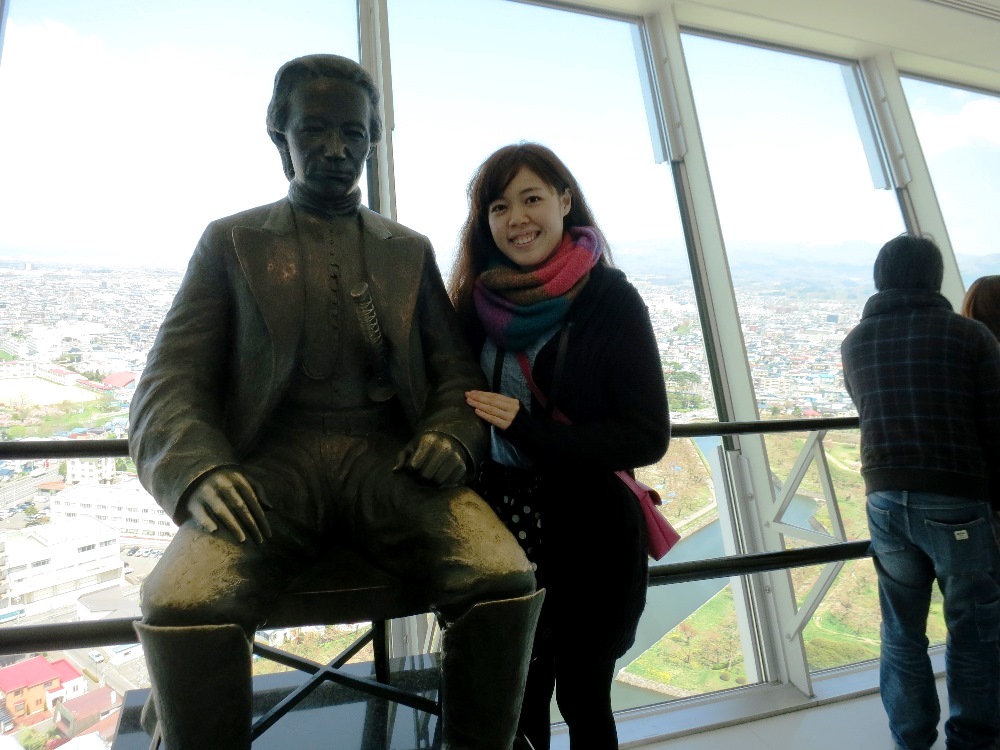 I found a statue of Hijikata Toshizo. Did you know that Mr. Hijikata is a very popular person in Taiwan?
You can try the "cherry blossom soft-serve ice cream" at the Goryokaku atrium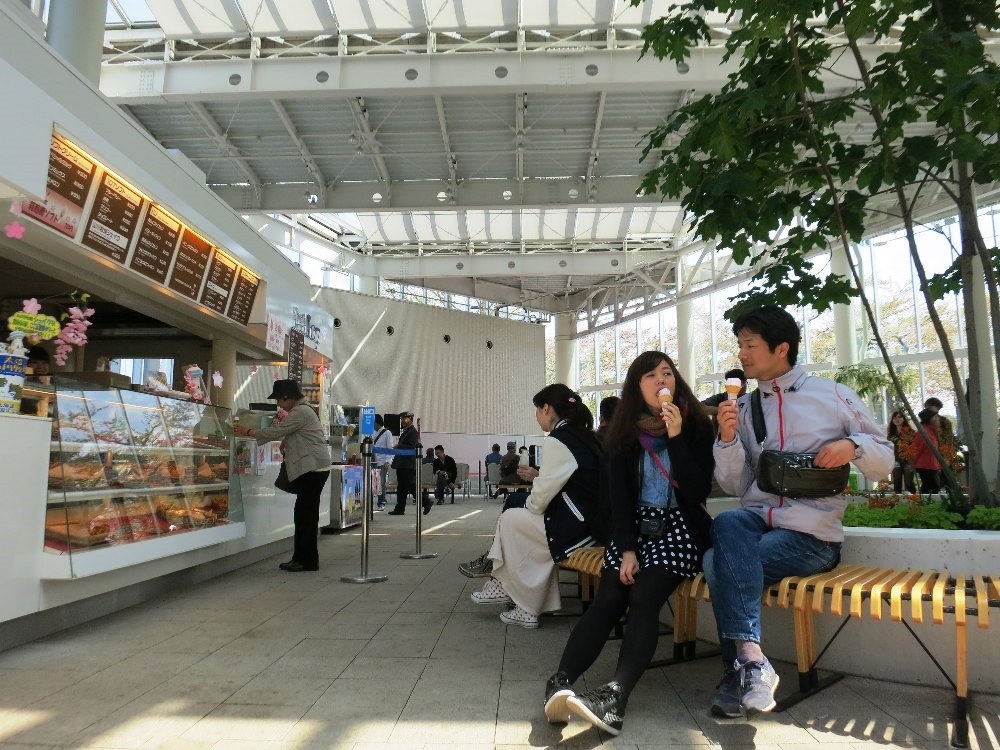 After taking in a spectacular veiw from the top of the tower we decended the tower by elevator and went to the 1st floor of the atrium. Here we had a little rest in the bright and pleasant atrium space.
At the fast food stand in this space one can buy drinks and take out bread. They also sell seasonal foods here. I recommend the "cherry blossom soft-serve ice cream." (¥330) The ice cream is pink colored and the flavor is a sweet yet sour, just like the flavor of cherries.
Next to the atrium is a gift shop. You can buy all kinds of gifts here. They sell seasonal special goods like pouches and straps made of cherry blossom patterned cloth. I even found Royce ganache chocolates. These chocolates are very popular in Taiwan. I was so surprised to find such a variety of chocolates.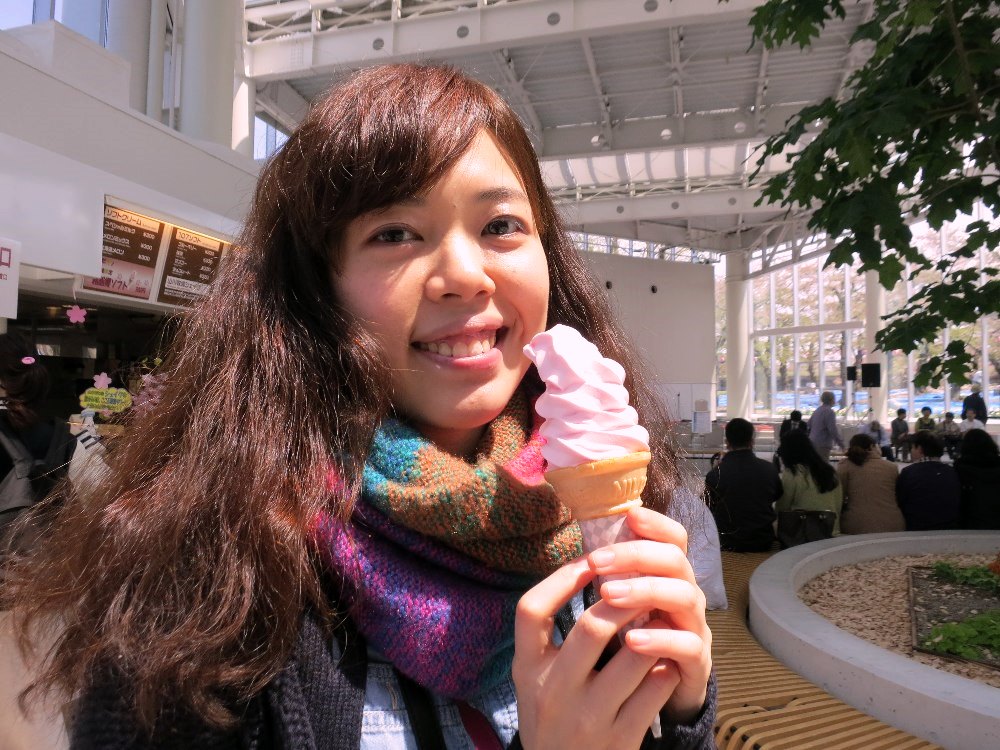 Spring only - cherry soft-serve ice cream. Pink is such a cute color.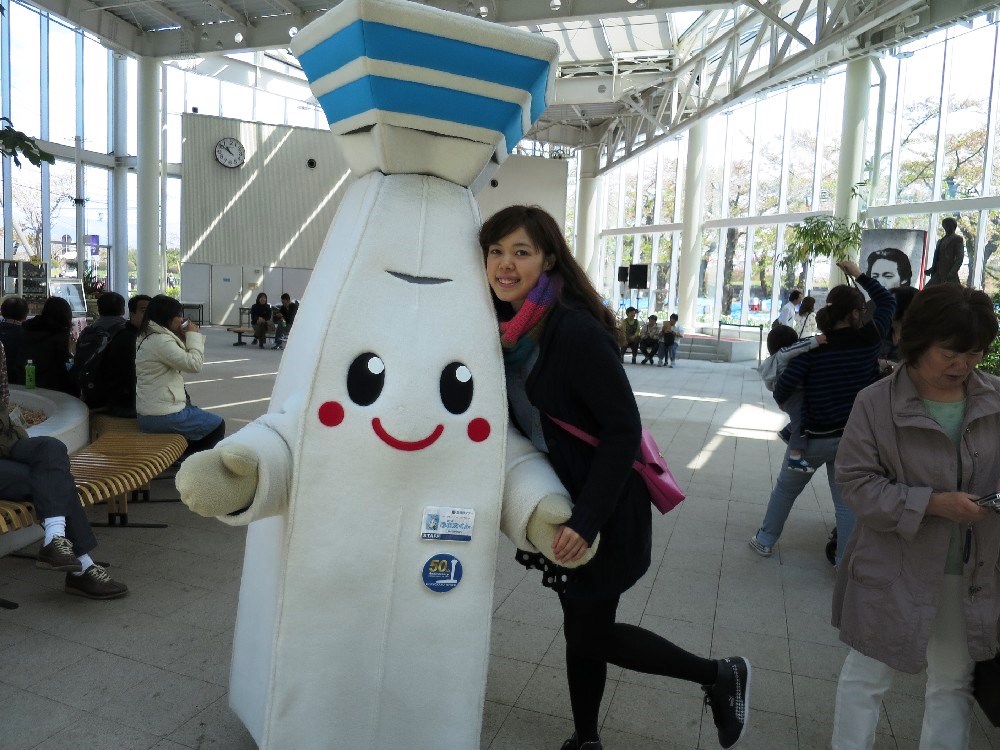 This is Goryokaku Tower's character "Gota kun".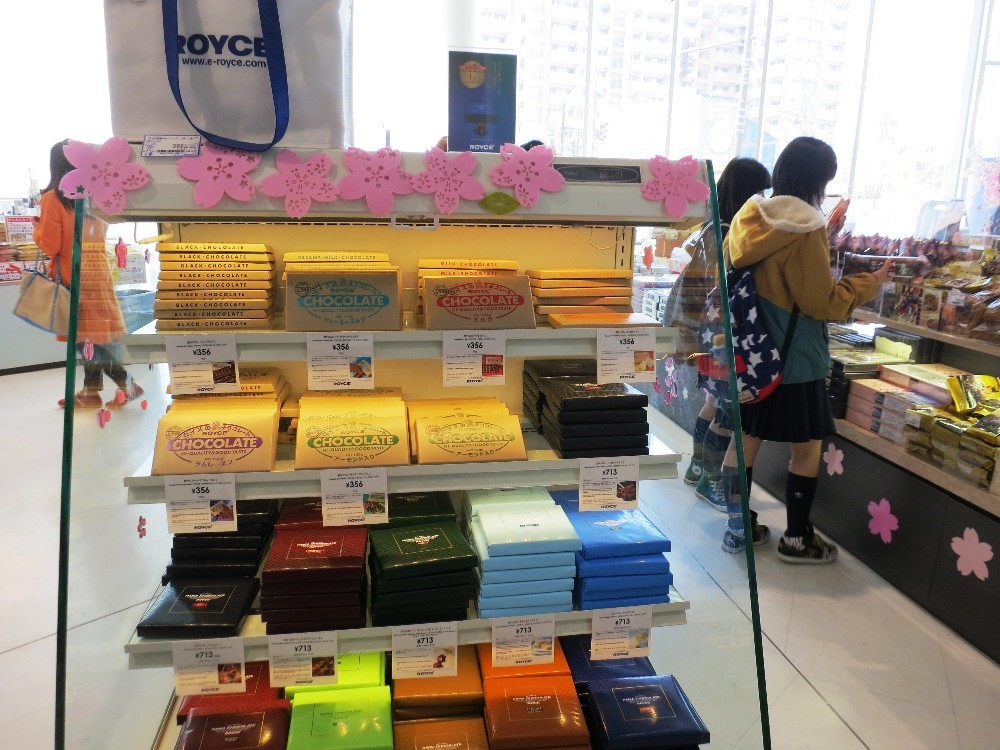 Royce ganache chocolates. Such a wide variety of chocolates makes choosing real difficult.
A take-out Lucky Pierrot hamburger makes for a nice picnic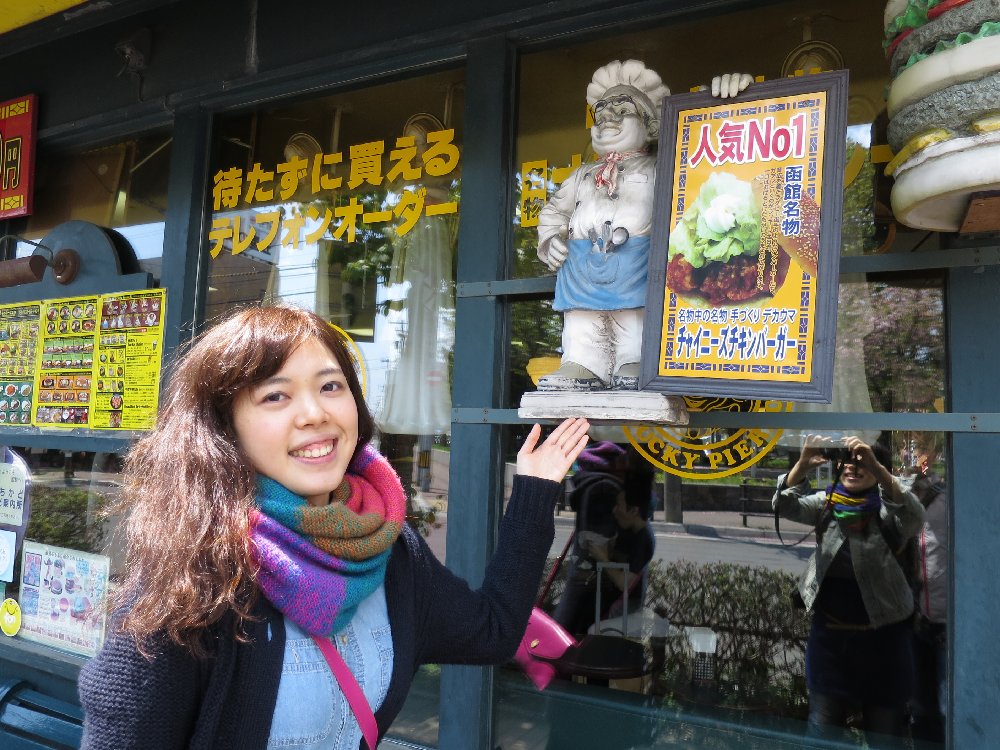 We decided to have a fast food take out for lunch. The Lucky Pierrot hamburger shop originated from here in Hakodate. It's called a hamburger shop but they sell not only hamburgers. They sell curry rice and other foods as well. Inside the shop is like a family restaurant. The dishes are all very generous and the prices are very reasonable. This shop is located right near the entrance of the park and was very convenient.
Their most popular menu is the Chinese Chicken Hamburger. (¥350 + 8%tax) It is a "hamburger" consisting of fried chicken with a sweet-sour sauce and lots of lettuce between two buns. They deep fry the chicken after you make your order so you have a short wait but it is freshly fried.
We ordered take-out hamburgers and went to enjoy a picnic viewing cherry blossoms. Walking around the park we could catch a whiff of BBQed meat. We sat down near a group which was enjoying "Jingiskan." "Itadakimasu!"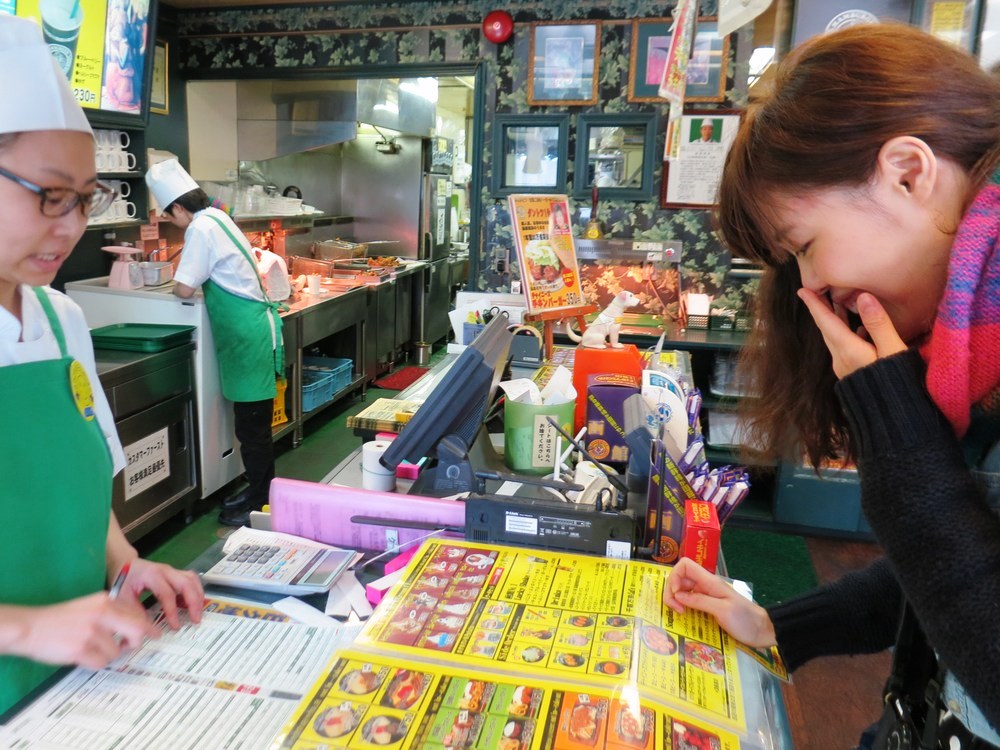 A great variety of hamburgers. Besides hambergers on the menu is curry rice, and fried chicken and all sorts of different dishes.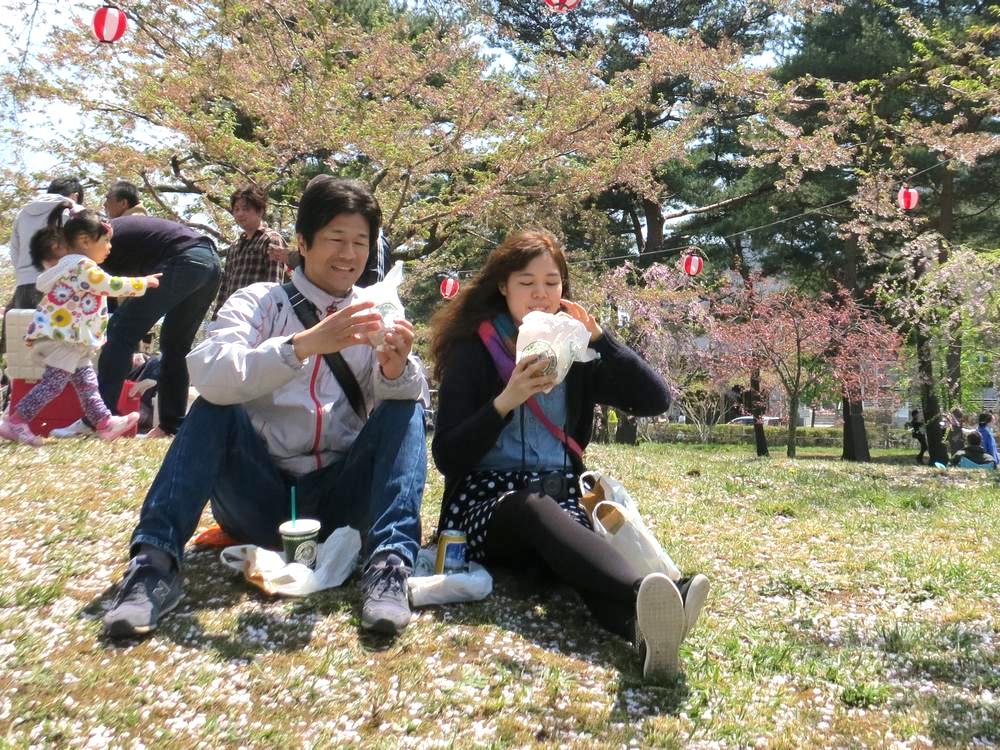 Sitting on the lawn, we enjoy a picnic.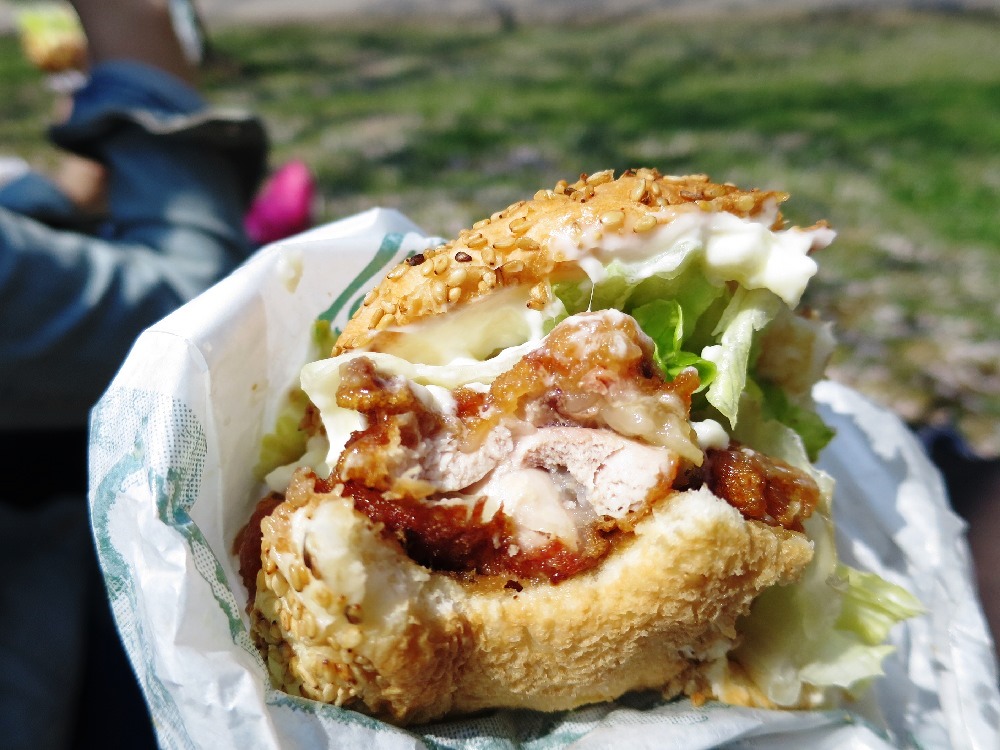 Big piecies of deep fried chicken with a hot sauce. Very delicious!
Walking around Goryokaku Park. The cherry blossoms were brilliant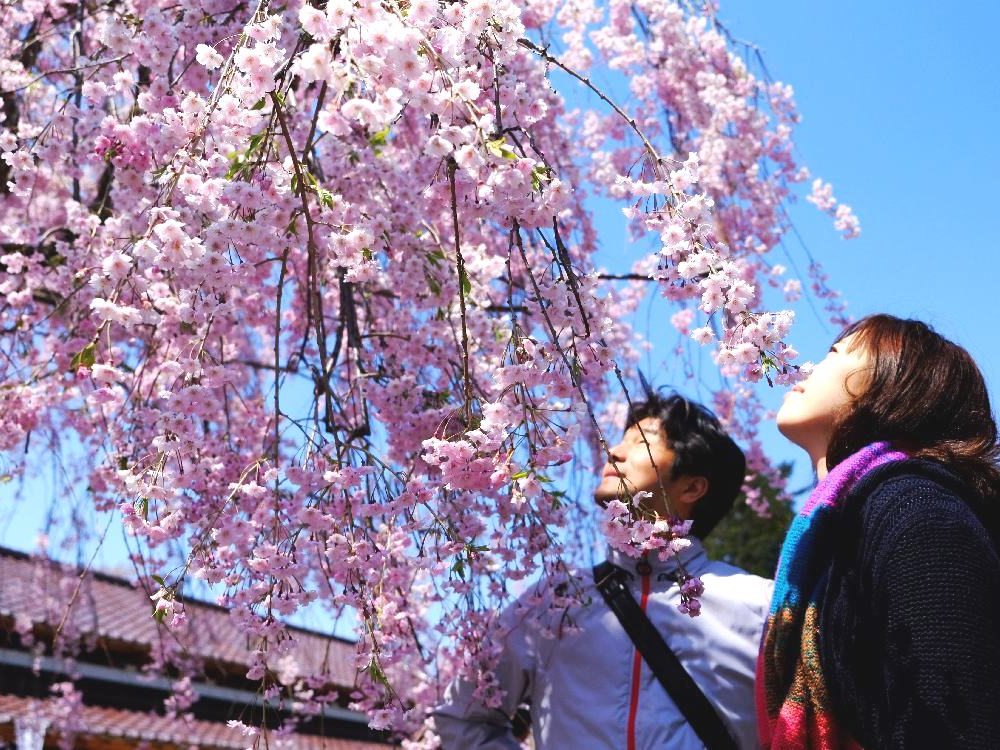 After eating luch we walked around the park. Crossing over the moat bridge we enter the inside of the fortress. Here we came upon a most traditional Japanese style building - the Hakodate Magistrate's Office.
What a spectacular building! This was an administrative office built more than 150 years ago. This is where samurai worked. The present building is an authentic re-creation of the building which was built in 2010. You can tour the inside of this building. (¥500)
In front of the Hakodate Magistrate's Office was a beautiful "willow" cherry tree with brances full of pink blossoms. Cherry blossoms in Taiwan are a very strong pink color. Cherry trees are now becoming popular in Taiwan however such trees are still very young and we can not find places with many cherry trees like here in Japan. Seeing the light pink cherry blossoms swaying in the breeze is a most elegant sight. It is as if Yamato Nadeshiko is wearing a pink kimono.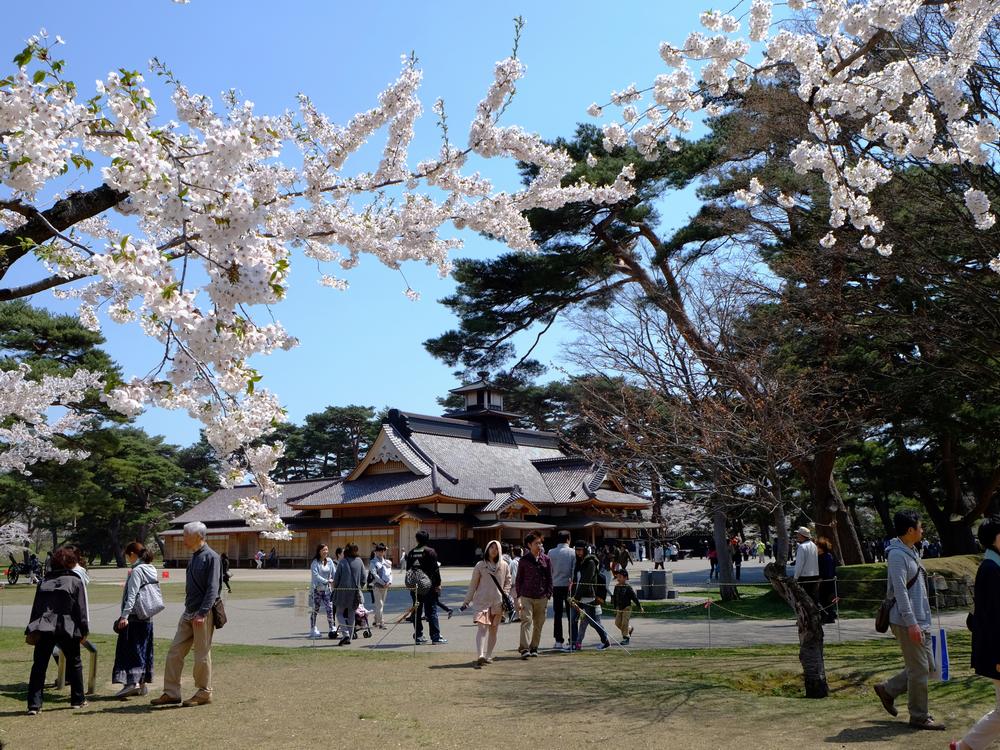 After passing under the cherry trees we come upon this traditional Japanese-style building.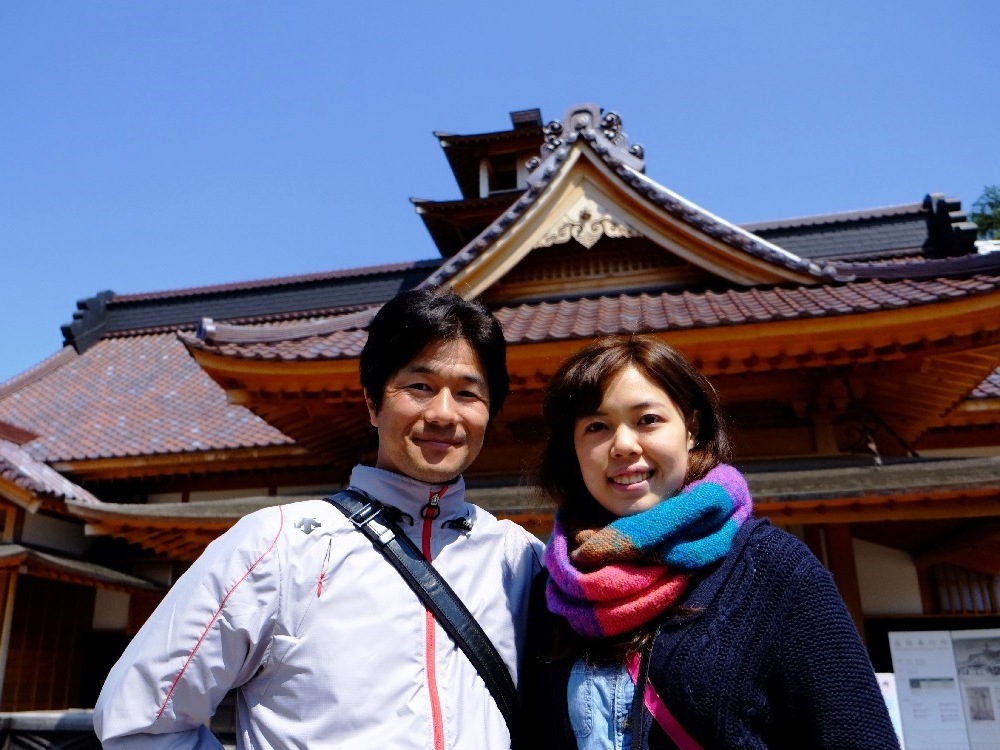 Here is my friend I am indebted to this visit to Hakodate. He was my guide.
These light-pink cherry blossoms were truly beautiful.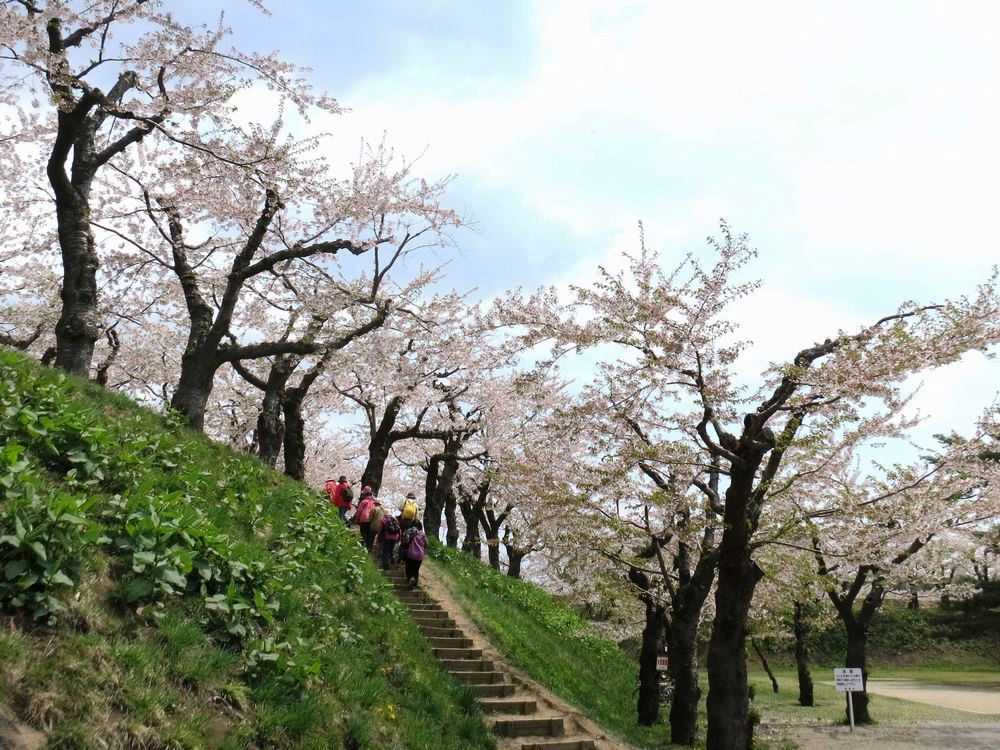 Cherry trees line the embankment surrounding the Magistrate's Office.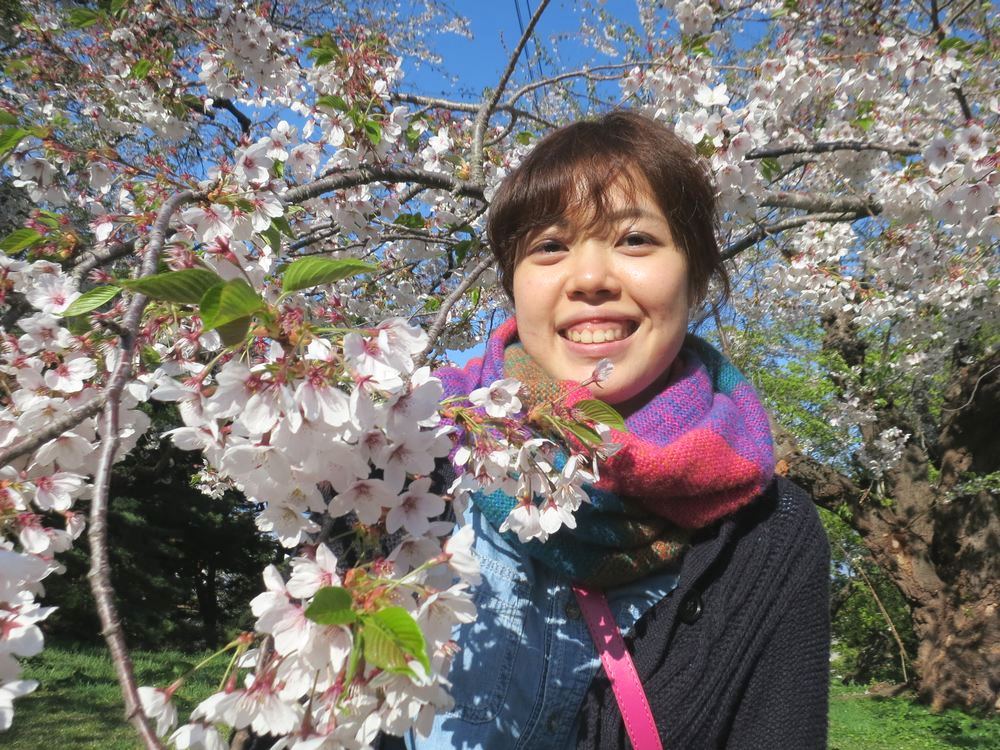 Surrounded by pretty cherry blossoms, I am all smiles.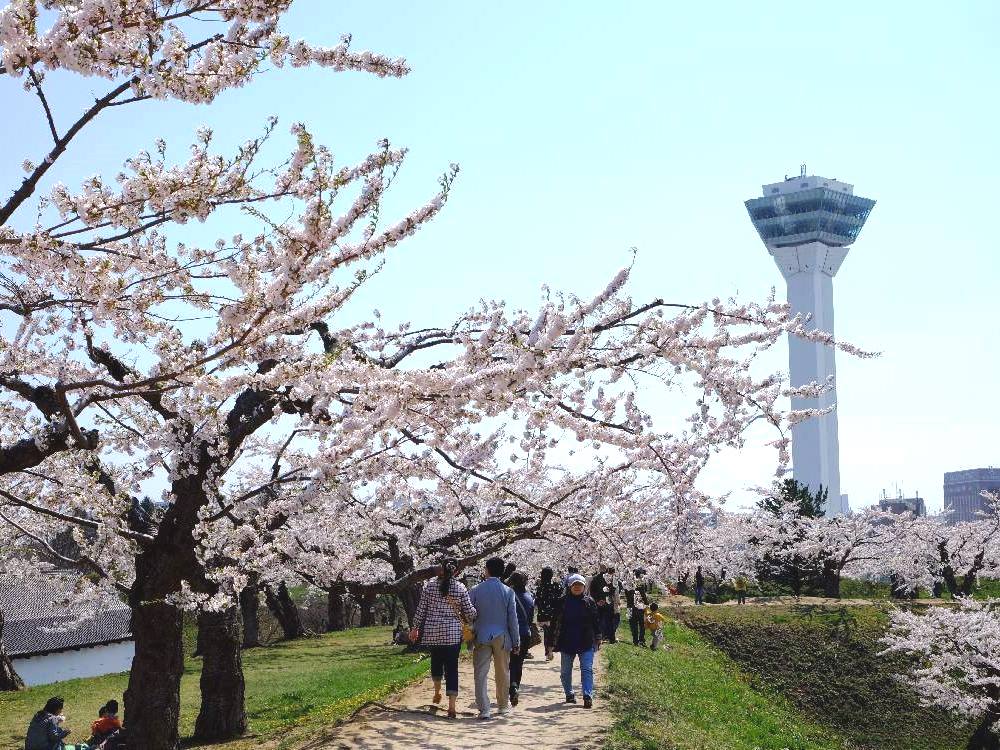 People walking around the fortress embankment. On the right can be seen Goryokaku Tower.
Riding on a row boat in the moat. A pleasant wind blows across the water
In order to enjoy your visit to Goryokaku Park more, you can rent a row boat. It's not a bad idea to get some exercise by rowing a boat. You can ride on this small boat and enjoy the view of the park. Once around the moat is about 1.5km and it will take about 40 minutes. You don't have to go once around but rather can enjoy just rowing in the same area. (¥2,000 for two people with a time limit of 50 minutes.)
My friend did most of the rowing so I was able to view the cherry blossoms in a most leisurely fashion. You can get a good view of people enjoying cherry blossom viewing from the boat. Oh dear, a sea gull came near our boat.
This moat was built to defend the Magistrate's Office. In winter I am told that this moat is frozen over. I can't believe this. Snow piles up on the ice and makes for a spectacular view.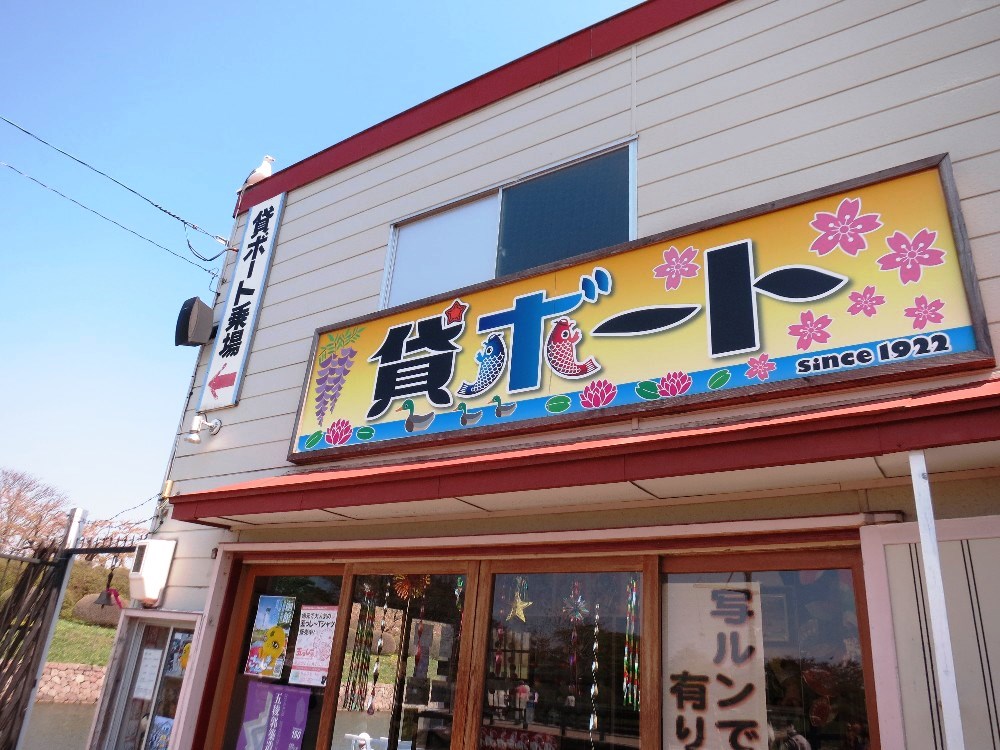 The cute sign board for the row boat rental shop.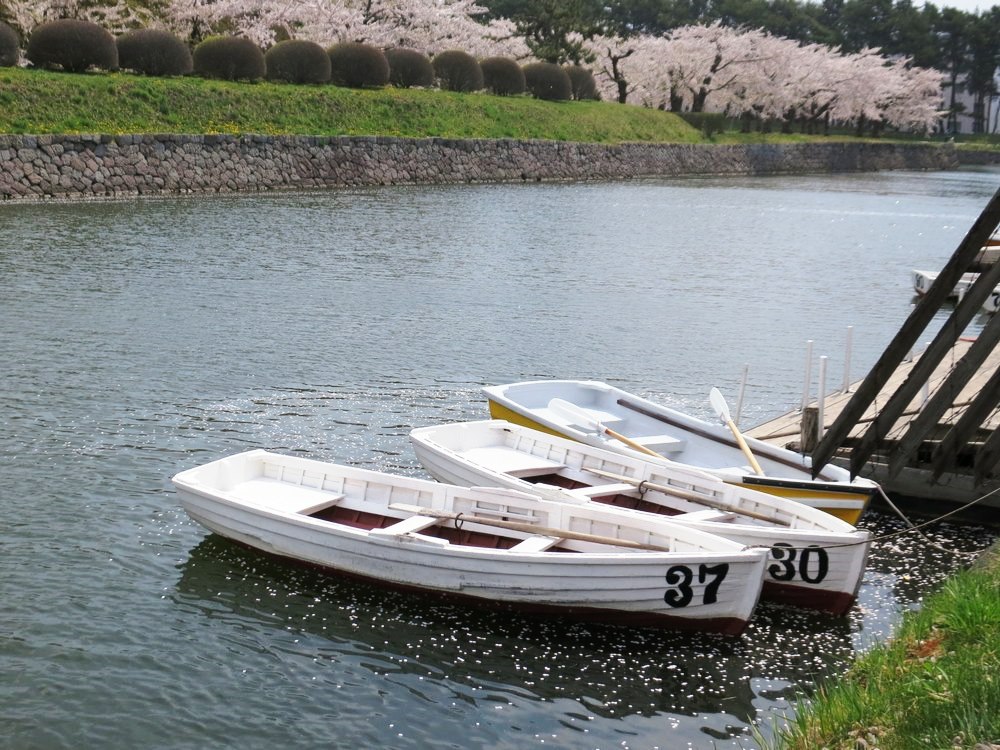 The cherry blossom petals blown in the wind fall on the water surface. They made a very romantic scene.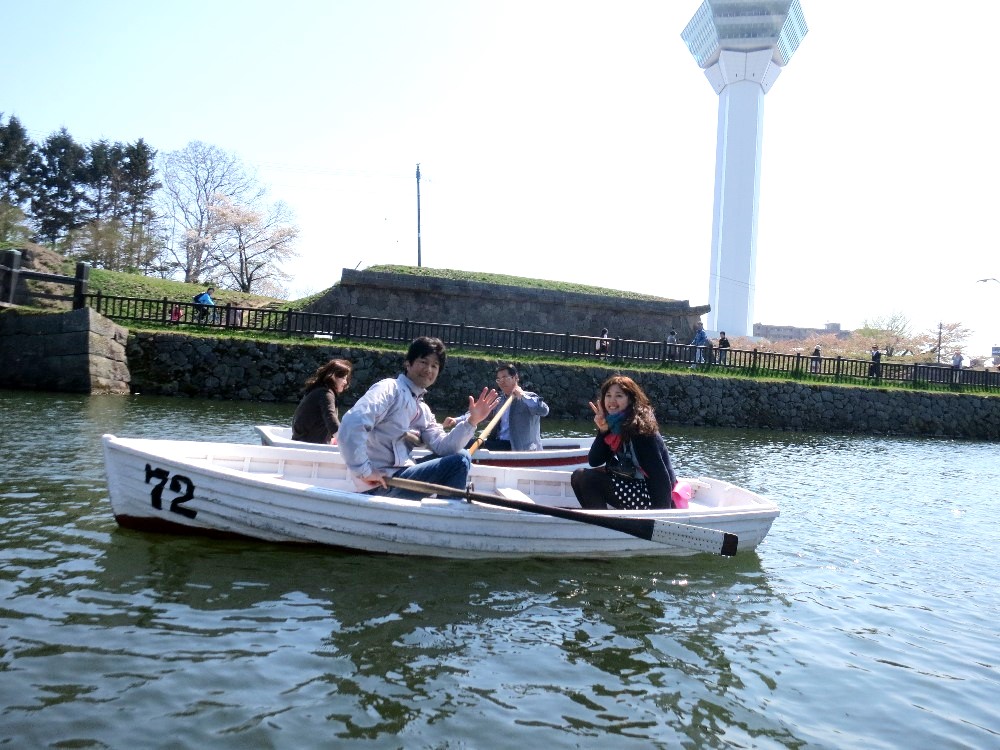 My friend and I decided to take the challenge and try riding on a row boat. This being my first time in a row boat, rowing was not so easy for me.
Coffee break at the confectionary maker, Rokkatei's wholly-owned outlet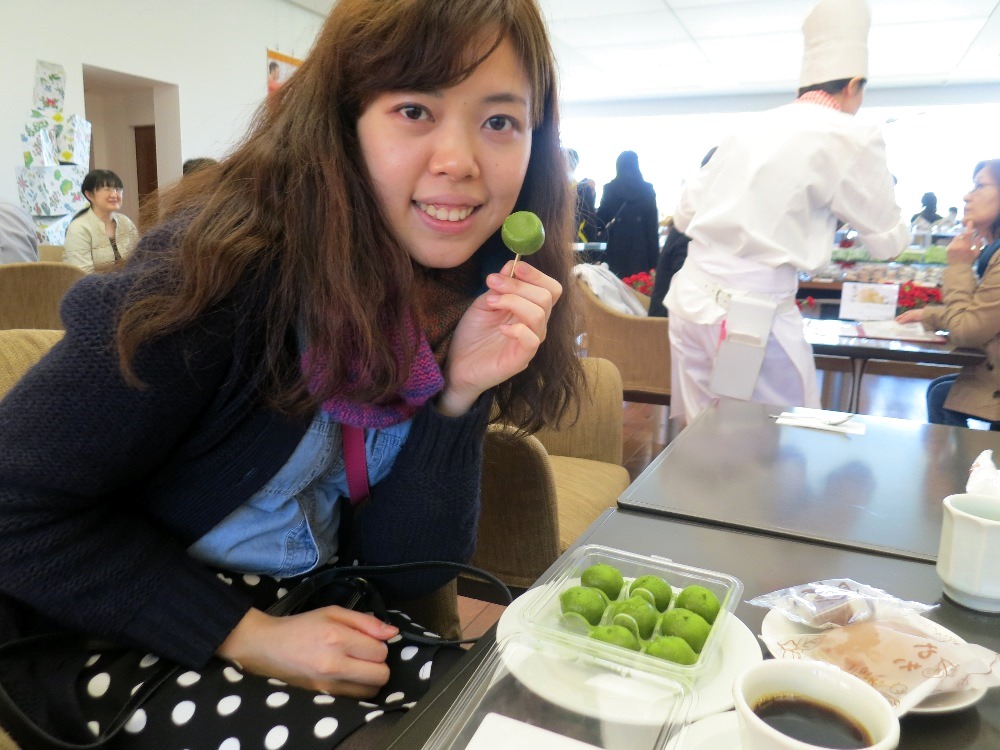 After enjoying the cherry blossoms we went to visit Rokkatei. Rokkatei is one of Hokkaido's most famous confectionary makers. This is the company that makes "Marusei's Butter Sands" which are so popular in Taiwan. Rum-raisin butter cream between two biscuits. The texture of this biscuit is wonderful.
I wondered how many different kinds of cookies they had on sale. Just looking at all the variety of cakes and cookies made me feel excited. You will find all kinds of sweets that you want to try. You might want to choose some sweets here to take home as gifts. There is also a café in one section of this shop so you can try eating some of these sweets.
We were a little tired so we rested here. We ordered the tea-flavored rice dumplings with lots of "Anko"(bean-jam) inside, and the "dorayaki" (a bean-jam pancake). They were both very delicious.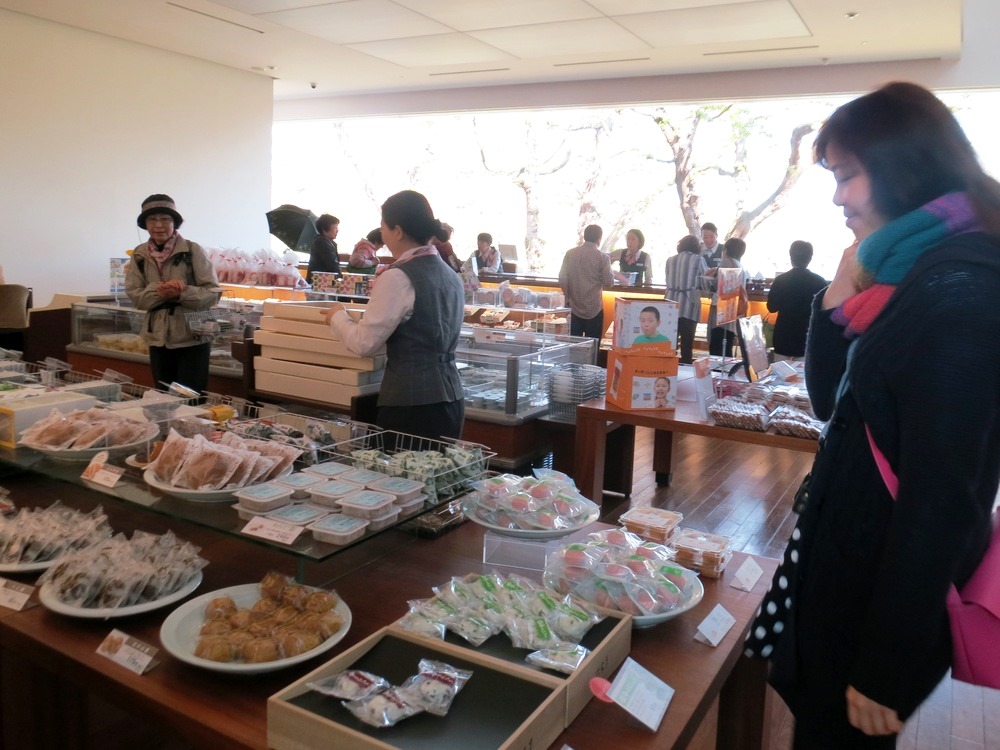 All sorts of delicious-looking sweets are displayed in the spacious shop.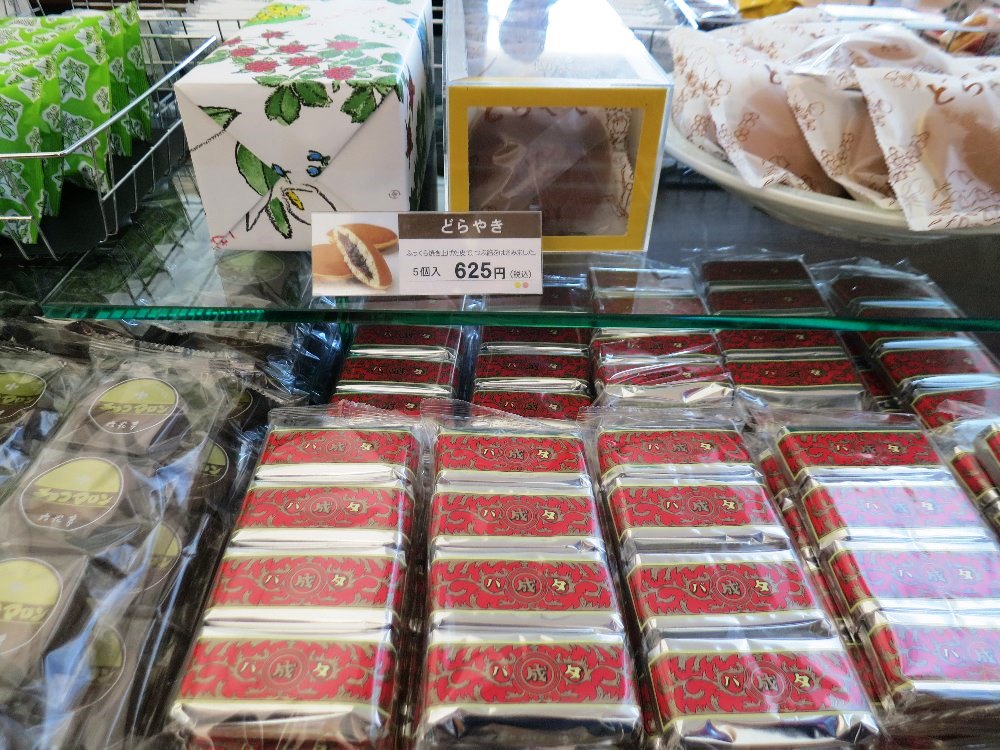 The biscuits with the red wrapping are the most famous "Marusei's Butter Sands".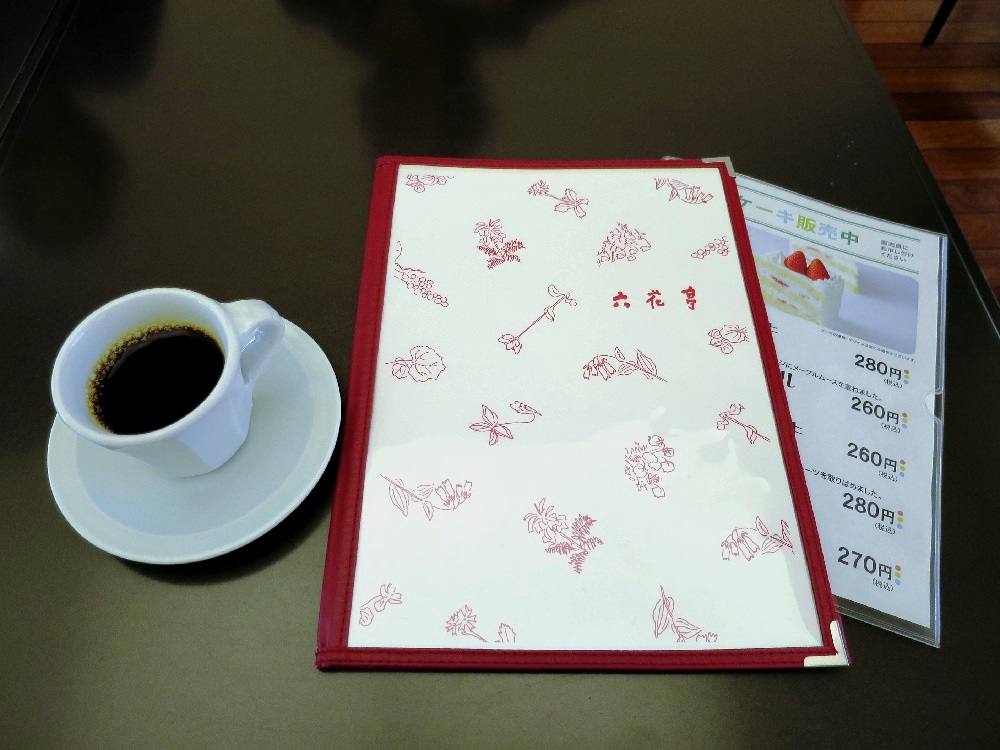 You can try eating what you just bought in the in-shop café or you can order their café-only sweets.
Enjoying night-time cherry blossom viewing in Hakodate Park and the food stalls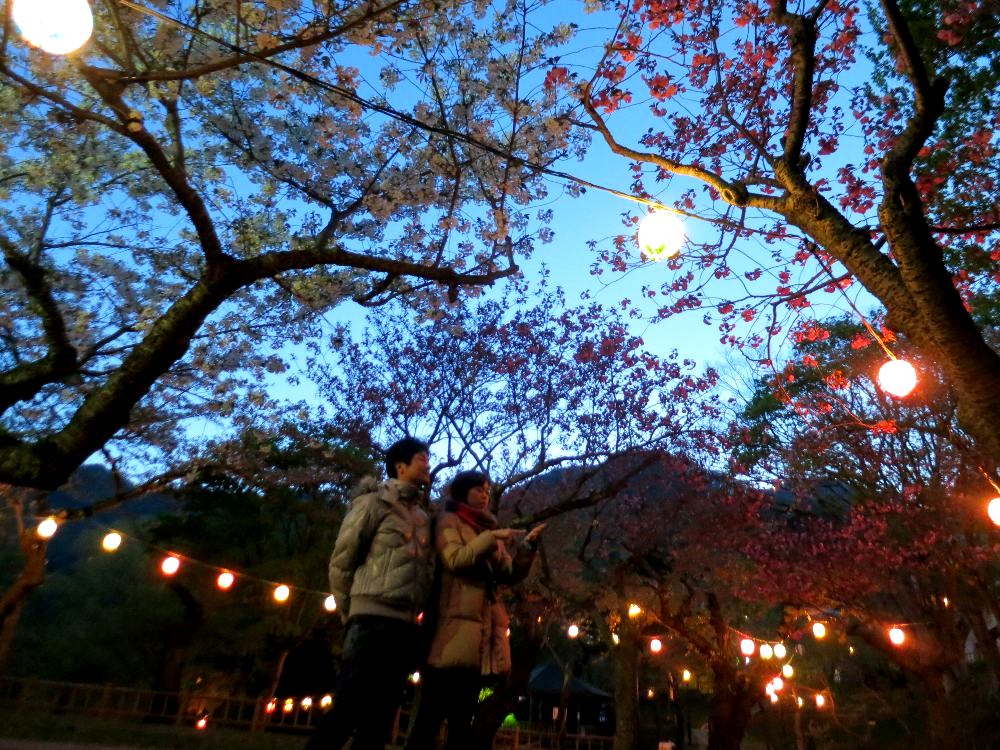 After enjoying Goryokaku Park we caught the tram an went to Aoyagi-cho stop.(30 min ride, ¥240) From here it is just a short walk to Hakodate Park, another famous cherry blossom viewing spot in Hakodate.
Inside Hakodate Park during the cherry blossom viewing season various food stalls are set up. You can find stalls selling "yakisoba", "takoyaki" and "yakitori". You can experience plesant aromas of food being cooked. And just like in Taiwan the stalls are very bright and attractive. What shall we eat? Walking back and forth along the food stalls we consider which stall to go to.
Lights are strung along the road between the cherry trees making for a spectacular scene. The night-time temperature of spring in Hokkaido gets rather cold (a low of about 10 degrees) so we decide to enter the "oden" stall to eat hot "oden."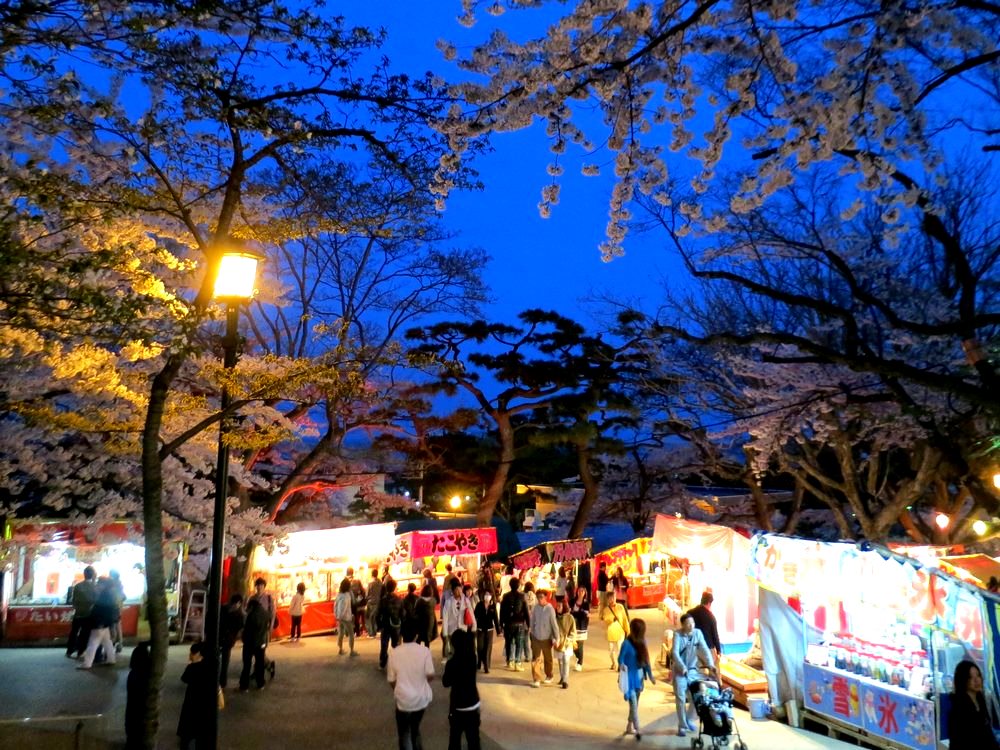 Lots of food stalls line the road making lively atmosphere.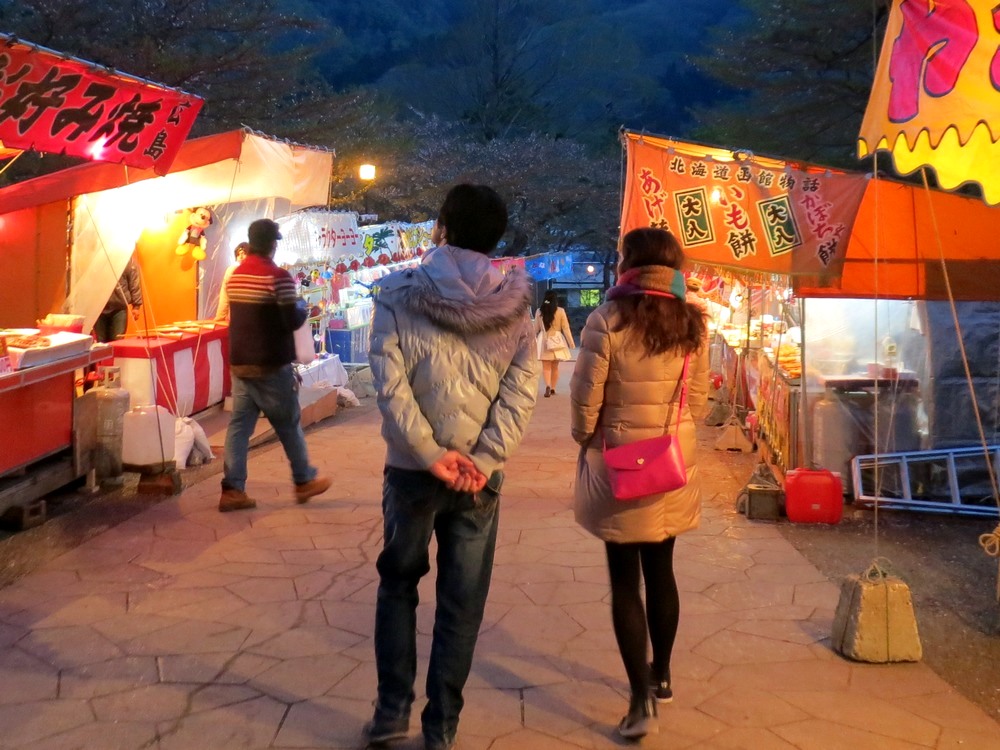 Spring-time in Hokkaido is rather cold so it is recommended that you wear a down-jacket.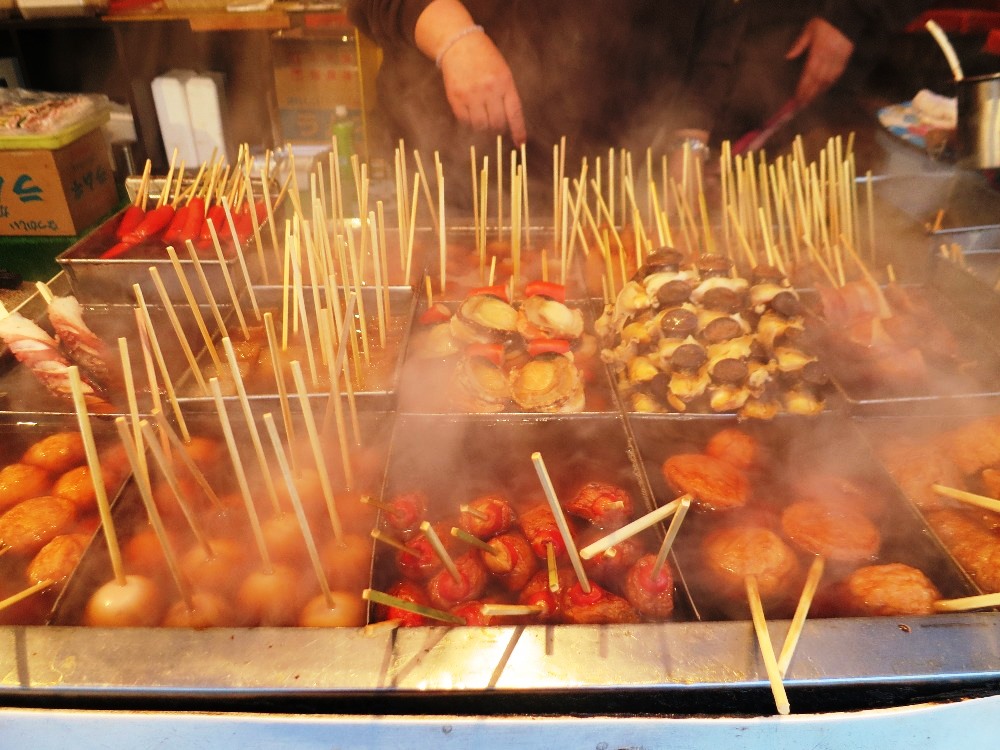 When it is cold "oden" hits the spot. The piping hot "oden" makes one feel very hungry.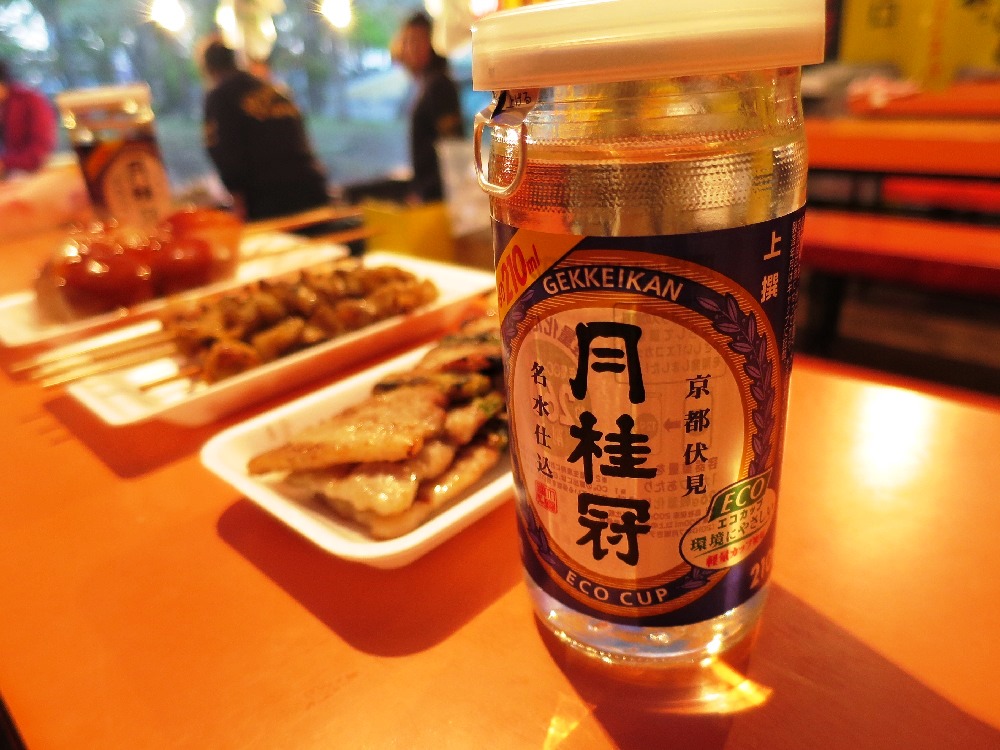 A toast with Japanese sake. The sake came warmed in a cup. It was a real match for "oden."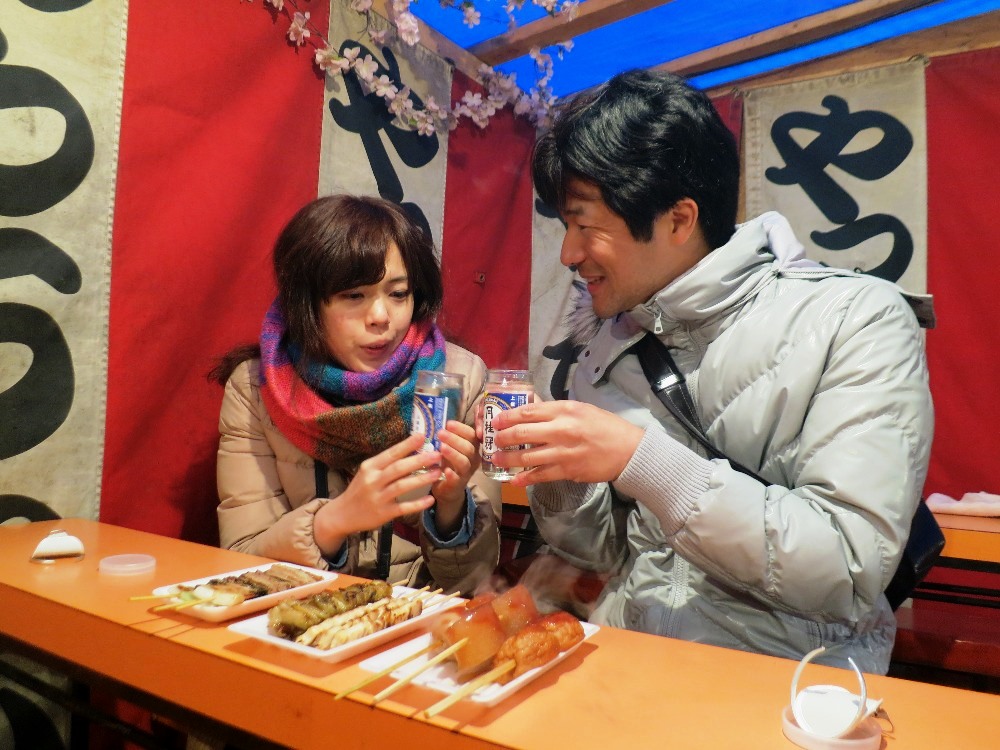 Cheers! Thank you for all your kindness.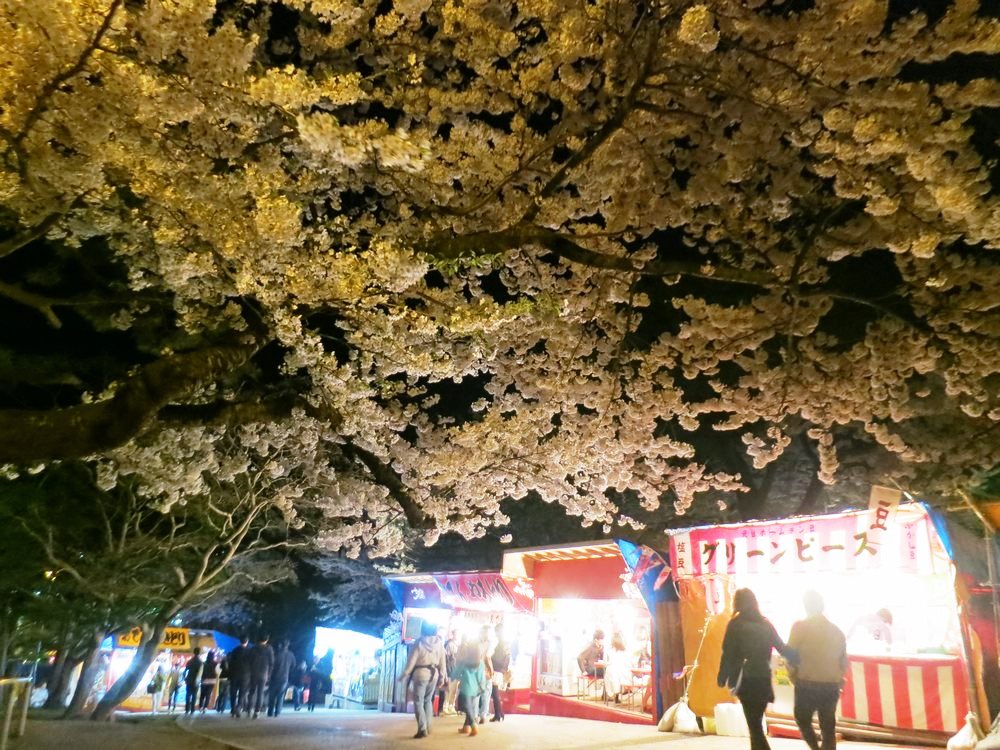 The lights strung between the cherry trees make cherry blossom viewing a completely different atmosphere at night.
Under the night cherry blossoms our day of fun comes to an end. The cherry blossoms swaying in the breeze seem to be saying "good night."
I learnded that cherry blossom viewing in Hakodate is a lively time for family and friends to gather together. It is a time filled with a joyous atmosphere.
I was most surprised to learn that people enjoy BBQs under the cherry blossoms.
On my next cherry blossom viewing visit to Hakodate I really want to try "Jingiskan." Thank you everyone for helping to make my trip a most wonderful memory.
Visited and Noted by Erica May, 2014
*This travel guide was originally written for people of Taiwan.