Unforgettable Scenes from Movies! 5 Filming Locations in Hakodate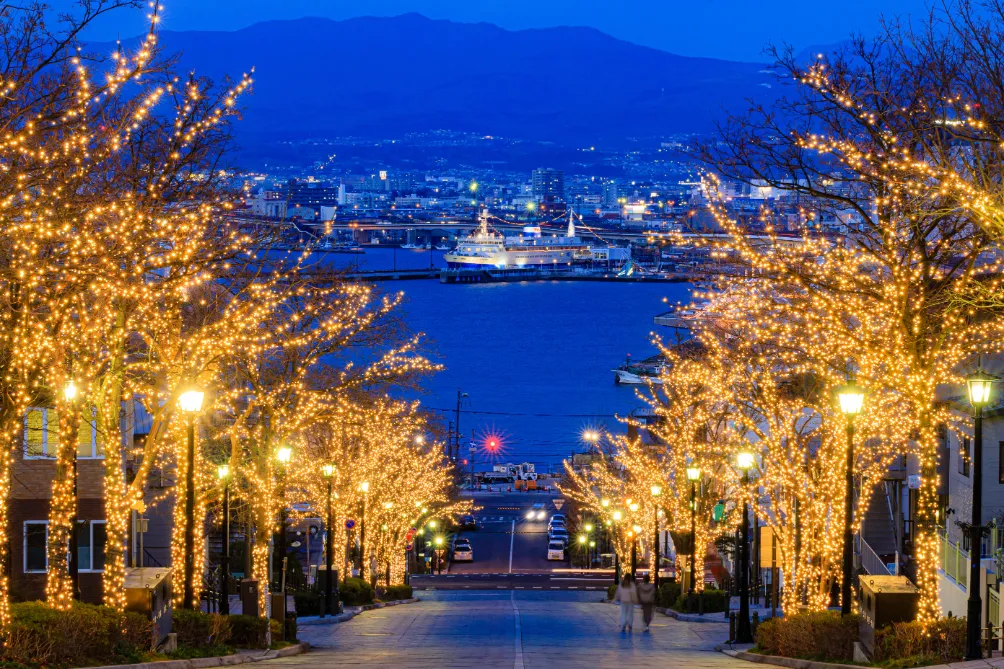 Hakodate, one of Hokkaido's major cities, is famous as a sightseeing destination with a multicultural ambience. This is in part thanks to the Western-style architecture, Mt. Hakodate's romantic night view, and Hachiman-zaka Slope as it overlooks Hakodate Port.
Many of Japan's most famous television series and films were filmed in Hakodate where you can stumble upon stunning scenery. In this article, we introduce the locations that have been used in especially popular big and small screen productions!
Tapestry - I Want to See You Again! Hakodate Ferry Terminal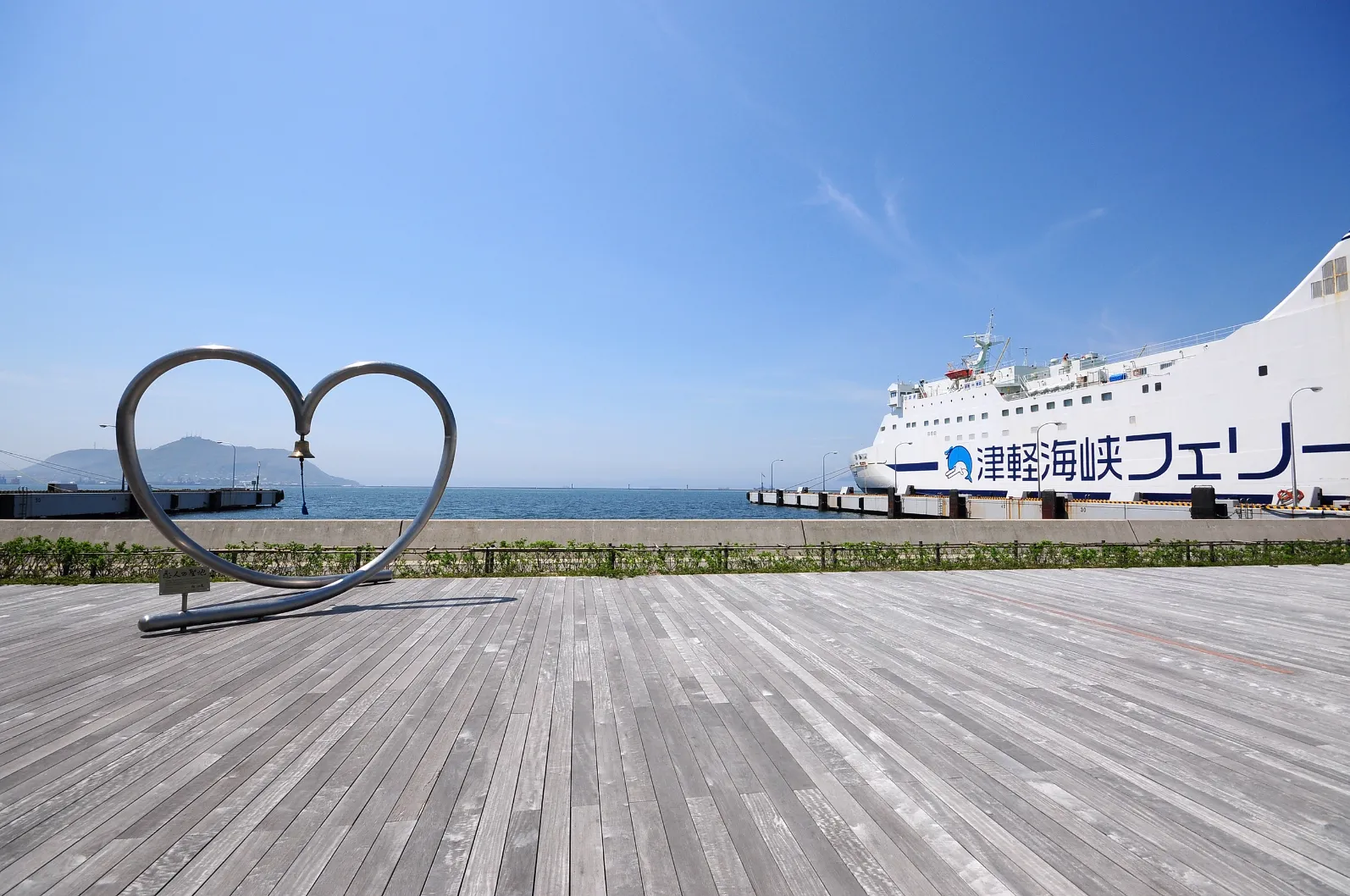 Located 20 minutes by car from Hakodate Station is the Hakodate Ferry Terminal, the marine gateway to the city where ferries come and go eight times a day between Hakodate and Aomori. The ferry terminal held the important role of being a transportation hub before the opening of the shinkansen (bullet train) line. It is currently still being used today as a mode of transportation for both visitors and locals.
You'll have an extensive view of the Tsugaru Strait right before your eyes. The Lovers' Bell, located right next to the ferry terminal, is a photo spot popular with couples.
The Hakodate Ferry Terminal is famous as a couple's sanctuary and was a filming location for the film "Tapestry." "Tapestry" is a romance film that depicts the grand love and bond between Masaki Suda and Nana Komatsu starring in double roles.
The scene filmed here at the ferry depicts the moving climax between the two main characters, who continued to cross paths and drift apart, when they reunite at a countdown party to celebrate the change of the eras from Heisei to Reiwa.
Address: Hokkaido, Hakodate, Minatocho 3-19-2
Business Hours: 24 hours
If Cats Disappeared from the World - A Place of Reunions at Hakodate Jujigai Station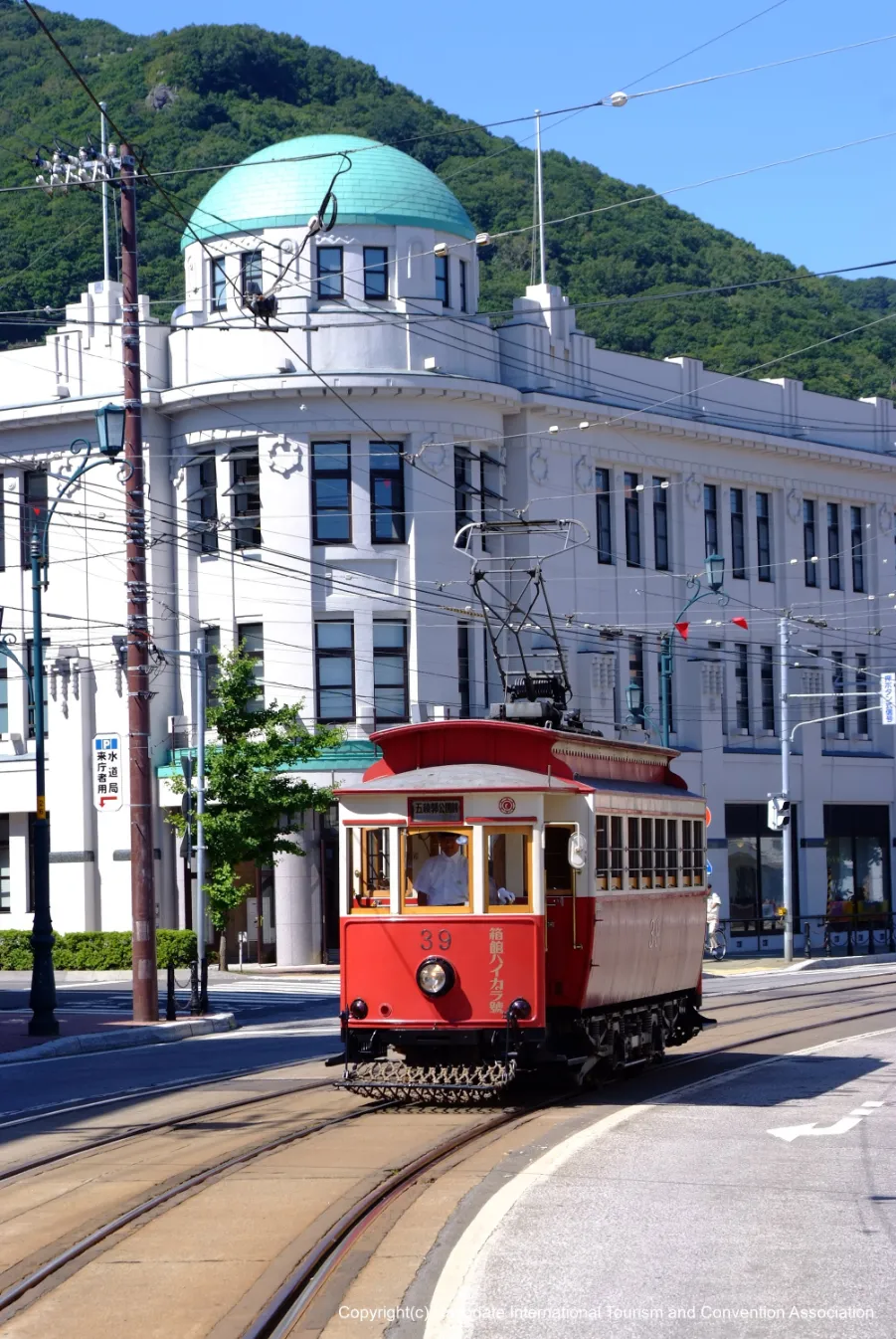 The Hakodate City Tram is a streetcar that services Hakodate City and is also frequently used by visitors. The Jujigai area, one of the stops on the tram route, has a streetscape serviced by retro trains that exude a sense of nostalgia due to the many historical buildings that remain.
"If Cats Disappeared from the World" became a hot topic for being a film adaption of the novel of the same name by Genki Kawamura. In the film, there is a scene where the two main characters played by Takeru Sato and Aoi Miyazaki reunite. Hakodate Kogeisha in Jujigai was used to film this scene.
Hakodate Kogeisha is a crafts gallery established in 1997. The building, which was constructed around the early Showa period (1926-1989) when Hakodate flourished as the gateway to Hokkaido, underwent renovations and currently collects and sells ceramics mainly from Hokkaido. How about going to visit the gallery for items that will add color to your life or in search of souvenirs to commemorate your Hokkaido trip?
Address: Hokkaido, Hakodate, Suehirocho 8-8
Business Hours: 10:00 - 18:00
Tokyo Friends - Stand on Your Dream Stage at Kanemori Warehouse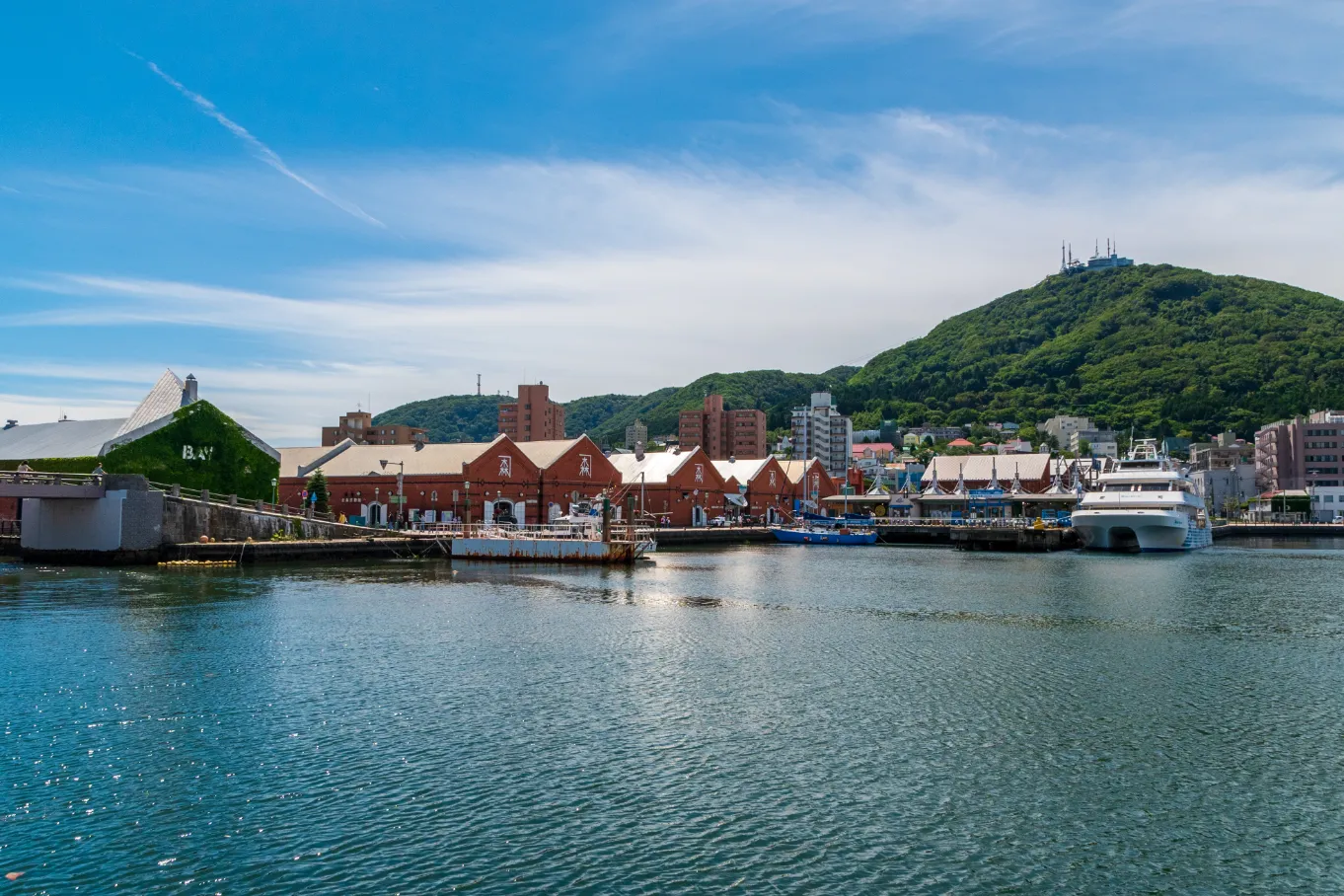 The Kanemori Red Brick Warehouse, 15 minutes on foot from Hakodate Station, is a historical and famous sightseeing spot in the Hakodate Bay Area. The warehouse consists of four buildings where you can enjoy food, shopping, and sightseeing.
The Red Brick Warehouse shows different charms during the day versus the night. The combination of the warm light illuminated by the setting sun with Mt. Hakodate especially produces a more romantic atmosphere.
When it comes to a famous drama production that has used Kanemori Red Brick Warehouse as a filming location, "Tokyo Friends" is what comes to mind. It featured singer Ai Otsuka in her first lead role.
This movie is a youth story that depicts the gap between dreams and reality, as well as the pursuit of love and friendship. The Kanemori Red Brick Warehouse was used in the scene during the movie when a band called Survival Company gives a passionate performance at a live music venue.
Address: Hokkaido, Hakodate, Suehirocho 14-12
Business Hours: 9:30 - 19:00
Lunch Queen - A Path We Walked Side by Side on Hachiman-zaka Slope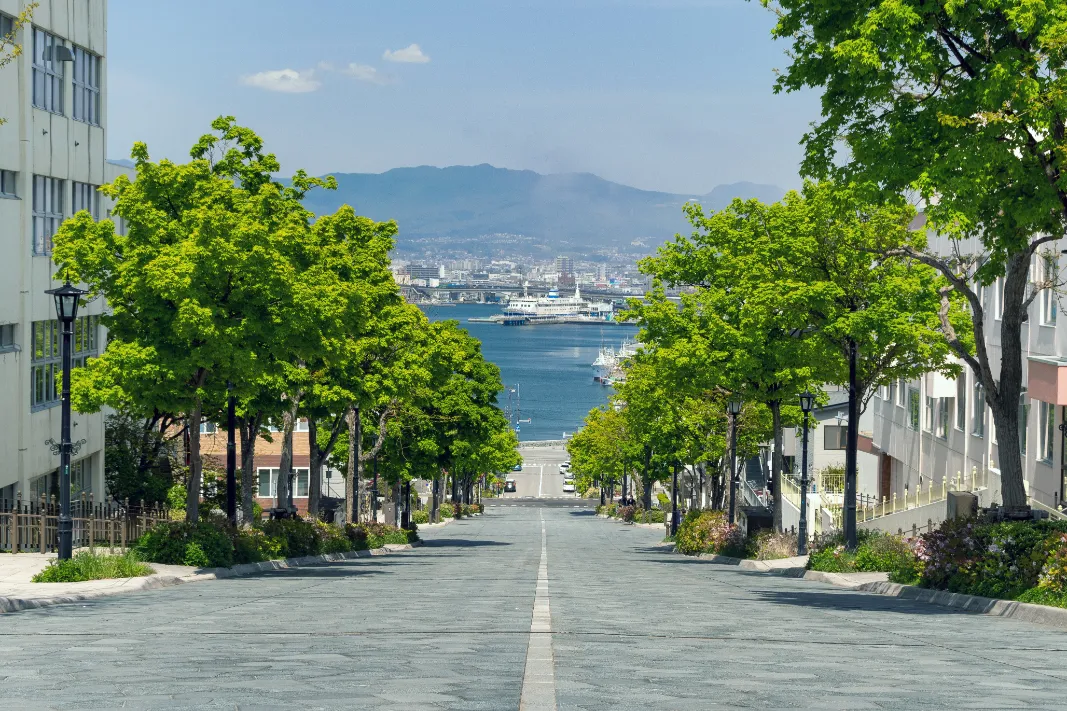 Hachiman-zaka Slope is located in central Hakodate and is a popular viewpoint. Climb up this hilly road and you'll get an unbroken view of the magnificent port town's beauty.
Historical buildings line the area around the slope and harmonize nostalgic history with the modern streets, bringing out Hachiman-zaka Slope's varying charms. Once night falls during the winter, the slope is decorated in illuminations and produces a romantic, surreal night view.
Filming for "Lunch Queen," a famous television drama starring A-list actors such as Yuko Takeuchi and Shinichi Tsutsumi, took place on Hachiman-zaka Slope and is also visited by many sightseers.
The scene that shows the friends on a trip together to Hakodate and walking side by side on the slope is very touching. Hachiman-zaka Slope is also famous as a filming location for various commercials and television series.
Address: Hokkaido, Hakodate, Suehirocho 19
Shinsengumi! Traces of Toshizo Hijikata and the Shinsengumi at Goryokaku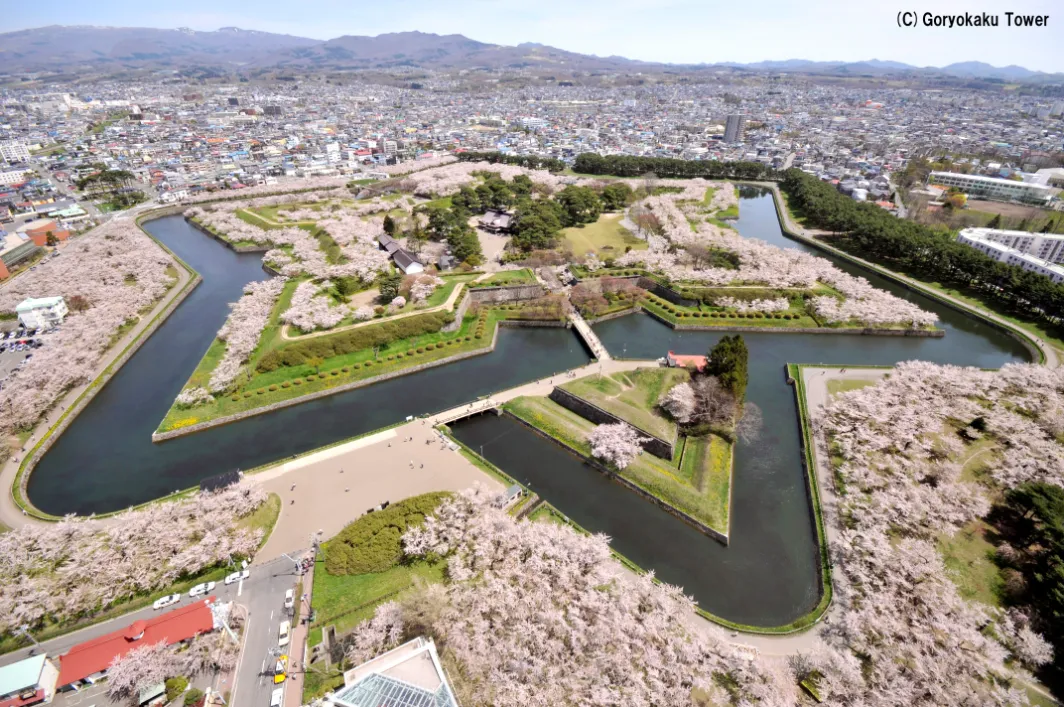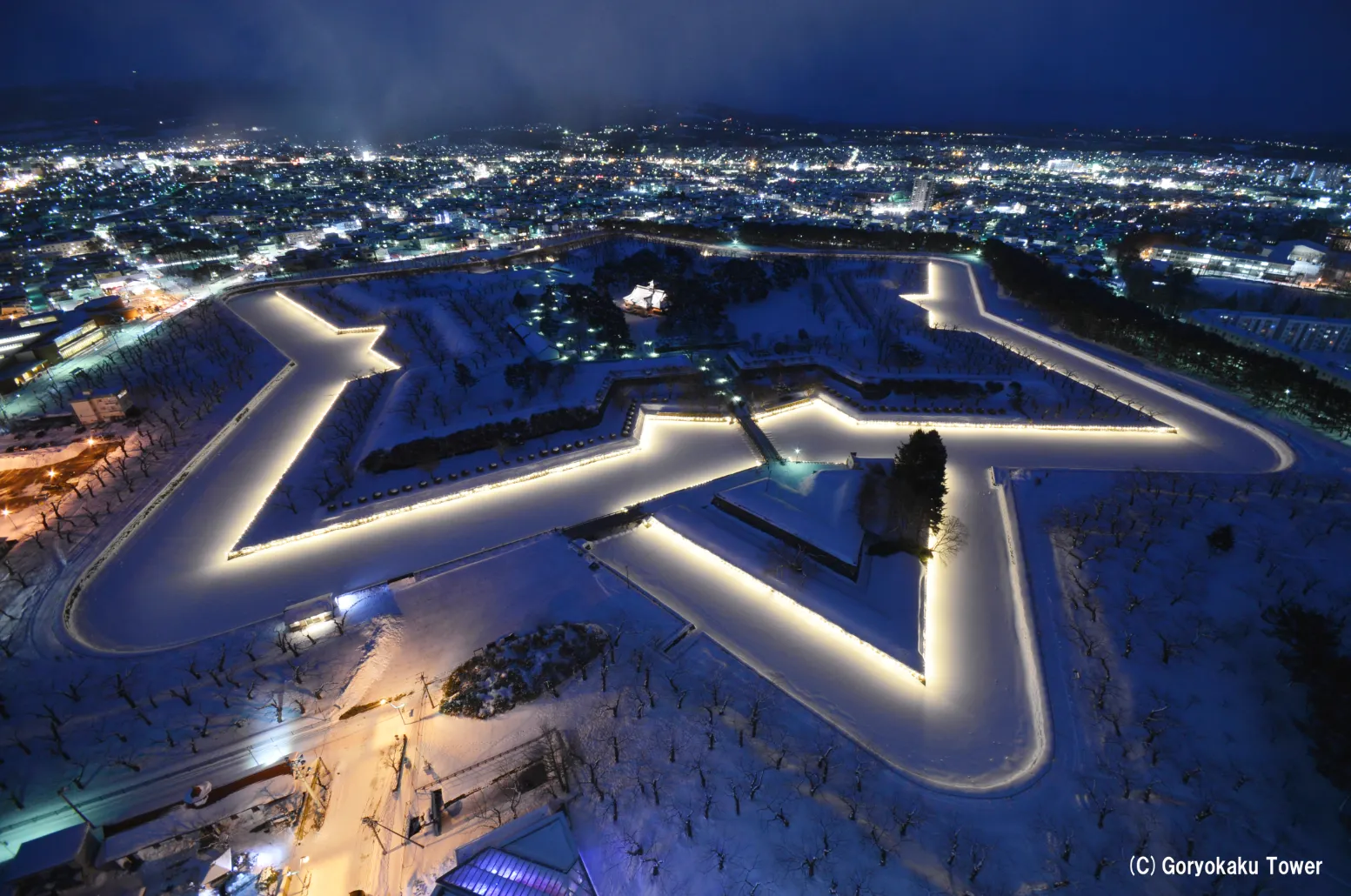 Goryokaku is a historical symbol of Hakodate and is a nationally designated Special Historic Site. It's a fortress characterized by a beautiful star-shaped moat.
Look at the view below from the observation deck and the magnificent Hakodate scenery and Goryokaku in its entirety will extend far and wide. It's also an attractive sightseeing spot for its seasonal colors. Spring is the best time to see cherry blossoms and azaleas in full bloom, summer has abundant greenery, autumn has fall foliage, while winter brings out a snow wonderland.
The reconstructed Hakodate Magistrate's Office sits at Goryokaku's center. This is where you can learn about Goryokaku's history, starting with the opening of Hakodate Port at the end of the Edo era in 1868, and the final battle fought by the samurais of the Tokugawa shogunate known as the Battle of Hakodate.
Its status not only as a sightseeing spot, but as a place that contains the history of turbulent times in Japan are unique features of Goryokaku.
Address: Hokkaido, Hakodate, Goryokakucho 43-9
Observation Deck Business Hours: 9:00 - 18:00 (open all year round)
Enjoy Exploring Hakodate
Hakodate is a filming sanctuary often used in television series and commercials. Perhaps there might even be a famous location you've already visited before without realizing it?
However, you can't help but visit these places now that you know this is where those touching scenes from well-known classics take place. Make plans for a trip to Hakodate and check out these filming locations while you're at it!