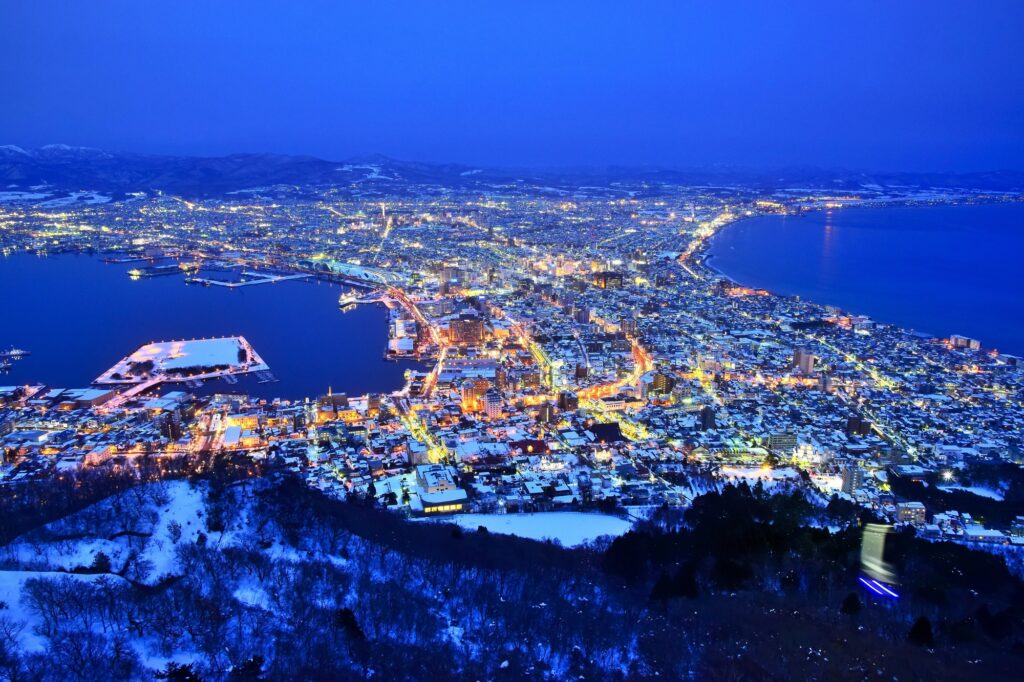 Activity
Discover Hakodate Through Activities! 8 Fun Things to Do
Hakodate is famed for its exquisite food, fantastic hot springs, stunning scenery and a wealth of exciting activities! Below we introduce eight of the absolute best things to do when visiting this charming historical city.
1. Enjoy the Stunning Night View From Mt. Hakodate
Mount Hakodate offers one of the most spectacular night views in Japan, and visitors to the 334-meter high observatory will be enchanted by the sparkling sea of city lights below them. The view has been awarded the maximum rating of 3 stars by the Michelin Green Guide Japan, and was voted as Japan's top night view on Tripadvisor.
The observatory is easily accessed by cable car, and it takes just 3 minutes from the station at the base of the mountain to reach the summit.
Please note that the cable car can become extremely crowded around sunset, and operations may be canceled in the case of strong winds. Also be mindful that the temperature tends to drop quite a bit as night falls, even in the warmer months, so it's a good idea to bring additional warm clothes when heading to the summit.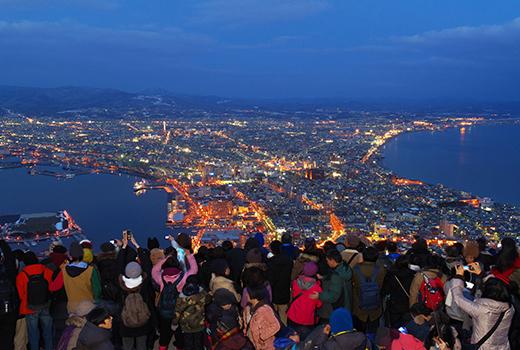 2. See a Hauntingly Beautiful Sea of Clouds in the Summer
In the summer months you may be able to see a rare and absolutely surreal sight from Mt. Hakodate, as a breathtaking sea of clouds occasionally appears, covering the land below in a mysterious white veil. This haunting phenomenon is caused by sea mist enveloping the area, usually occurring in the early morning hours.
The best time of year to catch sight of this incredible phenomenon is from June until August, as the sea mist tends to form when the night temperature is significantly lower than the morning temperature (by about 10°C or more).
The sea of clouds occasionally appears over Hakodate City, and can be viewed from Mt. Hakodate when it forms. The natural spectacle occurs with a higher level of frequency in the Kijihiki Highlands, located approximately 15 minutes by car from Shin-Hakodate Hokuto Station.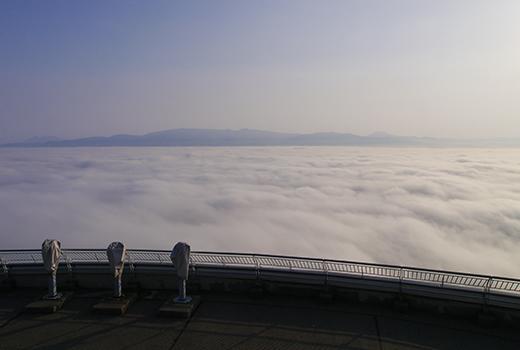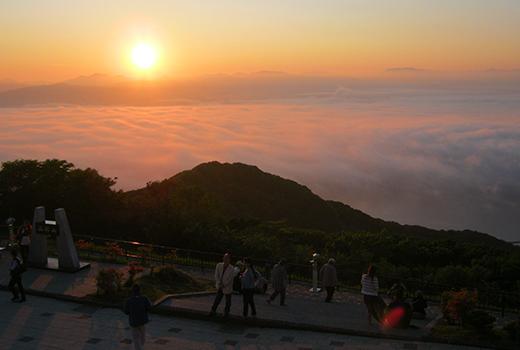 3. Discover Total Relaxation in a Natural Hot Spring
Hokkaido is famed for its abundance of natural hot springs (onsen), and Hakodate's Yunokawa Onsen is quite literally the onsen "hot spot". Located just a stone's throw from the ocean, the Yunokawa Resort area boasts an array of onsen retreats offering the luxury of in-house bathing facilities with glorious views of the ocean. From summer through autumn the ocean shimmers magically with isaribi, the lights of fishing boats, as they trawl the straits with large tungsten lamps in search of the succulent squid for which Hakodate is renowned.
The Yunokawa Hot Spring Resort area spoils visitors with an endless choice of tasteful hotels and inns offering excellent service, rejuvenating bathing experiences and tantalizing culinary delights. Chikuba Shinyotei, Kappo Ryokan Wakamatsu, or Boro Noguchi Hakodate are excellent ryokans where guests can enjoy hot springs and refined kaiseki cuisine.
Anyone hoping to dip a metaphorical toe into the hot spring experience should also definitely give the ashiyu foot baths a try. Ashiyu foot baths are basically miniaturized hot spring baths designed for soaking one's feet. Take your shoes and socks off, slide your weary feet in and feel your fatigue dissolve as a pleasant warmth envelops your whole body. There is a free public footbath located right in front of the "Yunokawa Onsen" tram stop. Tune out and ease your mind as you watch the trams come and go.
Yunokawa Onsen is easy to access, and can be reached within just 5 minutes by car from Hakodate Airport! It can also be easily accessed by tram from Hakodate Station.
Other great hot spring resorts in the Hakodate area include Yachigashira Onsen and the unique Mizunashi Kaihin Onsen – where visitors can enjoy a hot spring bath in the sea!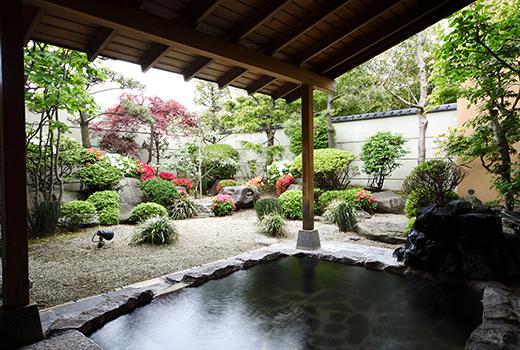 4. Check Out the Hot-Tubbing Monkeys!
The Hakodate City Tropical Botanical Garden, located in the Yunokawa Hot Spring area, is home to around one hundred free-range Japanese macaques (also referred to as snow monkeys).
Although the monkeys can be seen enjoying themselves all year round, they are a particular draw for visitors in the colder months, when they can be seen taking a leisurely dip in the hot springs. The monkeys warm themselves in the pools of steaming mineral water from the beginning of December until early May.
Hakodate is famed for its monkeys, a rare sight with their human-like passion for bathing in the hot springs!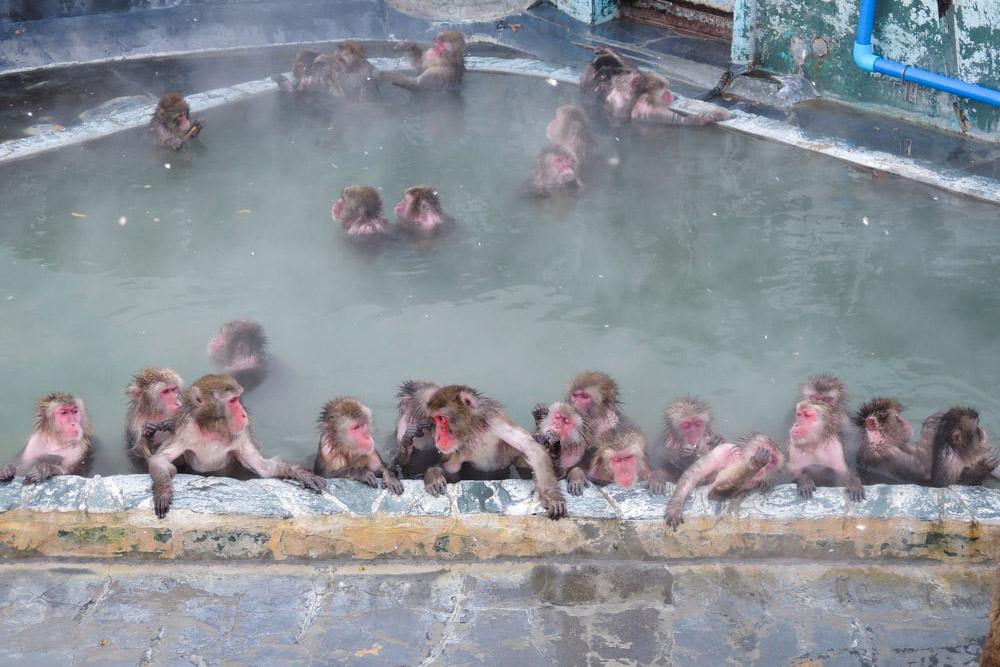 5. Stroll the City Wearing a Traditional Kimono
One great way to enjoy the city and its many historical buildings is to take a walk while dressed in traditional Japanese clothing! Kimono and other traditional Japanese garments are famed worldwide for their exquisite beauty, and there are several options for renting this clothing while in Hakodate.
There's an excellent service for kimono and costume rental located on the second floor of the historical Hakodate Meijikan Shopping Mall. The shop has everything from classic kimono and hakama to ninja outfits, and the staff will assist clients with choosing what to wear and putting these outfits on. The shopping mall itself is an impressive sight; the charming red-brick building was constructed in 1911, and once functioned as the Hakodate Post Office.
The quaint Bay Area where the mall is located is lined with retro red-brick buildings (many selling great souvenirs only available in Hakodate), and visitors can get splendid views of the harbor there. It's the perfect place for a scenic stroll!
The Hakodate Meijikan Shopping Mall is located just 5 minutes from Hakodate Station by tram, and is within a 5-minute walk from Jujigai tram stop.
Another great option is to explore the Old Public Hall of Hakodate Ward in traditional clothing. This majestic historical building is an important cultural property, and both the exterior architecture and the grand interiors are truly impressive.
The building houses a costume hall where various traditional Meiji-era Japanese outfits as well as European costumes can be rented, with various courses available. Walking through the building's vast corridors, chandelier-lit rooms, and huge ballroom, all while in traditional dress, will certainly be an experience to remember! Visitors will truly feel as though they've stepped back in time.
The Old Public Hall is located 8 minutes by tram from Hakodate Station, and is a 7-minute walk from Suehiro-cho tram stop. Admission is 300 yen for adults and 150 yen for students and children. Costume rental rates depend on the specific course, and generally range from 1,200 yen to 2,400 yen per person.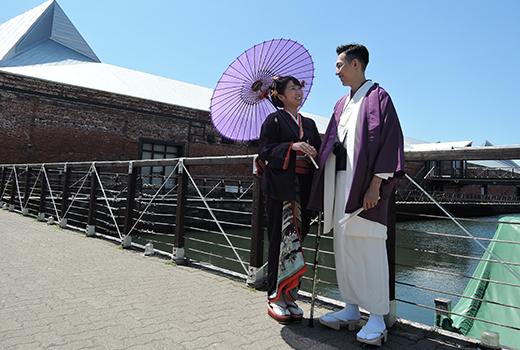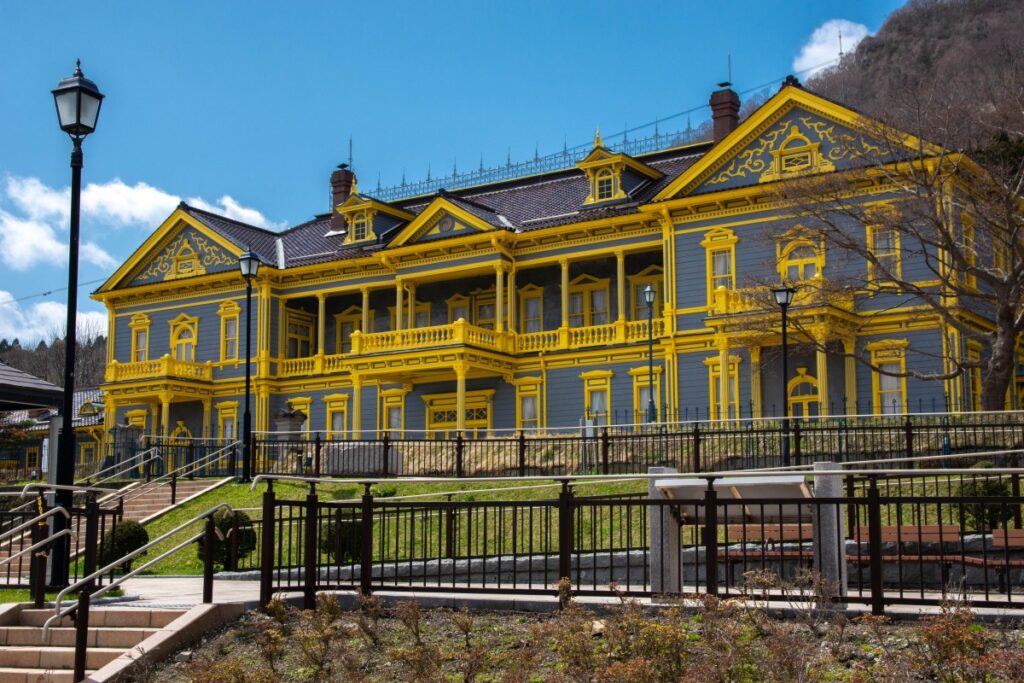 6. Explore Hakodate by Tram
Visitors can spend time exploring Hakodate's historical downtown via the retro-style tram service that runs through the city. The service features colorful streetcars as well as a charming, 100-year-old restored tram car known as Hakodate Haikara Go.
The tram line passes through many of Hakodate's best sightseeing hotpots, and includes stops at the historical Motomachi area, the charming Bay Area, Goryokaku, and at Yunokawa Onsen.
Motomachi is home to stunning examples of architecture such as the Old Public Hall, while in Goryokaku you'll find Hakodate's iconic star-shaped fortress!
Take an unforgettable journey back in time via tram, and enjoy exploring the historical streets and countless attractions on offer.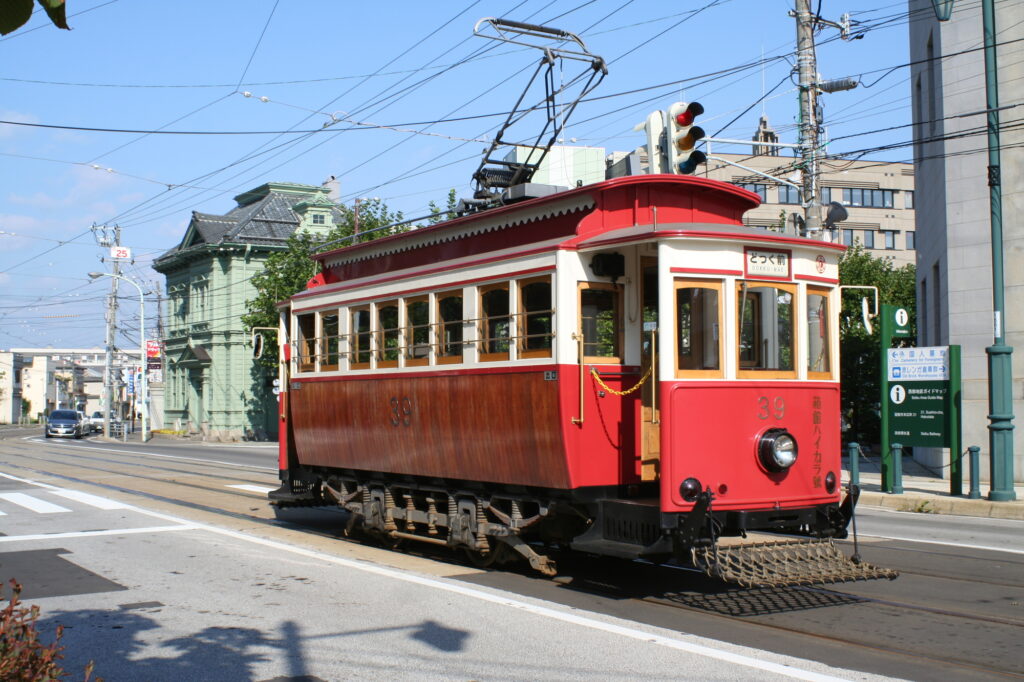 7. Take Stunning Photos
Hakodate is one of Japan's most photogenic cities, and there's no shortage of great spots to take fantastic photos!
One of Hakodate's most popular photo spots is of course the breathtaking night view of the city from Mount Hakodate. This iconic view is one of the city's most photographed sights, and the sparkling lights in the darkness are truly magical.
Another absolutely stunning view is of the famous star-shaped Goryokaku fortress from the observatory in the 107-meter tall Goryokaku Tower. The fortress, with its massive star-shaped moat, is breathtaking in all seasons; it's surrounded by cherry blossoms in spring, lush and green in summer, surrounded by red foliage in fall, and the snow-covered star is lit up in winter.
The scenic view from Hachimanzaka Hill is also an incredibly popular photo spot! The tree-lined slope stretches all the way down towards the sea, and offers a fantastic view of the port! The hill can be easily reached on foot from Suehiro-cho tram stop. If you want to snap a picture before the crowds hit, we suggest visiting in the morning, before 10 AM!
Hakodate's countless historical buildings mean that the entire city is incredibly photogenic. Two of the best places for snapping atmospheric daytime shots of buildings are the Motomachi district and the Bay Area. The Bay Area's red-brick buildings and charming harbor are sure to add a retro atmosphere to your photos, and Motomachi is home to many stunning examples of historical architecture!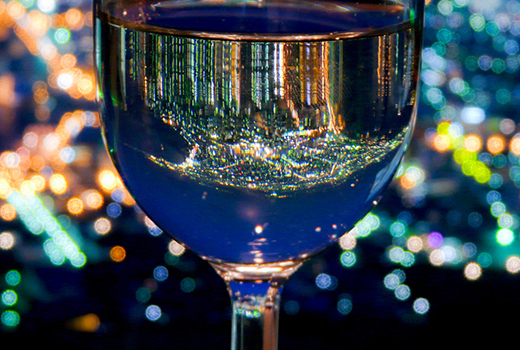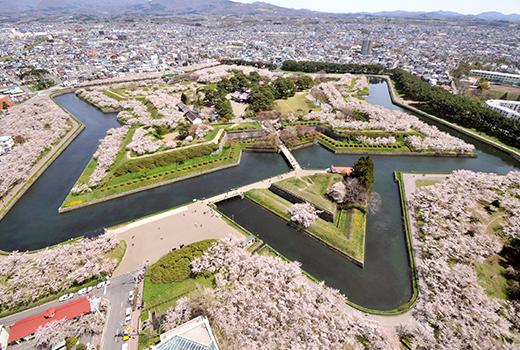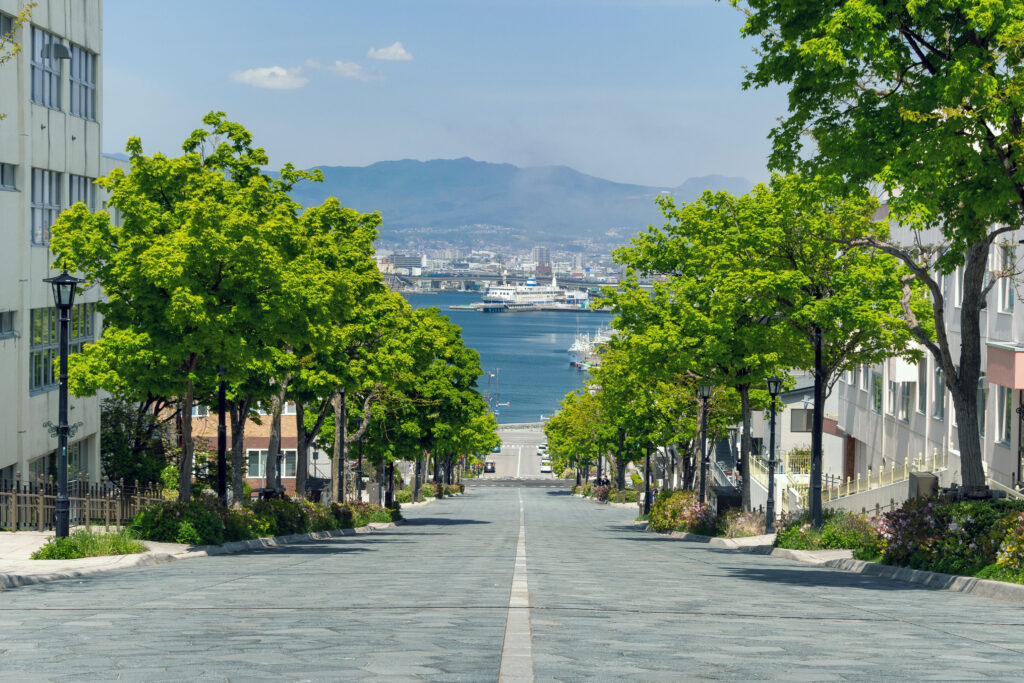 8. Enjoy Activities in the Snow!
Hakodate is stunning in wintertime, and the city offers a wealth of exciting winter activities, most of which can be enjoyed from December until March.
Outdoor activities on offer near Hakodate during this season include skiing, snowmobiling, snow trekking and even ice fishing!
Winter is a fantastic time to visit the beautiful Onuma Quasi National Park, located just 30 minutes by express train from Hakodate city. The park is home to stunning natural scenery and a wealth of winter activities! There you'll find Hakodate Nanae Snowpark, a great resort for skiing and snowboarding. During the months of January until March it's also possible to do smelt ice fishing on the park's frozen lake, and there are many great spots for snow trekking – be sure to have appropriate clothing though, such as snow boots and proper winter coats and gloves!
For those who just want to enjoy beautiful winter scenery, they'll be delighted by the enchanting sight of Hakodate's many parks and historical buildings, blanketed in glittering snow. Snow usually starts falling from November, gradually transforming the city into a magical winter wonderland. Why not recapture your childhood sense of wonder by playing in a snow-covered park, and building your very own snowman?
Hakodate is also filled with many sparkling Christmas lights and winter illuminations, and visiting the picture-perfect city in this season is sure to evoke feelings of nostalgia.
Be sure to wrap up warm though! Average temperatures in the city hover between 0 and -2°C in the coldest months of December to March, so it's definitely recommended that you come prepared. Items such as proper winter coats, boots, gloves, scarves and hats are recommended in order to enjoy your winter stay to its fullest.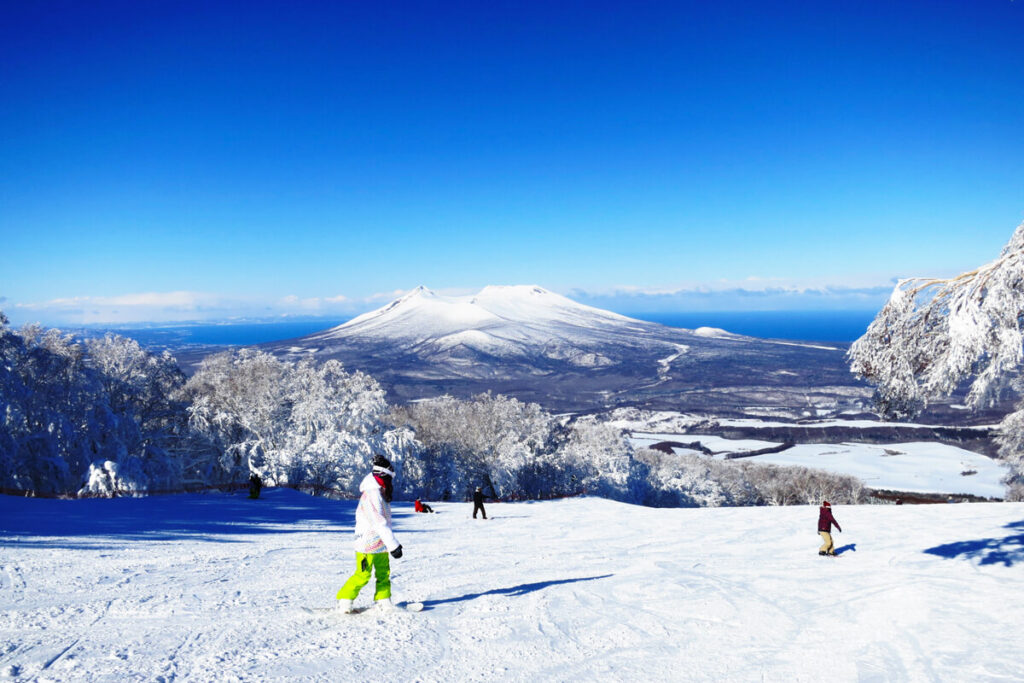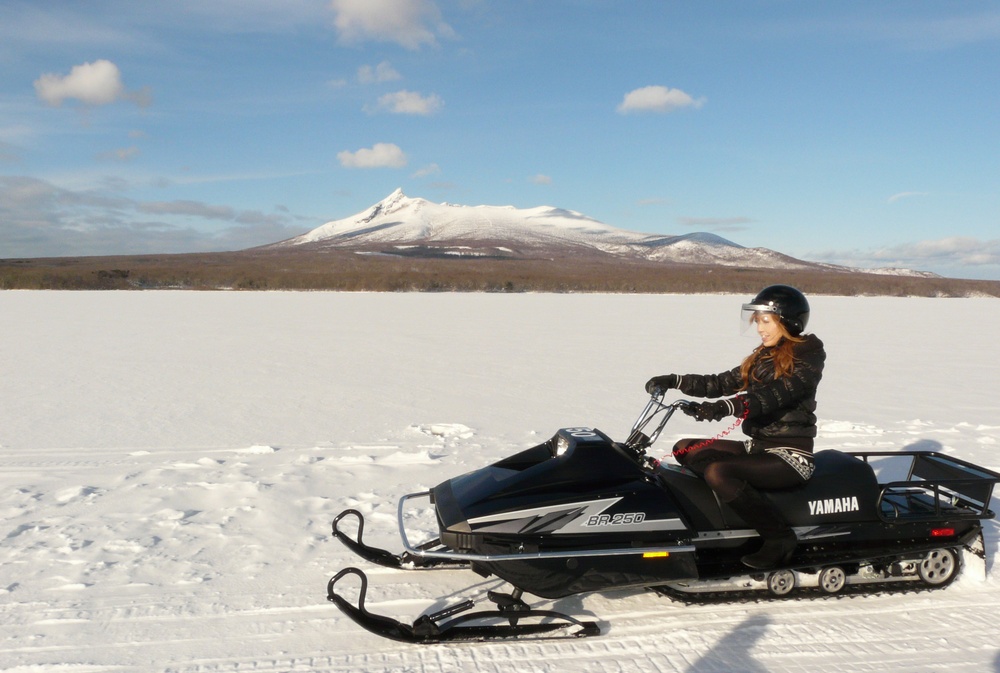 Embark on an Unforgettable Trip to Hokkaido's Historical City!
Hakodate is absolutely stunning in all seasons, and there's no shortage of activities available in this beautiful historical city. The area truly has a character all of its own, and offers visitors the trip of a lifetime! Whether you want to enjoy relaxing hot springs or stunning night views, Hakodate has it all.