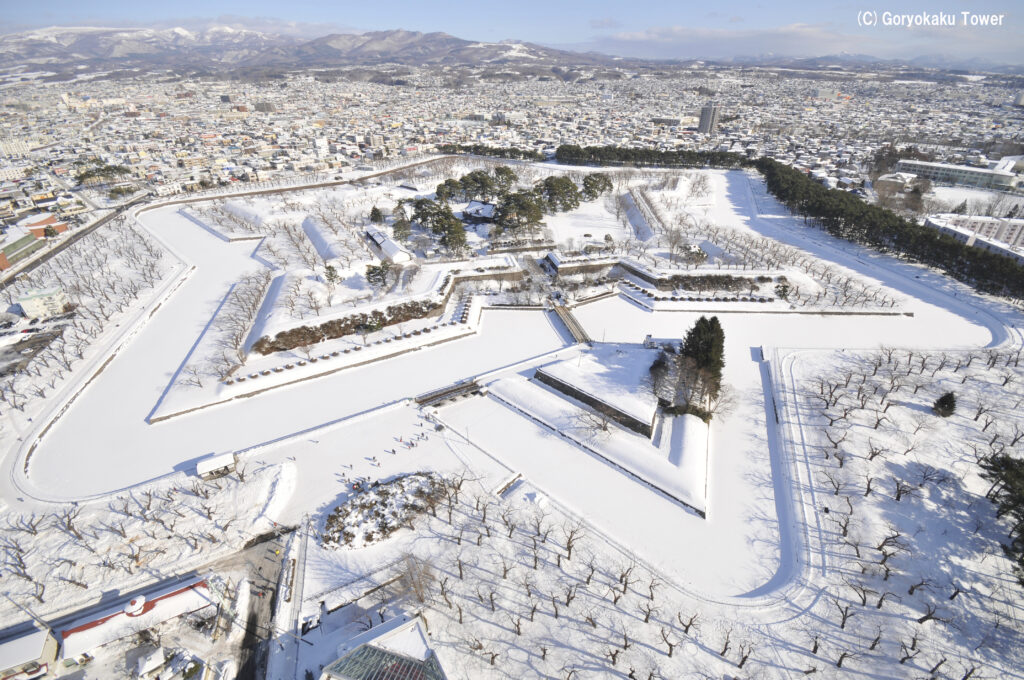 Winter
Hakodate in Winter (December - February)
The city is covered in snow in January and February. It's the season of winter and snow festivals. Several areas in the city, including the Bay Area, Motomachi Park, and the Goryokaku Park, are decorated with beautiful illuminations. The city lights are enhanced by the snow! Do come to enjoy this glittering scenery.
Weather and Clothing
Night temperatures go below 0 degrees Celsius during the three winter months. When outside, please make sure to wear warm, layered clothing. Thick coats and waterproof boots are essential.
Average temperature(℃)
| | Average | Max | Min |
| --- | --- | --- | --- |
| December | -0.1 | 3.2 | -3.6 |
| January | -2.4 | 0.9 | -6.0 |
| February | -1.8 | 1.8 | -5.7 |
The Hakodate Night View in Winter
The nightscape of Hakodate under the snow is a magnificent view that can only be enjoyed in winter! There is an indoor observation space within the Mt. Hakodate Observatory. If you wish to enjoy the sight outdoors, please make sure to dress as warmly as possible.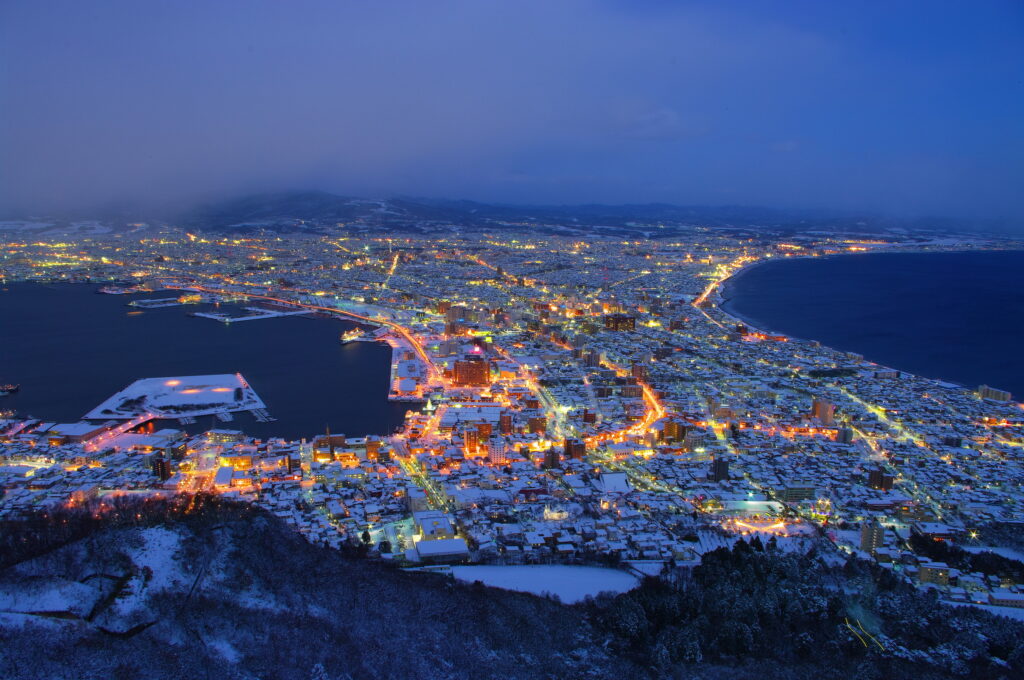 Recommended time for the night view
(Sunset time at the beginning of each month)
| | |
| --- | --- |
| December | 16:08 |
| January | 16:16 |
| February | 16:53 |
Seasonal Highlights
Those who seek fields of white should head to Onuma Quasi National Park. Enjoy snow through activities like snow-trekking, snow-mobiling, or skiing.
The view of the Goryokaku Fort covered in snow is also a must-see!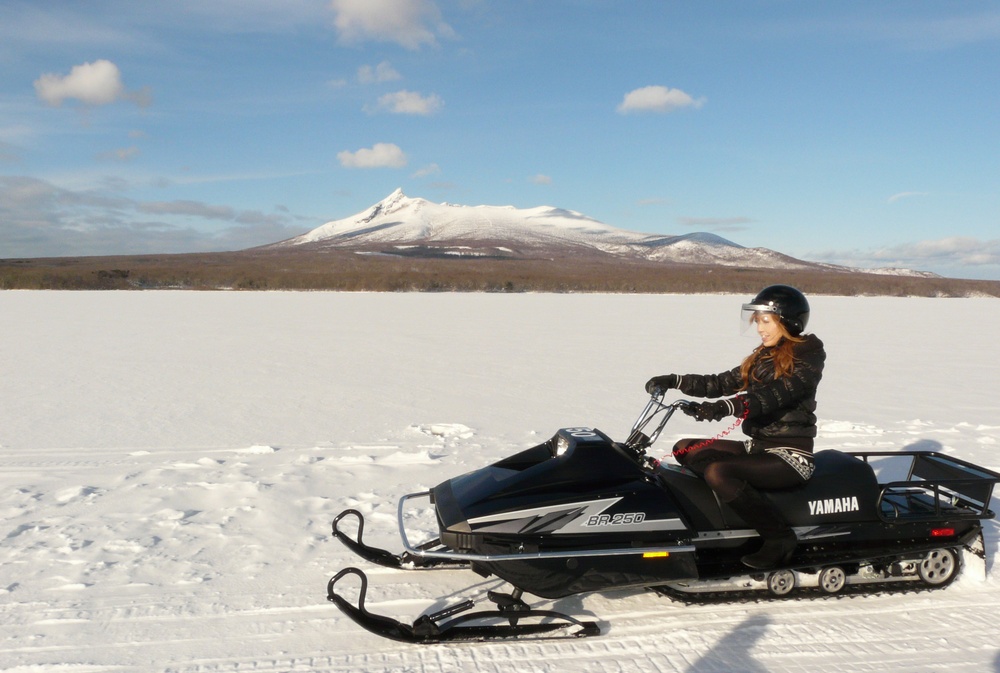 Seasonal Food
Seafood tastes best in winter. We suggest enjoying dishes made with tuna, oysters, Atka mackerel, and sea urchin at the Hakodate Asaichi Market.
Potatoes
Squids
Tuna
Sea Urchin
Oysters
Atka mackerel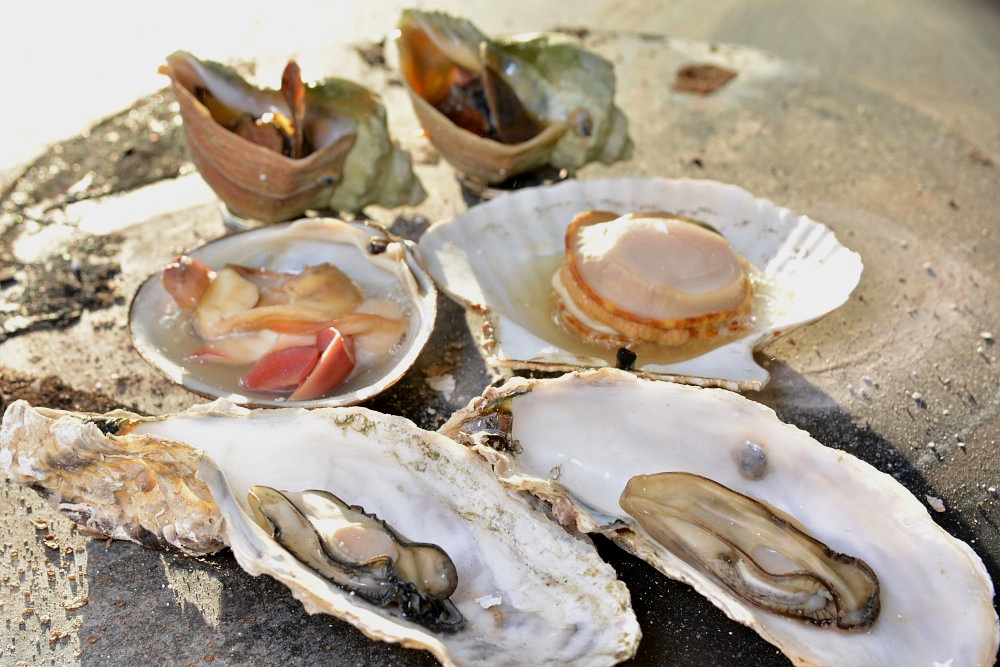 Winter Events
The Hakodate Christmas Fantasy held December 1 – 25 in the Bay Area is one of the most exciting winter events in the city. In addition to the giant Christmas Tree, the Red-Brick Warehouses are also decorated with lights! It's a sight that you'll definitely want to capture in photos.
From December 1 until late February, illumination events are held throughout the city. The Hakodate Illumination comprises the city's famous hills, Hachimanzaka and Nijukkenzaka, as well as the streets in the Bay area with their churches and the Old Public Hall. These areas are lit up every day from 17:00 until 22:00.
The five-pointed Goryokaku Fort is also illuminated in the evening from 17:00 to 20:00. We suggest enjoying the view from the Goryokaku Tower Observatory.