Kami memperkenalkan pemandu yang dapat memperkenalkan pusaka era Jomon dan museum-museum di Hakodate, serta dapat menjelaskan mengenai budaya Jomon. Anda dapat meminta pemandu yang Anda inginkan dengan menghubunginya secara langsung.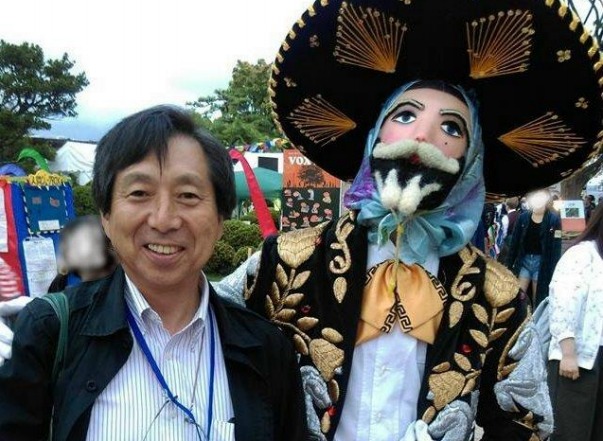 Okada Hajime (岡田 始)
National Licensed Guide-interpreter in English
Guìa-traductor Certificado en Español
Bahasa yang tersedia

Español,English
Details

Contact

go17024@gmail.com
0138-31-3124
090-2812-5870

Tahun lahir
1959
Kualifikasi / lisensi dll dan level penerjemah lisan
National Authorized Guide-interpreter in English / National Authorized Guide-interpreter in spanish. Industrial translations etc., as required.

Guìa-traductor Certificado en Inglès / Guìa-traductor Certficado en Español / Buenas experiencias en traducciòn industrial
Pengalaman kerja / Pengalaman penerjemah lisan
I was dispatch to Costa Rica, as a sub-leader of a delegation for friendship and exchange of cultures between our 2 nations, in 1988. Our team was granted an audience with His Majesty the Retired Emperor.
I took charge of translations in meetings, for industrial manuals and television for JICA(Japn International Cooperation Agency) and for Japanese companies in Spanish in Mèxico for over 5 years. I did various translations, as required.

En 1988, como sub-lìder de la delegaciòn a Costa Rica por intercambio de amistadces y culturas entre 2 paìses. Nuestro grupo fue recibidoen audiencia por Su Majestad Emperador Emèrito.
Buenas experiencias de traducciones en conferencias, manuales industriales, de televisuones para JICA(Japn International Cooperation Agency) y empresas japonesas en español en Mèxico por màs de 5 años. Traducciones variados , segùn las necesidades.
Keahlian khusus / Perkenalan diri
Japanese history and in accordance with this, logistic changes of routes, arts, movies history etc..
As a professional guide, attendances for the excursions of cruise-ships mainly in Hokkaido, and mainly in English.
Many experiences in long-term SIC (Seat in coach ) tours in GoldenRoute (from Tokyo to Hiroshima) mainly in Spanish (sometimes in 2 languages).
With regards to Jomon issues, I participated in Jomon lectures supported by Aomori prefecture.
Certified as a general tour-conductor (including trips abroad).
I like cooking and the French language as well.

La historia japonesa y a referente a èsta, camibios de rutas logìsticas, las artes, las historias cinematogràficas de los paìses europeos y del Mèxico.
Como guìa profesional, atenciones para las excursiones de los navios cruceros mayormente en Hokkaido, y mayormente en inglès. Buenas experiencias del turìsmo SIC (Seat in coach ) del plazo largo en la routa dorada (desde Tokyo hasta Hiroshima) mayormente en español (de vez en cuando en 2 lenguas). En cuanto al tema de Jyomon, soy fan de la cultura Jyomon y el año pasado, participè en la lecciòn de Jyomon organizada por la ayuda de la prefectura Aomori.
Como tengo la certificaciòn del General Tour Conductor, soy capaz de asistir los turismos extranjeros de los japoneses. Me encanta cocinar, enseñe unas recetas mias de la cocina japonesa con los ingredientes extranjeros. Ya tengo el 2ndo grado de la aptitud de la lengua francesa. Dentro de medio año, posiblemente, podrìa ayudar algo en frances tambièn.
Syarat dan kondisi
After the Corona pandemic, I would be pleased if I am offered work as a guide from travel agencies. Please send me kind inquiries as early as possible.

Despuès del caso de Corona, por si acaso, con esperanzas, podrìa tener oportunidades (ojalà!) de ofertas de trabajos como guìa. Si estuvieran amables de solicitàrme unos contactos a mìcuanto antes posible, estarìa muy agradecido.
Melakukan panggilan dari luar negeri ke Hakodate
Tekan kode akses sambungan internasional dan kode negara Jepang (81). Lihat di sini
"Tekan 0 dulu, lalu nomor berikutnya. Contoh: untuk menelepon ke nomor Jepang 0138-00-0000 dari nomor AS, tekan 011-81-138-00-0000."